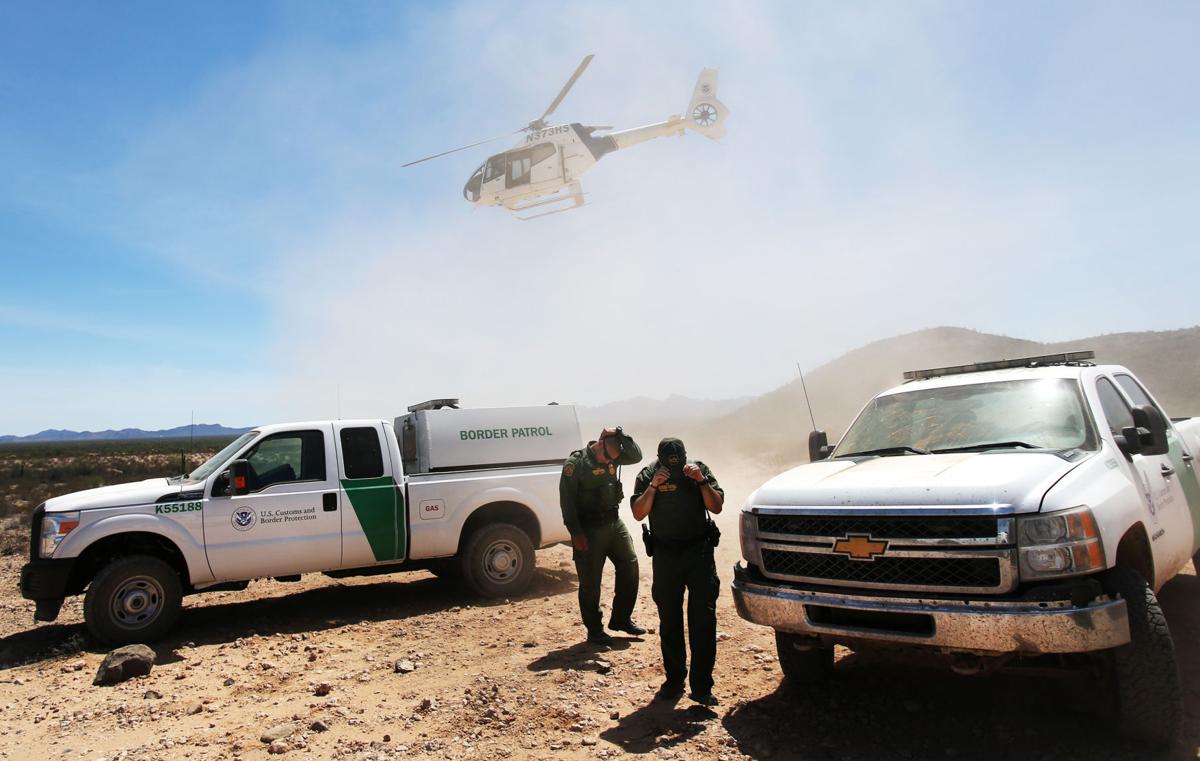 To some people, Carlos Erazo-Velasquez is a good example of a bad hombre.
The 37-year-old Honduran crossed the border illegally near Nogales last Wednesday. He fought with Border Patrol agents who tried to arrest him and ran until he collapsed. Then he escaped the Tucson hospital where he was being treated on Friday.
This is a guy who merited an all-out urban hunt, they figure.
That mentality may pervade the U.S. Border Patrol's front lines, newly empowered by the election of Donald Trump, but it doesn't translate in central Tucson. The result was an inter-agency battle between Tucson police and the Border Patrol agents' union where the real bottom line was how bad a guy like Erazo-Velasquez really is.
To Art Del Cueto, he's dangerous. Del Cueto, as you may know, leads the agents' union local in the Tucson sector and is a vice president of the national union. He's become a widely seen voice of agents nationwide.
And he was disturbed when Tucson police called off their participation in the search for the escaped detainee.
"I honestly believe that it's not an immigration thing," he said of the search for Erazo-Velasquez. "It's a criminal running through the streets of Tucson."
Just how criminal this bad hombre is has been hard to establish, though. On Saturday, the Border Patrol public affairs office put out a news release that said, "The suspect has a criminal history related to drug offenses and has previously been removed from the U.S."
That sounds significant until you actually go looking for this criminal history and find … nothing. No records in the federal court system or Arizona courts.
It's possible he was convicted in another state, but if you read the Border Patrol news release carefully, you realize it's also possible he was never convicted at all. A "criminal history" check generally includes cases in which arrests were made, but convictions were not obtained.
I asked Del Cueto of the union, and the agency itself, for help tracking down any convictions. They've turned up nothing yet.
The idea that he's a bad hombre to be treated as a dangerous criminal is also belied by the way Border Patrol treated him. They sent one agent to sit by him, an agent who let him leave the hospital without a struggle.
How exactly that happened the agency has not clarified. But in an email to Tucson police officers, Capt. Diana Duffy described the Tucson police response to Banner-University Medical Center this way:
"Upon arrival, our officer made contact with the Border Patrol agent and learned he did not see the male leave the hospital and did not know what direction he left other than the information they both were receiving from passerby's," she wrote. "USBP had their air unit assisting in the search but because the agent did not have a radio on him we could not initially communicate with them."
This does not sound like an agency in heightened alert for a dangerous guy.
But this is also a cultural and political divide expressed in the last election around the country. The border agents' union endorsed Trump, who described the border as completely unsecured and an urgent danger to all Americans. He has made victims of crime by undocumented people a theme of his speeches.
That point of view ran headlong into a more typically liberal — or what I would call, pragmatic — point of view Friday evening.
Tucson Police Chief Chris Magnus has established that he is not interested in helping enforce federal immigration laws, especially in ways that might make some members of the community distrust police and fear calling the authorities.
Nevertheless, Tucson police responded to the call. They sent out around 20 officers and dogs, along with a helicopter. The Border Patrol agents and Tucson police stirred up concern in neighborhoods near the hospital where the green-and-white vehicles are rarely seen.
Paul and Annette Felix, longtime residents of North First Avenue, were among many locals alarmed by the unusual law-enforcement action, which included a large Blackhawk flying low.
"We're conditioned to hear helicopters because of UMC, but what struck us strange was the constant noise and the big quadrant it was carving out," Paul Felix told me. "It kept circling and circling."
"It certainly left a lasting impression that they were after Mr. Big."
The search went on from sometime after 5 p.m. till after 7 p.m., when it was dark.
"I personally think two-plus hours is a pretty substantial commitment," Magnus told me Tuesday.
By then, dozens of police calls were stacking up. It took 20 minutes to respond to a naked man running into traffic and pounding on cars at Lester and Chiricahua.
And at the same time, some protesters had gathered at the Border Patrol command post near the hospital, police and agents said. Why is unclear, since this wasn't the feared case of federal agents breaking up families through immigration arrests.
A Border Patrol manager asked to move the command post to the Tucson police substation at 1310 W. Miracle Mile.
TPD refused.
Duffy, in her email, said it made no sense to her to have a command post at a police station five miles from the hospital, when the Border Patrol station isn't much farther away. And she didn't want protesters to come to the station, either.
"With the scrutiny many of your fellow officers are currently under in light of a recent protest, I made the decision to not allow them now to bring their command post and the anti USBP community members to our station," she said.
One of the TPD supervisors told a Border Patrol manager something about the "politics" involved, and that really charged up Del Cueto.
He told the world via a statement pushed out late Friday night that TPD had said "due to the current political climate regarding immigration enforcement they refused to assist Tucson Sector Border Patrol."
That isn't what the TPD supervisor said or meant, Magnus told me, but the police sometimes do take politics into account.
"We live and work in a political environment," Magnus said. "To be oblivious to political considerations would be foolish. But it shouldn't be the driving factor in these decisions."
The TPD decision disturbed Del Cueto and his union colleagues enough that they took it to Breitbart News, their favored outlet and the de facto official news medium of the Trump administration. The story set off some alarm, but not the national outrage that might have been expected from the bad-hombre believers.
Tucson police took to Facebook to explain they gave it a try but simply could not afford to keep hunting for a man who could have gotten anywhere by now, and definitely couldn't staff a demonstration at the station, either.
In short, to them, Erazo-Velasquez wasn't that big a threat or that bad an hombre.