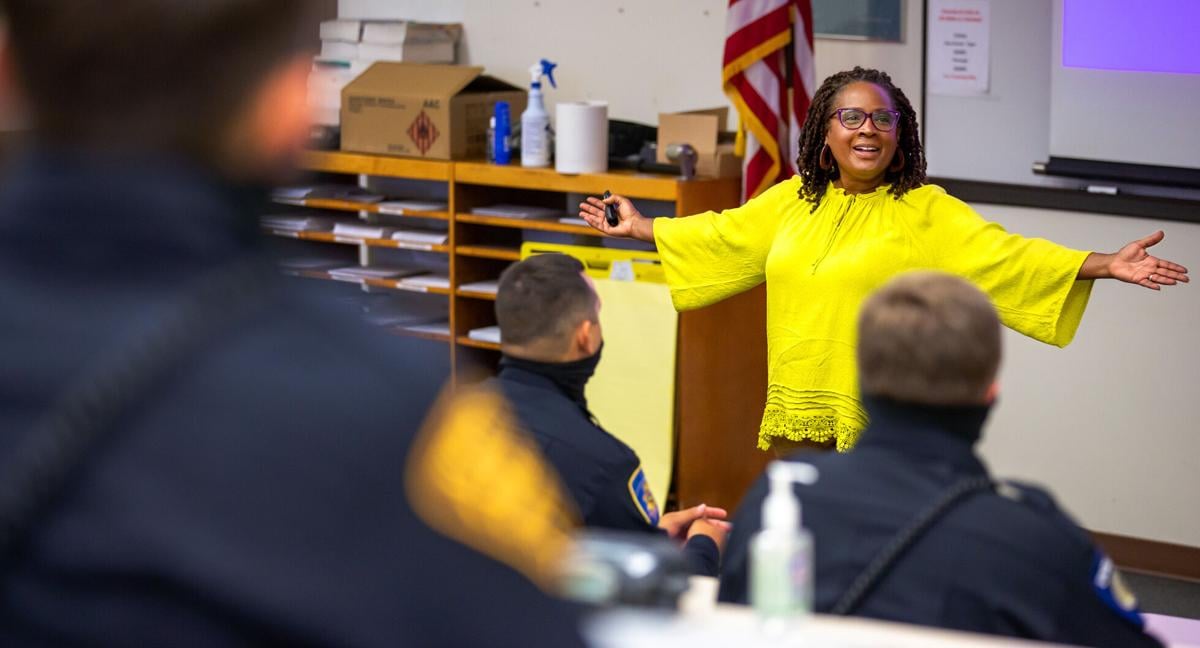 Future Tucson police officers are learning more about cultural biases — this time from community members themselves.
The class, called Cultural Awareness Training, differs from those the Tucson Police Department has implemented in the past because it brings in Black and Latino community leaders to talk to recruits about the diverse cultures of Tucson and how police may be perceived based on the history of policing among those cultures.
The training includes two classes — one focused on Black communities and one on Latino communities.
Shermaine Fort and Alana Ragland, co-founders of Fortland LLC, an educational services and professional and management development training firm based in Glendale, teach one class, focused on the history of policing among Black communities in the United States and how officers' upbringing may create a stigma toward the people they police.
In April, more than a dozen recruits sat in a classroom at the Public Safety Training Academy on South Wilmot Road near the state and federal prisons. Fort, a pastor and program specialist at Tucson Unified School District, asked them how they prefer to slice their sandwich — "in a rectangle or triangle?"
Most of the recruits stood up, indicating they prefer their sandwich in a triangle. Some stayed seated.
"Here is an example of influence," Fort said, adding that their preference likely was influenced by their parents or caretakers' preference. She told the recruits there is no right or wrong way to cut a sandwich.
"That suggests how we grow up and the things that we see growing up, we're influenced by them," Fort said. "Even sometimes if we don't pay attention we are still influenced by those particular ideas. Then our lens is fixed on the idea that we were influenced by."
Everyone has their own personal lens through which they view the world, she told the recruits.
Dismantling stigmas
Fort and Ragland help cadets identify where each of them are in a spectrum of understanding when it comes to bias and in the history and culture of policing. The course addresses stigmas that have come from a person's unique lens.
"We spend a lot of time dismantling the stigmas, working through them and going within and trying to identify, 'where did I first learn this?'" Fort said.
Their goal is to raise the recruits' conscience in their everyday policing, they said.
Fort and Ragland said the recruits in the first class they taught in October were responsive to their message and willing to engage in the discussion of racial bias.
"They were very transparent, and we knew that, yes, we hit a chord with these cadets, that's going to in turn change how they police," Fort said.
In the April class, members of the media were asked to leave after the first 30 minutes. Fort also asked that captains and sergeants of the department leave the room during the training so recruits can be more comfortable and candid in their discussion about race and stigmas.
Understanding the community
The second class focused on the Latino communities in Tucson, and taught cadets some of the cultural norms of Latinos.
On May 27, representatives from Amistades, Inc., a social services agency that serves Latinos and advocates for racial justice, engaged 14 recruits set to graduate in July.
It's the organization's second class with the department in an attempt to help rebuild trust, bridging the gap between law enforcement and the Latino community, which makes up nearly 44% of the city's population, according to U.S. Census data.
"It's very important given the circumstances, especially the national backdrop and the social unrest on the events that have taken place not only with Latinos but other people of color and certainly going back to the Sentinel (Review Board) events that took place in our own backyard here in Tucson," said Claudia Jasso, the organization's chief development officer.
In the limited training portion available to journalists, staff educated recruits on subjects like the Mexican American War and Latinos in Tucson, teaching from the viewpoint of an organization with "a deep understanding of the community that is Latino here in our region," Jasso said.
"We're able to bring those resources, bring that knowledge base to them, and share that with them so that they can do, quite frankly, a better job when they're out there engaging the Latino community," said Jasso. "I know they all want to do their best, they're all sworn to uphold the law. It's just a matter of understanding their community, and enhancing what they've already decided that they're going to do to help."
During one portion of the media's access, only a small number of recruits voiced their opinions when reviewing self-assessment responses to questions of cultural awareness.
Jasso said she doesn't believe it's indicative of an unwillingness to do the job the right way.
"It's not that they don't want to understand and that they're resistant, they're really in a place where they're learning, I don't think that they're not engaging, because they don't want to, I think that there's a lot going on in their minds, it's a lot of information to process," Jasso said. "It's not always the most comfortable thing to talk about. So reaching that comfort level, sometimes it does take more than one conversation. But we have to start somewhere. Because if we don't, who will?"
New perspectives
Capt. Diana Duffy, who leads the Public Safety Training Academy, said the additional class brings in a new perspective, one free of the bias an officer teaching a class might bring. It also helps build trust between the community and police, Duffy said.
"We thought it was very important to learn about culture in various communities from the community members themselves," Duffy said.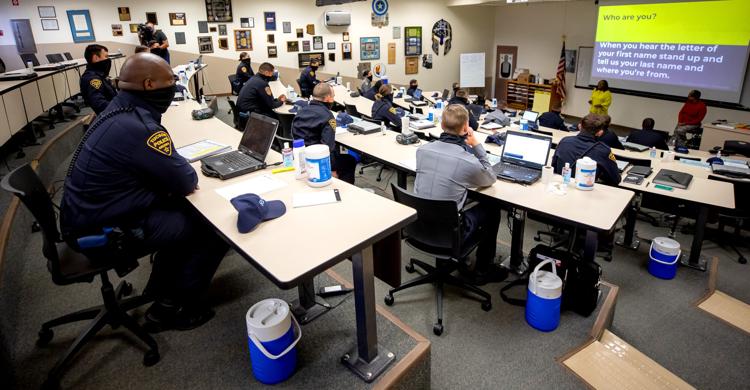 Before October, the department included implicit bias training and a cultural awareness class required by the Arizona Peace Officer Standards and Training Board — or AZ POST — in its academy training. Both of those classes are still taught to new recruits. The third racial awareness training class stems from recommendations from a Sentinel Review Board report issued last summer, after a board reviewed the in-custody deaths of two Latino Tucsonans last spring.
"Indicators of systemic racism, cultural disregard or ignorance and an indifference to Latino life" were seen as a contributing factor in the deaths of Carlos Adrian Ingram Lopez and of Damian Alvarado, the report said.
The department will require established officers to take the new cultural awareness class in the future, Duffy said.
Studies have shown implicit bias training is inconclusive or doesn't necessarily change behavior in policing. A New York Police Department study found officers showed more awareness of the concept of implicit bias training but found no change among ethnic disparities of those arrested or those who had other kinds of interactions with the officers, NPR reported in September.
Duffy said the department doesn't track the effectiveness of the new training, or of any of their implicit bias or cultural awareness training courses the way a study would. But she said the department doesn't get many substantiated complaints regarding racial bias.
"I think with anything you learn it all depends on who takes it in and how they apply it," Duffy said. "So we don't just focus on racial bias training, we focus on all biases."
She said the department expects its officers to treat everyone impartially and has many systems in place to ensure officers are doing just that, including random audits of body-worn cameras, independent auditors that will take complaints that come in.