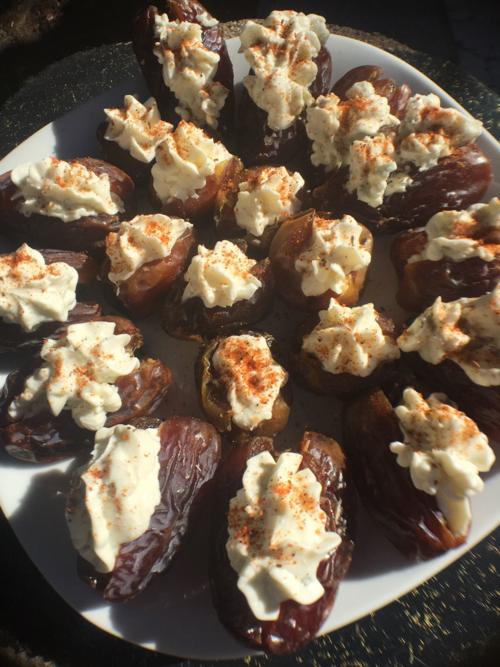 With the holidays on the horizon, we may be hunting for something different to tease our guests' appetites. Inspiration can be found in many places, and not always where you expect to find it.
I was looking for some inspiration when I ran into Chris Duggan of Desert Treasures Citrus Groves, one of Tucson's last citrus groves. The family-owned grove on the city's northwest side is perhaps best known for its 40 varieties of citrus, but it's the five varieties of dates grown there that are Duggan's special love. "I pollinate them, harvest them, pack them and sell them," he said, at his booth at the Rillito Park Heirloom Farmers Market.
But, he said, it's important to buy them now, because they're going to be gone for the year soon. Heeding his advice, I bought a half-pound with no clear idea of how to use the fruit.
As I walked, I sampled a couple of the dates. Duggan's Khadrawi dates, smaller than the big Medjools I usually see, have a more delicate flavor — earthy, with caramel overtones — and are not as sugary as those Medjools. Date aficionados prize them especially for their subtle taste and chewy texture in late fall.
I wandered. I pondered. I wondered.
People have been eating stuffed dates since they realized they needed to use up the harvest of the sugary fruit, I imagine. Apicius, the great Roman culinarian who wrote "On the subject of cooking" in the fourth or fifth century A.D., spoke of stuffing dates with pine nuts and frying them in honey.
Just the thought of how sweet those dates fried in honey would be made my teeth ache. The idea of celebrating the fruit's sweetness as a contrast to something spicy, using their chewiness as a counterfoil to something creamy, suited me better.
Then I saw Fiore di Capra's fresh chevre and everything crystallized. The goat dairy is in Pomerene, over in Cochise County.
Desert Treasures' Khadrawi dates stuffed with some of Fiore di Capra's chevre would give me an all-Arizona-grown appetizer. A dusting of smoked hot paprika would give a very on-trend flavor profile: sweet-savory-smoky-hot, all in one little bite.
To use up the last of the Medjools in the freezer, I decided to fill them with a blue-cheese-cream-cheese mixture. A mixed plate of stuffed dates could offer an interesting little lesson in how dates vary, and how flavor profiles affect finished dishes.
Of course, no cook would serve a dish without sampling it first herself. The first one was good, and the second one better; the third ... well, I'll let you figure out how that went. Here's a hint: I guess I'll need to buy another half-pound of Chris Duggan's Khadrawi dates next weekend.
Arizona-grown stuffed dates
This recipe is easy to scale up – just double the ingredients.
For larger dates, figure you'll get a dozen stuffed dates for each eight ounces of chevre. There's a blue cheese variation below, but it will overwhelm the delicate flavor of the Khadrawi dates, so I used that to stuff Medjools.
Ingredients
2 dozen Khadrawi dates, or 1 dozen Medjool dates
8 ounces chevre, at room temperature
1 to 2 tablespoons of cream, if needed
Smoked hot paprika, for garnish
Preparation
Pit the dates, if necessary, by cutting a slit in the long side of each date and using the tip of a paring knife to flip the pit out. Squash each date slightly so it has a flat side to sit on, then use your fingers to push the date into a rough circle with the cavity open.
Mash the chevre into a paste and thin it, if needed, to the consistency of frosting with cream.
Fill a pastry bag fitted with a large star tip — or a zip-top bag with one corner cut off — with the chevre mixture. Pipe a small amount of filling into each date, arranging them on a serving plate as you finish them.
(You can prepare these in advance up to this point. Refrigerate, uncovered, until the filling has firmed up; then cover with plastic wrap and store for up to three days.)
Before serving, dust the filled dates with the smoked hot paprika.
Blue cheese variation: Mash 4 ounces blue cheese with a fork until no large chunks remain. Combine with 8 ounces of cream cheese and pipe the mixture into the pitted Medjool dates. Dust with smoked hot paprika before serving.
Robin Mather is a longtime food journalist and the author of "The Feast Nearby." Follow her blog as she writes her third book, "The Feast of the Dove," at www.thefeastofthedove.com.