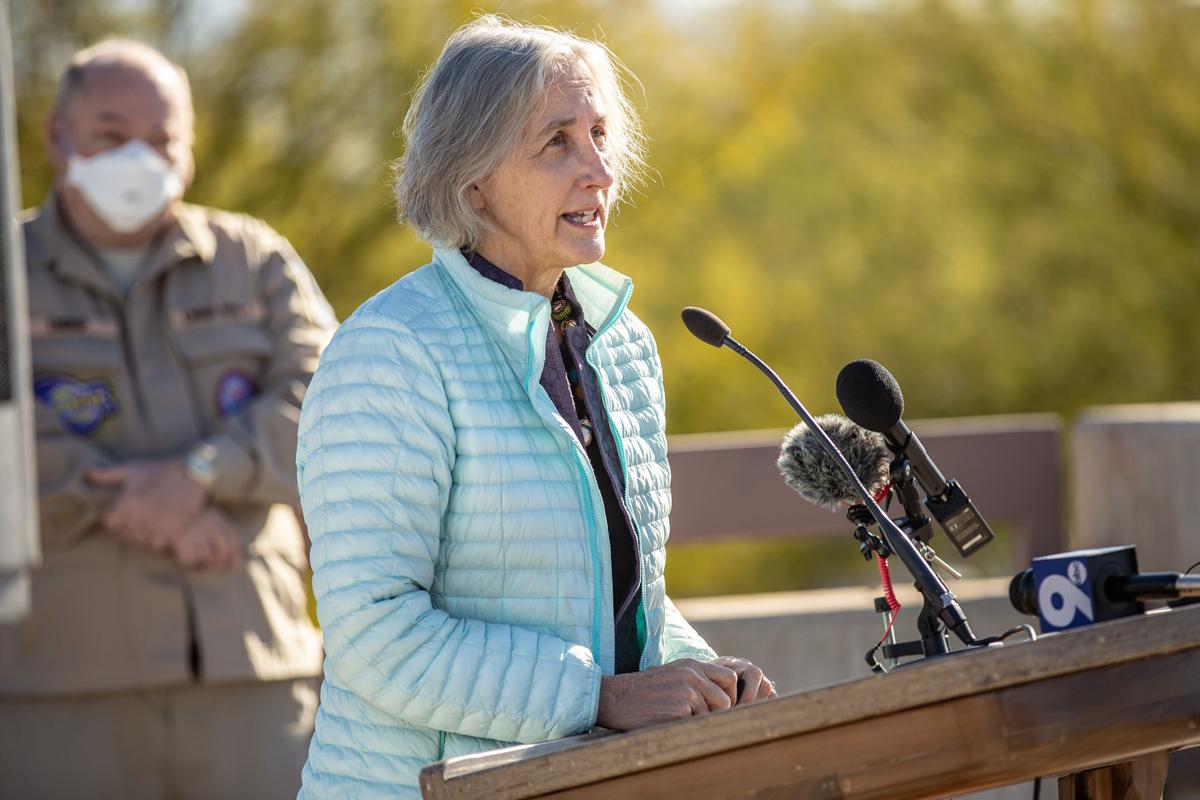 New weekly COVID-19 cases in Pima County more than doubled recently, rising more than 125% to 5,300 in the last week of December.
The numbers are from the Arizona Department of Health Services as of Wednesday. Testing laboratories could report more cases for that week in the coming days.
"We are obviously in a stark upswing," Dr. Theresa Cullen, the county's health department director, said Wednesday. "Our case rate right now is over 400 per 100,000 (people)."
Community transmission in Pima County is high and the percentage of tests that have come back positive for COVID-19 in the last seven days is above 20%, according to the Centers for Disease Control and Prevention, as of Wednesday.
"At our testing sites that are sponsored by the county we are seeing positivity rates of anywhere between 15% and up to 40%," Cullen said.
As cases rise, health experts are bracing for hospitalizations to follow across the country as the highly transmissible omicron variant spreads.
Even if preliminary data suggests that omicron is less severe than other COVID-19 cases, hospitalizations could still surge due to the sheer number of cases, said Dr. Anthony Fauci, director of the National Institute of Allergy and Infectious Diseases, in an interview Sunday with CNN.
In Arizona, hospitalizations could likely also see a rapid rise, much like what has happened in the United Kingdom, said Dr. Joshua LaBaer, executive director of Arizona State University's Biodesign Institute.
"So despite the fact that they are more vaccinated than we are here in Arizona, and the fact that they've got more booster shots than we do here in Arizona, they're still nonetheless seeing a rapid rise in hospitalization there," said LaBaer, at a news conference Wednesday.
In Pima County, ICU beds continue to be limited and capacity strained, as with the number of adult medical surgical beds, Cullen said, but she added that that pediatric beds continue to be available.
"Vaccination is a key here," Cullen said. "While it may not be 100% effective against omicron, it is significantly effective against severe disease, hospitalization and subsequent mortality and morbidity."
Although hospitals in Pima County are not seeing many admissions of pediatric COVID-19 patients, Cullen said, they are seeing some admissions of pediatric patients for RSV and influenza, which is typical for this time of year.
Earlier this week, two Federal Emergency Management Agency teams arrived in the county to help distribute subcutaneous shots of Regeneron, a treatment that boosts the body with antibodies.
Distribution of these monoclonal antibodies started at St. Joseph's Hospital, 350 N. Wilmot Road, on Tuesday and will be offered at St. Mary's Hospital, 1601 W. St. Mary's Road, starting Friday. Patients need a doctor's referral to get the treatment.
The county is offering that treatment for now but plans to start offering another treatment called Sotrovimab as omicron becomes the dominant strain of the virus here. Cullen said there are no negative side effects if a patient takes Regeneron when infected with omicron.
That's because Regeneron is not very effective — or effective at all — against omicron.
In anticipation of this change, Dr. Marjorie Bessel, chief clinical officer at Banner Health, announced Dec. 28 that Banner's Arizona sites will no longer be offering the intravenous Regeneron treatments because of their reduced efficacy against the omicron variant.
Banner's antibody clinic in Tucson had ordered Sotrovimab for its University Medicine Family Medicine Clinic, 3950 S. Country Club Road, in anticipation of the change and has not paused in offering treatment.
However, initial supplies of this treatment are limited and patients need a referral.
The omicron variant accounted for 7.8% of the county's cases overall during December, county data shows, but about 40% of its cases from Dec. 19 to Jan. 1.
Watching those percentages is important in determining what kinds of monoclonal antibody treatments to offer locally.
"Right now the federal government has indicated that if the percentage of omicron in your jurisdiction is less than 80%, they still recommend the use of Regeneron," Cullen said.
The other reason, she said, is that the delta variant is still "what seems to be hospitalizing people with significant morbidity and subsequent mortality."