When an elderly person or vulnerable adult wanders away from home or goes missing in a vehicle, finding them quickly, especially during the heat of summer, is critical, law enforcement officials said.
The need for agencies to quickly find missing older adults, and now younger persons of any age with cognitive issues, was the reason the state created Silver Alerts, a program similar to public notices given for abducted children. The alerts are used to send out information to law enforcement agencies in Arizona and across the nation, and to residents to be on the lookout for a missing senior or anyone with a developmental disability, including cerebral palsy, Down syndrome, epilepsy and autism.
Since 2014, there have been 271 Silver Alerts in the state as of July 20, according to the Arizona Department of Public Safety, which oversees the program.
Of the 271 alerts, 18 were found dead, including three people in Silver Alerts initiated by the Tucson Police Department, said Trooper Chrystal Moore, DPS Silver Alert coordinator.
The most recent death occurred in May when Mary Migatulski, 83, who had Alzheimer's disease, was last seen on the city's west side near West Ironwood Hill Drive and North Shannon Road. She wandered from where she was staying and was reported missing. Migatulski was found hours later dead in the desert. No foul play was suspected.
The other two fatal TPD Silver Alert cases occurred in 2015 when Roy Harding, 82, was found by a motorist dead in his car off Interstate 8 in Maricopa County. He lived alone and was easily confused and needed daily medication. Harding was last seen at a bowling alley on Tucson's southeast side. In 2017, Ramilda Guglielmo, 87, who had dementia, was last seen in the area of West Grant and North Silverbell roads. She drove to a drugstore and left walking. Her body was found in the desert about two miles from the store.
DPS broadcasts the alerts for law enforcement agencies statewide and disseminates the information nationwide to agencies as a missing endangered person advisory, said Moore, adding that information is also shared with federal authorities.
The Silver Alert system is "a very, very successful program" because of the partnerships that include the public and media, Moore said. "Sixty percent of missing persons are found by the public and 40 percent by law enforcement," she said.
Silver Alerts, just like Amber Alerts for children, can be sent to smartphones, posted to social media, TV and radio stations, and displayed on highway signs if a vehicle is involved. If the missing person is believed to be on foot, authorities can use reverse 911 calls or emergency notifications systems to alert neighborhoods where the person went missing.
The Silver Alerts are for missing people age 65 and older, especially seniors diagnosed with Alzheimer's, dementia or other mental disabilities. This year, Silver Alerts also include anyone with a cognitive disability, no matter their age.
"Wandering is just a huge issue," said Morgen Hartford, regional director of the Alzheimer's Association Desert Southwest Chapter in Tucson. "For people with Alzheimer's disease, it is a major danger. Six out of 10 with Alzheimer's will wander at some point," said Hartford, who strongly supports the Silver Alert system.
"People with Alzheimer's have the ability to make decisions that can get themselves in danger but do not have the problem-solving skills to get themselves out of danger," he said.
Alert helps
find woman
Judith Hinthorn's family believes the Silver Alert system helped save the 83-year-old woman's life when she disappeared in June 2017 from her north-side Tucson home.
At about 9 p.m., Hinthorn spoke with her grandson and she was supposed to pick him up from work near North Oracle and West Roger roads. She never showed up. As the hours passed, Hinthorn's family worried, growing more anxious as they wondered where she was, said daughter-in-law Chelita Jo Hinthorn.
Judith Hinthorn was diagnosed with Alzheimer's — a progressive disease that affects parts of the brain that involve thinking, remembering and using language.
The family reported her missing and Tucson police officers gathered information and began searching for Hinthorn, and put out a media alert asking the public's help to locate her. Officers released a photo and a description of Hinthorn, along with an image of the type of vehicle she drove and the license plate.
A Silver Alert was issued and 24 hours passed before she was spotted in the community of Catalina, north of Tucson, recalled Chelita Jo. "She made it up to Globe and was headed back when her car overheated on the side of the road, and a nice man that owned a garage saw her and took her to his garage."
Other motorists recognized her from the Silver Alert and called 911. Pima County sheriff's deputies responded and found Hinthorn in good health and she was reunited with her family.
Hinthorn had been tracked by authorities through her use of her debit card at ATMs, but by the time authorities arrived "she was gone. She was on the move," said Chelita Jo, who posted on the Tucson Police Department's Facebook soon after her mother-in-law was found that she was with her family being replenished with food and fluids at an Olive Garden restaurant.
Hinthorn no longer drives, and relatives and neighbors visit her often to make sure she is safe, said Chelita Jo. A grandson lives with the elder Hinthorn, a retired accountant who worked until about 1997 for Amphitheater Public Schools.
Acting quickly
saves lives
Sgt. Kimberly Bay, a Tucson police spokeswoman, said police investigate an estimated dozen missing persons reports of elderly or those with developmental disabilities a year.
Nearly all of them are found before a Silver Alert is issued, said Bay, including two cases earlier this month. One case was Darcy Campos, 29, who was diagnosed with epilepsy and severe autism. Campos walked away from a day program in midtown, and ended up at Banner-University Medical Center where she was listed as a Jane Doe. After a media alert was issued on Campos, hospital staff recognized her and called police.
The other case was Gene Friedrich, 70, who walked away from his care facility. Friedrich was diagnosed with Alzheimer's. He was found safe by a person who spotted him not far from where Friedrich lives.
"We just want to find them quickly and find them safe," said Bay. "We find most of them within the first few hours near their homes. There are some we have found across town because they hop on the bus or are given a ride."
"The public is extremely instrumental in helping locate missing persons. Sometimes people may be driving down the road and they see a person who looks confused or out of place, and they report it. Those reports are really important," said Bay.
With monsoon flooding and the summer's triple-digit heat, it is especially vital for motorists to report "someone that seems out of place," Bay said.
There have been some instances in past years where a confused, lost adult from Arizona drove out of state. One such man was found in Louisiana through the Silver Alert system.
The law enforcement agency responsible for the jurisdiction where the person is reported missing must take a missing persons report, release information to the local media and exhaust resources in trying to find the missing person before the Silver Alert is activated by the DPS, said Moore. It can take at least an hour for police or deputies to meet the requirements for a Silver Alert, explained Moore.
Before the issuance of a Silver Alert, police must check hospitals, jails, residences where the missing person has lived, and check in with other agencies to make sure they did not pick up the person, Moore said.
Tragic case leads
to alert's creation
In 2014, Gov. Jan Brewer signed legislation to create Silver Alert after state Sen. Gail Griffin, R-Hereford, and Cochise County Sheriff Mark Dannels worked to establish a system, similar to the Amber Alert but for seniors.
They were moved to act when Mary Black, 86, from the small community of St. David, drove off in her car in November 2013. Black, who had dementia, abandoned the car off Interstate 10 on a road in Pinal County and her body was found two weeks later. She had wandered about a mile from her car and died from exposure.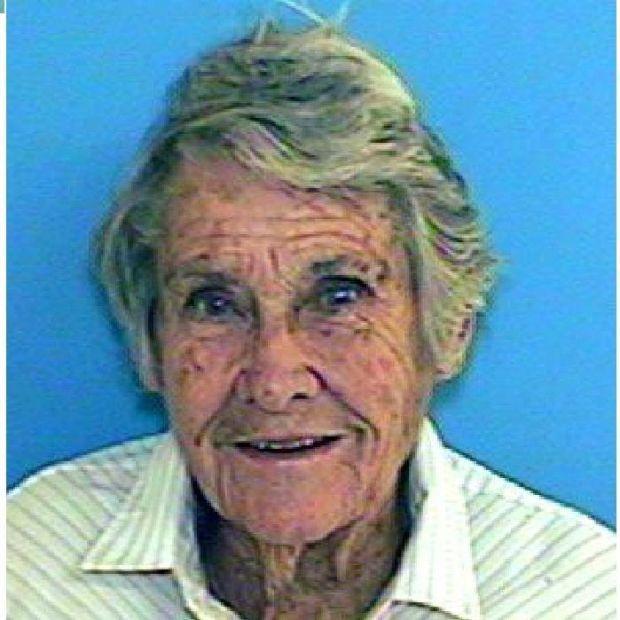 At that time, Dannels had said that law enforcement agencies do not always communicate with one another, and if a Silver Alert system had been in place, agencies across the state would have had information about Black's situation .
"When we see a significant void in service related community response, we do whatever we can to fill that void," said Dannels. "When the Cochise County Sheriff's Office discovered that there was no mechanism in place for finding at-risk citizens in our community, (or in the state), who have disappeared, the process began to establish the Silver Alert.
"This program is a great asset to our investigative arsenal to allow the public to assist whenever we have a missing and endangered person. We are confident that with the passing of the Silver Alert program, the state of Arizona has been able to save a multitude of lives, and for that we are thankful," the sheriff said.
"Wandering is just a huge issue.
For people with Alzheimer's disease, it is a major danger.
Six out of 10 with Alzheimer's will wander at some point." Morgen Hartford, Regional director of the Alzheimer's Association Desert Southwest Chapter in Tucson