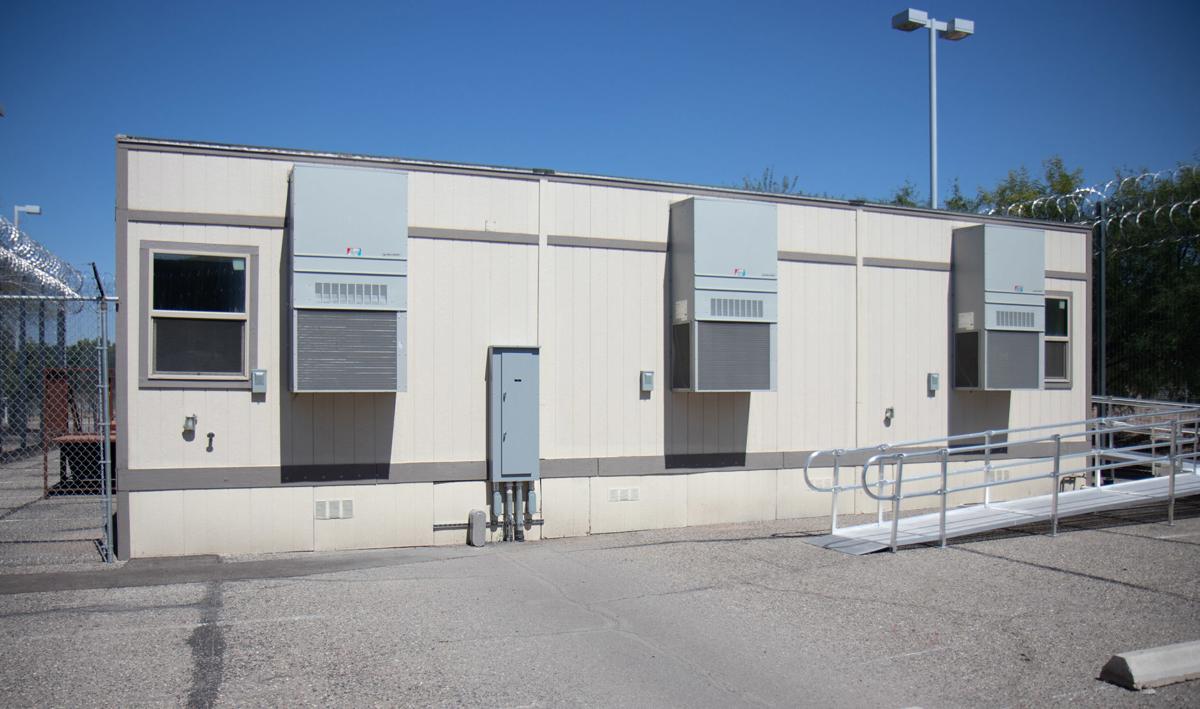 The completion of a temporary facility outside the Pima County jail will allow certain misdemeanor defendants to be screened in an effort to avoid putting them behind bars.
The program, slated to begin later this month, will save taxpayers up to an estimated $1.9 million in incarceration costs annually and is designed to safely reduce the jail population.
The temporary Pretrial Services Screening Annex, located next to the Pima County Adult Detention Complex, will host 400 to 500 misdemeanor screenings per month, saving the county between $1.5 and $1.9 million each year, officials said Friday during the annex's unveiling.
The annex will officially open June 26 and is the first phase in the upcoming construction of a permanent two-story screening and reentry annex planned for the jail's east side. The building, which will have between 18,000 and 20,000 square feet, will likely cost the county $5.5 million to build.
Construction on the permanent structure is expected to begin in early to mid-2021 and will likely be completed by the end of 2022.
In addition to pretrial screenings and reentry services, the permanent building will also hold gap housing and service providers.
While the temporary annex is "pretty plain and not overly glamorous," the building was, in fact, visionary, said Assistant County Administrator Wendy Petersen.
Incarceration affects defendants' families, neighbors, congregations and communities, Petersen said, adding that people lose their jobs, housing and sometimes families as a result of being put in jail.
"This building saves money, saves time and possibly saves lives," Petersen said.
Keeping low-level offenders out of jail will hopefully improve their outcomes and reduce recidivism, added Pima County Administrator Chuck Huckelberry. The transitional housing provided in the completed reentry center will ease the shock of people trying to figure out what to do upon release from jail.
The annex will largely serve defendants picked up for failing to show up for court, along with those who have warrants for bad checks.
Pima County Superior Court Presiding Judge Kyle Bryson said a lot of people in jail are there because they can't afford to get out. For 40 years, Pretrial Services has had the discretion to release low-level offenders who meet specific criteria, but that process takes place in jail after booking.
With the addition of the annex, Pretrial Services has a place to safely release people without ever having to book them into jail, Bryson said.
Defendants will be screened to determine if they're safe for release.
Those released will receive calls and follow-up reminders on court dates, said Pretrial Services Director Domingo Corona.
"Education is a big component (of the screening,)" Corona said.
Only certain misdemeanor offenses will be eligible to be screened in the annex, Corona said.
For example, those accused of some lower-level crimes, like misdemeanor domestic violence, won't be eligible for the new procedure and will continue to be booked into jail, Corona said.
Sign up for our Crime & Courts newsletter
Get the latest in local public safety news with this weekly email.