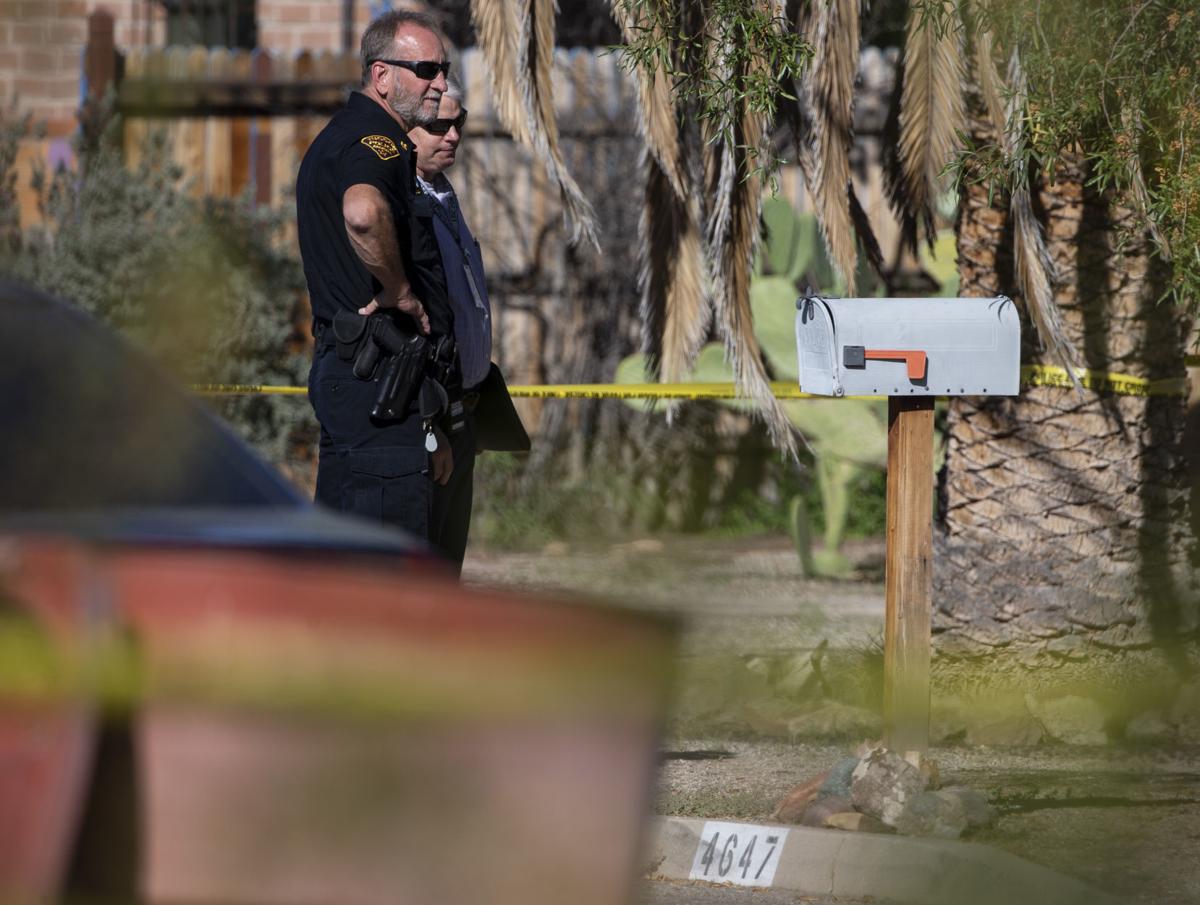 Guns and drugs, including mushrooms and LSD, were found inside the midtown Tucson home of a woman who shot and killed two men police say were trying to break into her house last week, court records show.
The 22-year-old woman apparently used a .38 caliber revolver to shoot the intruders as they tried to force their way into the house through a locked back door about 3:45 a.m. Oct. 16, according to a search warrant filed in Pima County Superior Court this week.
Corey Teixeira, 18, and Ali Mohamed, 18, were found in the home's backyard. Mohamed was a 2019 graduate of Palo Verde High School and Teixeira was a 2019 graduate of Salpointe Catholic High School, school officials confirmed.
The woman, who has not been identified, was not injured in the attempted home invasion at her home near North Swan and East Grant roads.
Detectives said in the court document that two "spent" .38 caliber shell casings were recovered from the property. Other items taken by police included: a Remington 870 shotgun; two .38 caliber Smith & Wesson Special Revolvers; a knife; suspected psilocybin mushrooms; LSD sheets and tablets; marijuana seeds; packaging materials; and a vacuum sealer, according to the document.
Pills suspected to be Xanax, a knife sheath and duffel bags were taken from a vehicle apparently used by the two slain men, according to the document.
The woman has not been charged with a crime.
Some neighbors say last week's shooting have left them shaken.
"I'm definitely going to get a gun to protect myself, too," Jay Spencer, who has lived in the area for about seven months, said recently. "There's not enough enforcement, to be honest."
Spencer added that in the short time he has lived there, he already has caught a man trying to break into his home. The man was gone by the time police arrived, he said.
He also recalled other crime-related incidents in the neighborhood, including a woman reporting a break-in at her home, items stolen from a truck, as well as a person shown on video stealing a cactus from a house.
Another neighbor said the there was an unusual amount of visitors at the house where the shooting occurred.
"We've seen a lot of traffic going in and out of that place," said Colleen Scheuring. "Since she moved in, back and forth, they don't stay very long and leave." Scheuring said she initially attributed the activity to the woman being college-aged, before hearing the house appeared to have been targeted.
But overall the neighborhood has changed for the better, says Lois Pawlak, president of the Garden District Neighborhood Association, who has lived in the area for 36 years.
She says more of the 7,000 people who live in the area are involved in making it a better place to live and not "burying their heads in the sand" when it comes to safety, Pawlak said.
"People think they're going to sit in their house and not participate in calling 911, or telling anyone else who might be able to convey that information to the police," said Pawlak. "They think they're just going to sit there and magically some crime issue they have is going to disappear."
Neighbors continue to work with the Tucson police to address problems and suspicious activity they've seen on private easements near homes or alleyways, she said. Residents recently put gates on some easements to make them less accessible.
"People in the area usually know who the questionable houses are, but again, if they never call the police and use the lame excuse 'well the police don't do anything they never come,' then they choose to be a victim," she said.
Contact Star reporter Shaq Davis at 573-4218 or sdavis@tucson.com
On Twitter: @ShaqDavis1.
Sign up for our Crime & Courts newsletter
Get the latest in local public safety news with this weekly email.