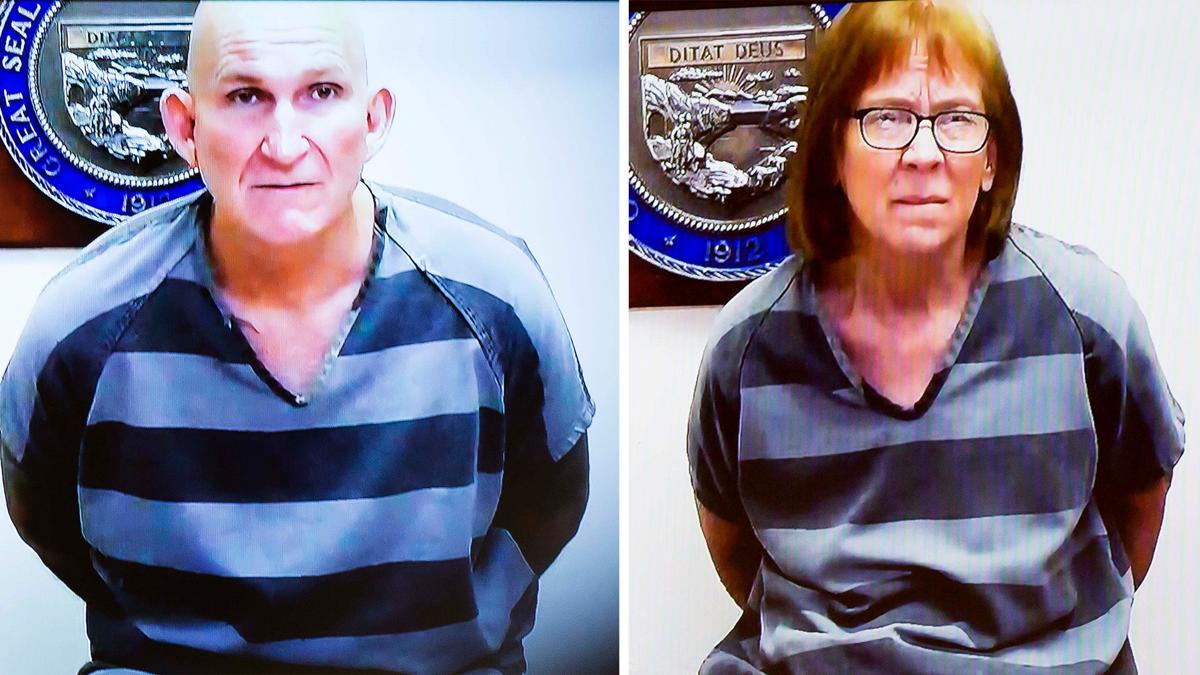 A couple accused of killing a Tucson man in April pleaded not guilty Thursday, a week after their arrests following a two-week escape from extradition to Pima County.
Blane Barksdale, 56, who was listed on the U.S. Marshals Service's 15 Most Wanted list, along with his wife, Susan, 59, appeared remotely for their video arraignment at Pima County Superior Court on Thursday.
The couple is facing multiple charges, including first-degree murder, first-degree burglary, arson, abandonment of a dead body, felony criminal damage, auto theft, and trafficking in stolen property in connection with the death of 72-year-old Frank Bligh.
They were apprehended last Wednesday in Gila County's Tonto Basin two weeks after escaping while being extradited from New York, where the couple was first arrested.
Officials said Susan Barksdale faked a medical emergency in Blanding, Utah, causing two unarmed private security guards to pull the van over.
The couple then overwhelmed the guards and tied them up with shoelaces.
They used the security van to drive near St. Johns, Arizona, to obtain a red GMC Sierra pickup from a friend.
On Sept. 11, about 50 officers from multiple law enforcement agencies surrounded a 1-acre property during the night, thanks to a tip officials received.
Officers were able to get the homeowner, an acquaintance of the Barksdales, out of the home first before Susan Barksdale exited, officials said.
After initially refusing to exit, Blane Barksdale became verbally abusive while approaching the officers.
Officers decided to use a Taser and a bean bag round to get him to the ground, officials said during a news conference last week.
The investigation of Bligh's death began after Tucson firefighters responded to a fire at his east-side home in the 3500 block of South Calexico Avenue on April 16.
Police later determined the fire was arson, according to Daily Star archives.
Authorities said they found Bligh's missing vehicle the next day on South Wilmot Road.
Tucson police detectives determined he was dead after examining the evidence inside. His body has not been found.
On Sept. 13, Brent Mallard, nephew of Blane Barksdale, admitted in a plea hearing to setting fire to Bligh's home.
The 30-year-old also claimed he did not know of the Barksdale's alleged murder plot, The Associated Press reported.
The investigation of persons of interest that may have helped the couple hide from authorities is ongoing.
The Barksdale's next hearing is set for Oct. 21.
Contact Star reporter Shaq Davis at 573-4218 or sdavis@tucson.com
On Twitter: @ShaqDavis1