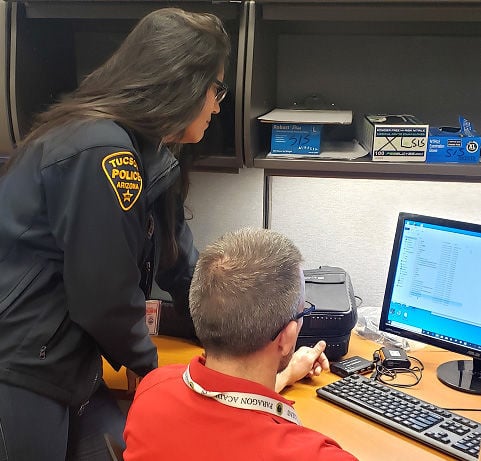 Tucson police and the county attorney's office are working to fight the growth of a new type of gang that uses social media and the promise of money to attract young members to a life of crime.
The Tucson Police Department's Gang Investigative Unit has termed these groups "hybrid-gangs," saying they emerged here about two years ago, lacking traditional gang identifiers like claiming a specific area of the city, or having a common race or ethnicity.
Hybrid gangs are characterized by their young, multi-ethnic, mixed-gender demographics, fluid gang affiliation and their use of social media. Members are typically between 14 and 19 years old. TPD is aware of nine active hybrid gangs in Tucson.
TPD asked that the gangs not be named to avoid further publicizing the groups. However, Arizona Gov. Doug Ducey tweeted last month about the successful prosecution of three Tucson-based men who committed a string of 2018 drive-by shootings to increase the notoriety of the "Get Money Gang."
Juvenile violent crime linked to gang affiliation "bloomed" in 2019, said Deputy Pima County Attorney Caroline Allen, who said groups of youth started getting together "and essentially creating their own gang monikers" to commit crimes like shoplifting, armed robbery, aggravated assault, drive-by shootings and others.
"All of a sudden, they've come up out of nowhere," Allen said.
However, the FBI noted the rise of hybrid gangs in their 2011 National Gang Threat Assessment.
"Hybrid gangs are difficult to track, identify, and target as they are transient and continuously evolving," according to the assessment.
But similar to Tucson, it wasn't until last year that cities across the nation began noticing an increasing amount of hybrid gang activity.
Social media "wars"
In an article titled, "The Rise of Hybrid Gangs" on the Police Magazine website last year, gang unit detective Ryan Jones from Montgomery County in Texas said, "alliances create decentralized hybrid gangs that organize, plan, and execute robberies, burglaries, and pharmacy thefts."
In the past, traditional gangs have maintained boundaries around certain locations, had specific loyalty ties based off ethnicity or culture and placed value in gang hierarchy. Local officials say hybrid gangs have warped this completely.
"They now ride together," said Sgt. David Contreras, a detective on the TPD gang unit. "They seem to do a lot of criminal activity with whomever they wish and their ultimate goal is to make money," or what TPD calls 'the green.'"
According to the FBI assessment, "hybrid gangs are of particular concern to law enforcement because members often escalate their criminal activity in order to gain attention and respect."
Now, nine years after the assessment was published, TPD has emphasized the use of social media as a way for hybrid gangs to gain attention, respect, a greater following and more recruits.
Online social spaces have become equivalent to territory, said Contreras. Hybrid gang members claim gang affiliation on Facebook, Twitter and Snapchat pages, engage in "word wars" with rival gangs, advertise fire arms and narcotics and exercise bragging rights by posting photos with stacks of money, fire arms and narcotics.
"Everything is instantaneous with these young gang members in the sense that if they talk badly about another gang, it's immediate. It's on social media. Other gangs can respond immediately as well," Contreras said. Some online "word wars" have sparked retaliation crimes like drive by shootings.
"They don't think of any consequences," Contreras said. "They just want a show on social media."
Easy money
Contreras has also found that hybrid gangs are more aggressive to and challenges law enforcement more than traditional gangs. Most of the TPD gang unit's investigations and intelligence have shifted from traditional to hybrid gang affiliation.
"We will most likely link that traditional member to the hybrid now," Contreras said. "They've broken away from the traditional hierarchy of what they're used to, and now they're running with the hybrid gang."
There is little sense of loyalty, as members sometimes switch gang affiliation.
"What we're seeing is that the juveniles specifically are ready to jump gang lines at any particular point," said Allen. "So they'll claim one gang and they may get arrested and all of a sudden they may claim a different gang."
This is the type of intelligence that the gang unit keeps track of, Contreras said. They respond to all possible gang-affiliated calls, both hybrid and traditional, where the suspect may be a gang member, or possibly the victim or witness. The unit is there to investigate the crime itself, but has also been able to develop depths of intelligence regarding gang affiliation and activity.
Based off the intelligence and experience he has had with hybrid gangs, Contreras has concluded that easy fame, reputation and street credit are also important to the young members.
A lot of it is a lifestyle choice, Contreras said, saying he's aware that many of the young members understand that it's not just like a video game.
"Once they commit some of these crimes, they realize that it's pretty serious. And maybe that will deter them, but once they join and see what kind of lifestyle they can have, that's the risk that a lot of people take," Contreras said. "To a young person that doesn't have much going for them, or a family structure that's not very supportive of them, they see this as an easy way to make money and be part of something."
TPD is aware of an 11-year-old hybrid gang member. The gang unit is still trying to determine why "that person would choose that route," but think that a sibling or peer pressure could be the cause, said Contreras.
"They are not shy about the fact that they're members of these gangs, or that they associate themselves with these gangs," Allen said of the members her office has prosecuted.
Shayne Tarquinio is a freelance reporter.