One of four men accused of killing another inmate in the Arizona State Prison Complex in Tucson has been sentenced to 16 years for his role in the incident.
Ryan Wayne Bohannon, 31, pleaded guilty to second-degree murder in connection with the killing of Joseph Zawacki, 46, who died after being stabbed in the prison courtyard in 2017, court documents state.
Early in the morning on Sept. 5, 2017, Arizona Department of Corrections Officers reported an altercation in the recreation field allegedly involving Bohannon, Tim Westly Weaver, 51, Scott Mitchell Elrod, 28, and Christopher Gregory Simpson, 33, against Zawacki.
When officers approached the area, Bohannon, Weaver and Simpson were accused of running away, while wearing bloody clothes, to the recreation bathroom to dispose of four prison shanks. The weapons apparently used in the attack were made of 11-inch steel pieces with cloth handles, court documents said.
Officers found Zawacki who appeared to have multiple stab wounds and tried to aid him before pronouncing him dead at 6 a.m., according to court documents. It was later learned that he suffered 50 stab wounds in the attack.
The three men accused of running from the area were found in the bathroom by officers. The fourth man, Elrod, was found in the recreation yard near the barber's station.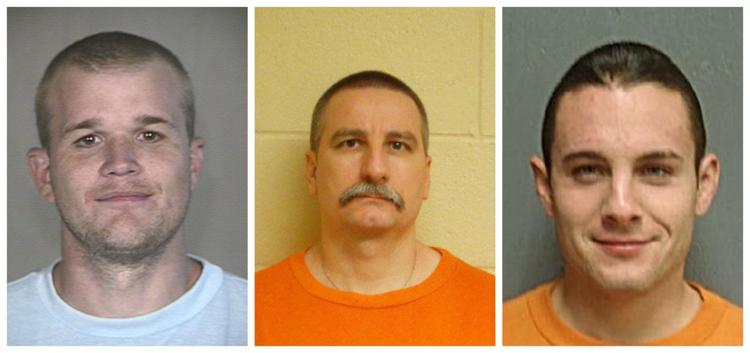 A subsequent search of the Elrod's cell led investigators to tennis shoes with drops of blood on them. The blood was determined to be Zawacki's.
Interviews and video evidence confirmed Elrod as the fourth man involved, court documents said.
Zawacki's blood was also found on the clothes of the three other men.
The four men were initially facing charges of first-degree murder, conspiracy to commit murder, kidnapping and promoting prison contraband in connection with the fatal attack.
Bohannon accepted a plea deal on May 23 and was sentenced to serve 16 consecutive years after his 24-year sentence for drug charges, armed robbery and aggravated assault.
On May 29, Simpson accepted a plea deal for second-degree murder for the fatal incident, documents said. His sentencing is scheduled for July 19. He was already serving a 14-year sentence for burglar and dangerous drug violations, according to Daily Star archives.
Weaver's court case is ongoing. State prosecutors are seeking the death penalty against him, documents said. He is also serving a life sentence for two first-degree murder convictions for incidents in 1995.
Elrod's case is ongoing. He remains in prison while serving a 13-year sentence for burglary. He served time previously for armed robbery and drug charges.