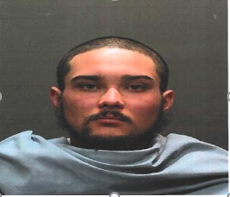 A man accused of repeatedly molesting a child several years ago has been arrested after a month-long U.S. Marshals Service investigation, authorities said.
On Nov. 20, an arrest warrant was issued for Zachary Kealoha, 26, to face five counts of sexual assault and sexual misconduct of a minor at least 15 years old, a U.S. Marshals news release said.
He had been accused of "numerous incidents of rape and molestation" of a girl between the ages of seven and 11. The alleged crimes occurred about five years ago.
On Thursday, U.S. Marshals tracked Kealoha to a home in Corona de Tucson and arrested him once he came outside.
"No child should ever be subjected to sexual abuse, especially by a trusted individual," said David Gonzales, District of Arizona U.S. Marshal.
Kealoha was booked into the Pima County Jail.
Contact Star reporter Shaq Davis at 573-4218 or sdavis@tucson.com
On Twitter: @ShaqDavis1