Tucson Police are looking for a man who allegedly robbed an auto shop at knife-point on Tucson's east side on March 26, officials say.
The man allegedly made the employees at the auto shop on 5460 E. Fifth St. get on the ground while he took cash from the store, according to a Tucson Police Department tweet.
Police describe the man as thin, about 5-feet-10-inches tall, with dark hair pulled back.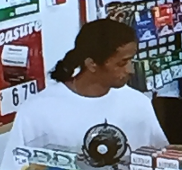 Anyone with information is asked to call 88-CRIME. Anonymous tips are accepted.