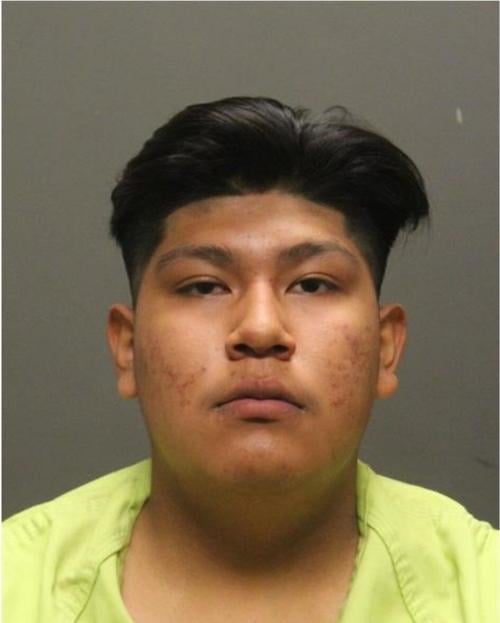 The suspected teenage driver of a red Cadillac is behind bars Friday, charged on suspicion of first-degree murder and drive-by shooting in the slaying of a University of Arizona student.
Alonzo Orosco, 17, of Tucson, was booked into the Pima County jail on Thursday, Feb. 25, and is expected to be charged as an adult in connection with the on-campus killing Feb. 20, according to a high-ranking official with the Tucson Police Department.
Orosco is accused of being involved in the shooting of 20-year-old sophomore Forrest Keys, who was walking home through a UA parking garage when a dispute broke out with occupants of an older red Cadillac from which shots were fired.
Orosco borrowed the Cadillac from a relative, police said.
There's no evidence at this point the killing was gang-related, police said.
The investigation is ongoing and TPD is still seeking "multiple persons of interest due to their presence or involvement," including the shooter, said Assistant Chief John Strader, who's in charge of overseeing criminal investigations.
In an interview with Arizona Daily Star, Strader credited a tip from the public with leading detectives to the owner of the red 2008 Cadillac DTS that was captured on a parking garage surveillance camera leaving the scene of the killing.
The UA campus police department, which is also involved in the homicide investigation, was able to piece together a partial license plate number from other surveillance cameras, and it matched with a tipster who called in the full license plate number, Strader said.
"It's the public that helped us get this far and we're still seeking information," he said, adding that detectives are working around the clock on the case.
Anyone with information about witnesses or parties involved is asked to call 88-CRIME, which accepts anonymous tips.
Thankful for police work
Keys mother said the family deeply appreciates the intensive law enforcement effort that led to an initial arrest five days later.
"My husband and I are grateful beyond words to the detectives and others who have put in long hours to bring about justice for our son," Natasha Keys said in a brief statement to news media hours after police announced a suspect was in custody.
UA President Robert Robbins, in a statement to Star, said he's "relieved by the news that an arrest has been made.
"Credit goes to the investigative teams at the University of Arizona Police Department and the Tucson Police Department who worked together to identify the car and ultimately, the suspect," Robbins said.
A virtual celebration of Keys' life is set for 10 a.m. Saturday, Feb. 27. The event will be livestreamed by Sunrise Chapel at tucne.ws/1gxp
Memorial scholarship
The UA Foundation has established a scholarship fund to honor the memory of Keys.
The Forrest Beckett Keys Memorial Scholarship Endowment already has $25,000 in it, an initial contribution funded by UA donors.
The foundation is seeking additional donations to secure the scholarship in perpetuity.
"Together, our spirit of generosity will lift him up, building a legacy for generations of Wildcats to come, who will carry his named scholarship with them as they finish their studies," the foundation said in an online announcement.
The fund will be administered in consultation with the Keys family, Robbins said.