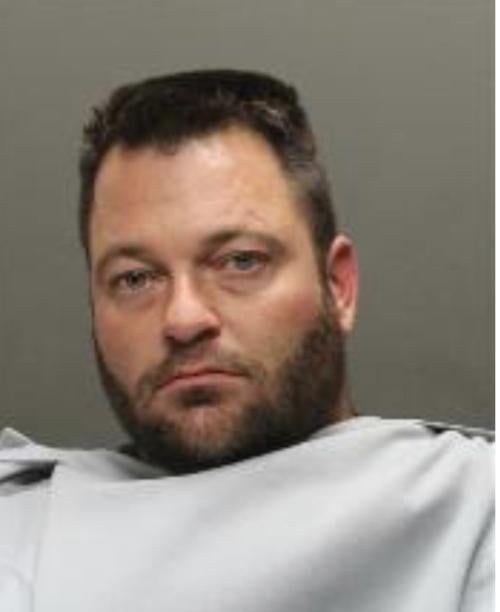 After being arrested on bestiality charges in Tucson last August, 37-year-old Jacob Blatchford probably didn't think his dog would be a piece of evidence connecting him to out-of-state crimes.
Nonetheless, the black-and-white dog caught on surveillance video from a crime scene in Cheyenne, Wyoming, matched photos Pima County officials had of the dog with Blatchford at the time of his Pima County arrest, according to Cheyenne Police spokesman Kevin Malatesta. 
In the surveillance video from Aug. 4, 2018, the dog is following the man police believe to be Blatchford while he stakes-out a gas station before busting through the wall with an excavator and scooping up the ATM.
The excavator was stolen along with a trailer, totaling $100,000 worth of heavy equipment, according to Malatesta. He says the gas station alarm went off and Blatchford allegedly fled with his dog in a truck, which was also stolen, towing the trailer.
Almost two weeks later, Blatchford was caught on surveillance video climbing into a pen of animals at the Rocking K Ranch, 13401 E. Old Spanish Trail, and sexually assaulting a small pony, according to an interim complaint filed in Pima County Superior Court. 
The Pima County Sheriff's Department arrested Blatchford on felony bestiality and burglary charges within 24 hours. 
The Cheyenne Police Department, meanwhile, collected DNA from the stolen truck and got a match with Blatchford's, Malatesta says. In early January, Pima County authorities sent Cheyenne police photos of Blatchford and his dog, which also seemed to be a match, adding to the body of evidence connecting Blatchford to both crimes. 
"The dog—that's what we were anticipating would be a lead that would solve this case for us," Malatesta said.
Blatchford is currently being held in Pima County jail without bond. He has another Pima County case pending for charges of felony theft and drug possession from September 2017.
Cheyenne Police Department hasn't submitted charges against Blatchford yet, Malatesta said. It's yet to be seen if Blatchford would be extradited to Wyoming after dealing with his charges in Pima County.