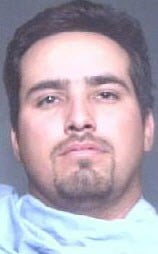 A Tucson man was sentenced to life in prison without possibility of parole on Monday for his role in the starving death of his 3-year-old son. 
A Pima County Jury on August 21 found Martin Barreras guilty of first-degree felony murder and intentional or knowing child abuse, according to Krisanne LoGalbo, a Pima County Superior Court spokeswoman.
His wife, Raquel Barreras, was also found guilty of first-degree felony murder and child abuse in the same case in May and was also sentenced to life in prison. 
Their child, Roman Barreras, 3, is believed to have died sometime between the spring of 2013 and January 2014. His remains were found in an abandoned toy chest after his family was evicted from a rental unit in the 700 block of West Idaho Street.
The department took Roman and three of his older siblings from his parents after he was born in July 2010 due to drug exposure, but returned Roman to his father about a year later. 
Raquel Barreras was not supposed to be around her children because she had not complied with the DCS case plan. Martin Barreras, who complied with the plan, allowed her to return to the home.