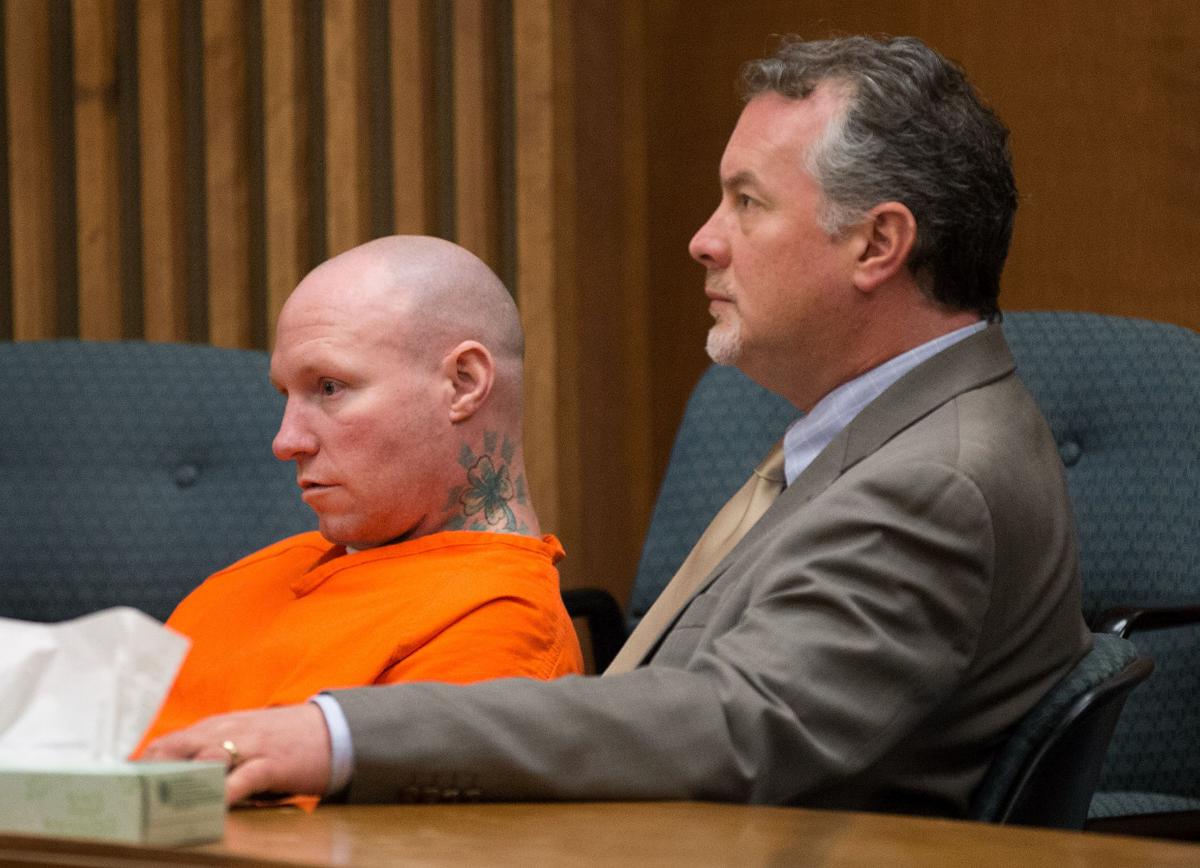 A Tucson man who raped and terrorized at least seven women over a 12-year span was sentenced to 274 years in prison Monday.
Nathan Loebe was convicted Feb. 21 of 12 counts of sexual assault, five counts of kidnapping, three counts of stalking, and one count of attempted sexual assault. Between 2003 and 2015, seven women reported they had met a man, later identified as Loebe, in a bar or through online dating websites. Several of the women said they either lost consciousness or became incapacitated after having drinks with Loebe, who provided false names to some of the women.
The cases went unsolved until 2017, when the Tucson Police Department received a $1 million grant to test a decades-long backlog of nearly 2,000 sexual assault kits.
While Loebe, who had previously been identified as a suspect in some of the cases, always claimed consent, police and prosecutors were able to build a case against him once they had DNA evidence from multiple cases.
The first two rows of the gallery of Judge Deborah Bernini's Pima County Superior courtroom were filled with victims and supporters Monday morning, including at least one who had flown in from out of state to attend Loebe's sentencing.
Loebe, 38, smiled and laughed with his attorneys before sentencing.
Before Deputy Pima County Attorney Tracy Miller made her sentencing recommendation to the court, four of Loebe's victims took turns reading statements to Bernini. Loebe had his back turned to the women throughout their emotional pleas.
One of the survivors told Bernini that she wasn't initially sure if she wanted to participate in the trial when police contacted her four years after her assault, but she's been grateful for the opportunity to talk about how the attack affected her life.
The Star does not typically identify victims of sexual assault.
The woman said she initially blamed Tucson Police and the court system for the delay in justice, but "mostly I blamed myself."
After her assault, when Loebe was stalking and threatening her, he told the woman that he had proof that he was HIV positive. As a result, the woman endured 17 HIV tests, she told Bernini.
The woman said that the trial had been a blessing for her, in part, because she learned she'd been blaming all the wrong people.
"The fault lies with Nathan," the woman said, adding that the night of her assault, she had asked him for a ride home and nothing more.
The woman asked Bernini to consider what it was like for the victims to hear Loebe's twisted version of what he did to them during trial. She also asked the judge to consider the victims who chose not to participate in the trial or who didn't report Loebe to police, mentioning the "nightmares he's infected all of our lives with."
"Consider the victims the system failed," she said. "Nathan, you are a predator. You are beyond rehabilitation. I hope this trial has changed you as much as it's changed me."
Another survivor was hyperventilating as she walked up to the prosecutor's table and said, "I waited 16 years for this day. I waited 16 damn years."
The woman told Bernini that after her 2003 assault, she felt embarrassed, ashamed and blamed herself. The police didn't believe her claims and treated her like a liar, she said.
In 2017, when Tucson Police Detective Dallas Wilson and a representative from the Pima County Attorney's Office Victim Service's Division contacted her about the DNA hit on Loebe, the woman said she just wanted to tell them to go away.
"I waited 13 years for someone to believe my story," she said, adding her assault "messed me up in more ways than one."
The woman told Bernini that she's been admitted to three mental health hospitals, has seen five therapists and has held more than 20 jobs because she's unable to keep steady work. The crisis team has visited her 10 times, she has scars lining her arms and legs from cutting and she's attempted suicide four times, the woman told the court.
"He has taken the old me," the woman said of Loebe. "All of this time, I've been trying to get me back."
Several victims in the gallery wiped away tears as the woman spoke, talking about how the internet access, phone calls and three hot meals a day Loebe would have access to in prison is not her idea of justice.
"I have many titles: Mother, daughter, sister and godmother," the woman told Bernini. "I refuse to have the title of rape victim."
During the trial, Loebe testified in his defense about what he believed happened during his encounters with the seven women. He suggested the sexual contact was wanted and that his actions were justified, Miller told Bernini, adding that Loebe smirked and laughed when his victims took the stand.
"He doesn't believe he did anything wrong," Miller said, telling the court that Loebe had 104 police contacts in Pima County for stalking, threats, harassment and even other sexual assaults and that there were additional victims who didn't want to participate in his prosecution.
"These survivors deserve more," Miller said, before asking that Loebe be sentenced to the maximum amount in each and every count.
Pima County Legal Defender James Fullin, who along with Kristine Alger represented Loebe, said his client had been diagnosed with bipolar disorder and is stabilizing now that he's on medication in jail.
"It's not lost on Nathan Loebe that his perception differs dramatically from the victims," Fullin said. "That's something he has to think about and deal with."
Fullin went on to say that Loebe had a difficult childhood that led to chaos later in his life, asking that Bernini take those factors into consideration when deciding his sentence.
After handing down the sentence, which included several consecutive and concurrent sentences, Bernini said that she'd considered Loebe's "chaotic childhood" and mental health issues in making her decision.
Bernini gave Loebe 622 days credit for time served in the Pima County jail and left the issue of restitution temporarily open so that the victims could figure out therapy costs.