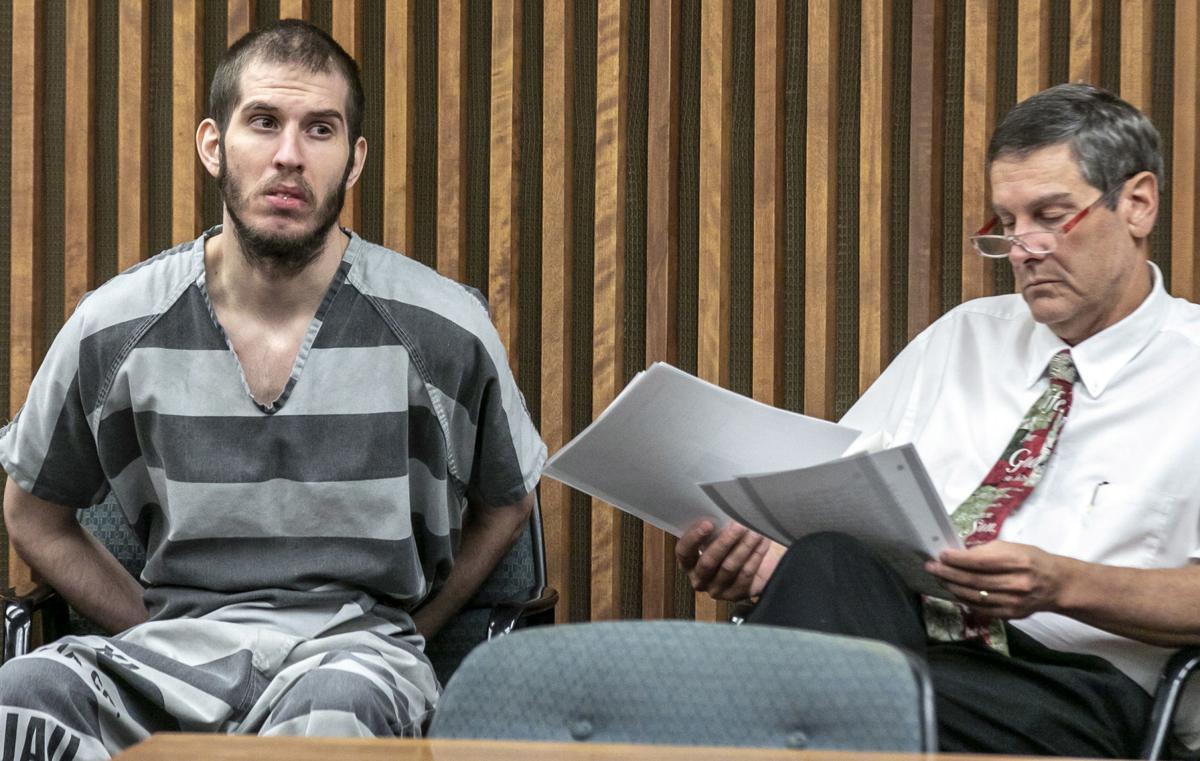 A Tucson man convicted last month in connection with the stabbing death of his girlfriend will spend the rest of his life in prison.
Extra deputies were stationed in the Pima County courtroom for Chet Jack Wadsworth Maley's sentencing Monday morning, likely in response to Maley's physical attack on his attorney following the reading of his guilty verdict on April 12.
The jury took less than four hours to find Maley guilty of first-degree murder and kidnapping in connection with the November 2016 stabbing death of 29-year-old Roxanne Ortiz.
During the trial, jurors saw a security video from a north side pizzeria that showed Maley carry Ortiz across a parking lot, throw her over a short wall and stab her multiple times before running away. Maley, 28, was arrested several hours after her death when he attempted to return to his house. His defense at trial focused on the theory that police arrested the wrong man, as there was no DNA evidence at the crime scene linking Maley to Ortiz's murder.
After the jury was escorted out of the courtroom following the reading of the verdict, Maley punched one of his two public defenders in the side of the head and was promptly taken to the ground by deputies. Following the attack, Superior Court Judge Deborah Bernini released the Pima County Public Defender's Office from its defense of Maley and assigned a new attorney to handle his sentencing and other court matters.
Several members of Ortiz's family were seated in the gallery for Monday's sentencing. Beverly Wallace, the grandmother of Ortiz's two children, read a letter to Bernini, talking about Ortiz's love of her children and family, and how they enjoyed bowling, camping and going to the park and eegee's together.
"Roxanne's future grandchildren will only know her from stories," Wallace said in court, fighting back tears as she talked about the "inconceivable emotional strain" placed on Ortiz's children following her "savage murder."
"Roxanne forgave easily," Wallace said, adding that Ortiz's daughter, who was 12 at the time of her murder, has forgiven Maley. Wallace said her family continues to pray for Maley and his family, saying she's "certain they are also suffering."
Maley declined to speak, and his new attorney, Christian Kimminau, told Bernini there was nothing he could say about the potential sentence, since Maley's first-degree murder conviction carried a statutory guideline of a mandatory natural life sentence. This means Maley will be behind bars until his death.
Bernini sentenced Maley to 10.5 years for the kidnapping, which will run concurrent to the natural life sentence.
Maley is also facing charges in a separate matter, as he stands accused of assaulting two corrections officers at the Pima County jail.
County prosecutor Michelle Chamblee told Bernini that despite Maley's life sentence in the murder case, the state wishes to pursue the assault charges, either through trial or a plea agreement.