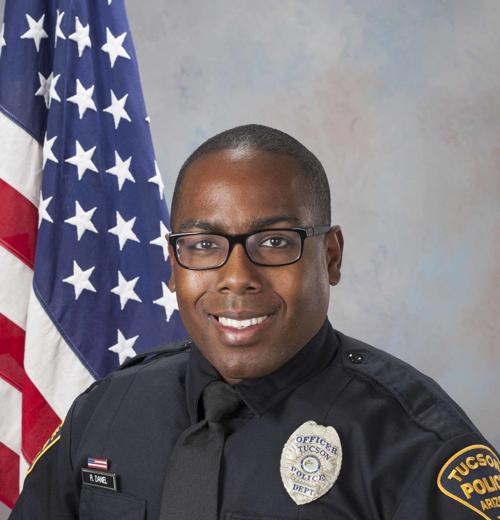 Officer Richard Daniel, 33, first contacted the woman at her apartment complex on Jan. 13, following a report that she had a confrontation with a clerk at a 7-Eleven, according to an interim complaint filed at the Pima County Justice Court.
During questioning, Daniel told the woman she had an outstanding warrant and that he wouldn't take her to jail if she had oral sex or intercourse with him, the court filing says.
The woman told investigators she lied to Daniel and said she was pregnant in hopes that he would leave her alone, the complaint says. At that point, he offered to take her to another location so they could have sex. Not wanting to go anywhere with him, the woman told police she said Daniel could come up to her apartment and she would give him oral sex if her husband said it was OK.
The complaint says her husband was in the apartment when the woman brought Daniel inside and conveyed the officer's proposal.
Her husband said he remembered Daniel from a previous call to their apartment. When he asked Daniel if he was serious, the officer shrugged, the complaint says. The husband left the apartment and went to the 7-Eleven to ask about the confrontation.
After the sex-act, the woman told police that Daniel told her to take care of her warrant or she'd have to go to jail. Then he left.
The husband called to file a complaint against Daniel four days later. Investigators took evidence from inside the apartment, and Daniel's DNA was found in the apartment, the complaint says.
Daniel, a three-year veteran of the Tucson Police Department, was arrested Sunday and has since been released from jail. He was placed on leave without pay and was served a notice of intent to terminate his employment, said Assistant Chief of Police Carla Johnson.
Johnson said this is the first such complaint against Daniel.
"We take these allegations very seriously," she said. "Officer Daniel's conduct — if it's true, if these allegations are correct — it's appalling, and it's not reflective of the men and women who serve and protect this community every day."
She said both a criminal and an administrative investigation are ongoing.
Daniel is scheduled for a Feb. 11 court hearing.
Police ask that anyone with information about the case call 520-837-7588.