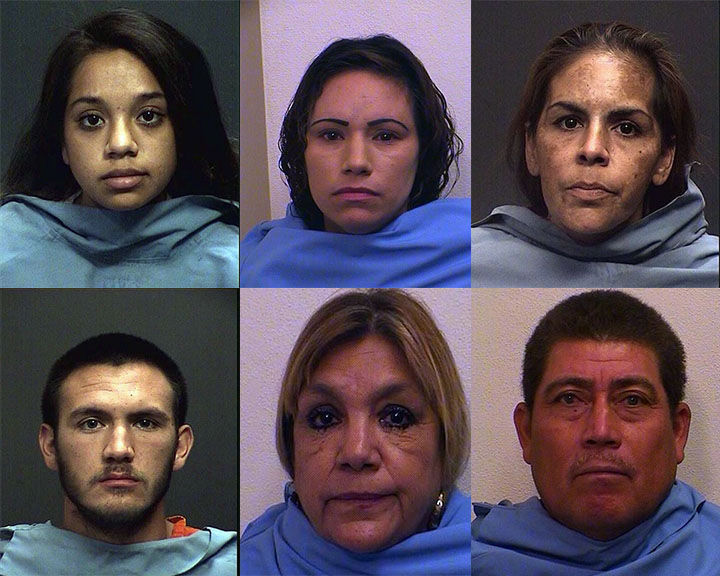 A Pima County grand jury has indicted six relatives in connection with the March beating death of a Tucson toddler, court records show.
While the uncle of 20-month-old Adam Mada was arrested in June, records show five more family members have also been charged with murder for failing to help the boy.
Adam was taken from his mother after he was reportedly born exposed to narcotics and had been placed with relatives, according to Arizona Department of Child Safety records. He died March 12 after his uncle, Erick Henry, 23, beat him to death, authorities said previously.
Henry was arrested June 7 on suspicion of first-degree murder, and is in the Pima County jail on a $250,000 bond.
On June 20, the jury indicted Henry and five others on charges of second-degree murder, child abuse for failure to seek medical attention and endangerment.
The others named in the indictment are Maria Alvarez, Leticia Elizabeth Henderson, Leticia Henderson, Alejandra Loretta Campas and Ambrosio Veranza Pavon, according to court records.
Leticia Henderson and Pavon are identified in court documents as Adam's grandparents, and Maria Alvarez is Henry's wife. All four were living in Henderson's home near Three Points, with Henry and Alvarez's two young children.
Leticia Elizabeth Henderson, the boy's aunt, was Adam's kinship provider. It is unclear how the boy's other aunt, Alejandra Loretta Campas, is connected to his death.
All of the suspects were arraigned last month, and Campas is in jail on a $10,000 bond.
The remaining suspects were released on bonds of the same amount.
The DCS would not provide additional information about the case other than an initial statement released in June.
Deputies were called to Leticia Henderson's residence shortly before 3 a.m. March 12. They found paramedics performing lifesaving efforts on Adam, but the child could not be revived and was pronounced dead at the home.
Adam's autopsy report revealed he died of blunt-force trauma injuries to his abdomen, and a forensic exam revealed tearing to his gastrointestinal tract.
"Multiple rib fractures in various stages of healing were noted ... as well as trauma to the head, and extremities. The child's brain was noted to be swollen," according to court documents.
Three days after Adam's death, his 6-year-old half-sister told detectives that Henry was mean to Adam and would hit him, demonstrating how she'd seen Henry punch Adam in the back, the documents say.
She told her mother and grandmother about Henry's behavior, which both parties confirmed in later interviews, the documents said.
One of Adam's uncles also told police he had witnessed Henry grab him "in a rough manner with both of his hands."
When detectives interviewed Henry, he denied ever having abused Adam, but told investigators that the child had been vomiting and had a fever earlier, and he thought they should have taken him to the hospital. When asked about the bruises on Adam's face, Henry said that the boy had fallen on some steps leading up to the trailer earlier in the day, according to court records.
Alvarez told detectives in June that Adam had been lethargic and "appeared to have cracked ribs that she could feel," the records say. The records note that Alvarez is a trained medical assistant.
She said that soon after, Adam stopped breathing. Court records show that when paramedics arrived, no one told them about the possible rib fractures.
As Adam's kinship provider, Leticia Elizabeth Henderson was caring for the child before his death, Sgt. Sonia Pesqueira, of the Pima County Sheriff's Department homicide unit, said in June.
"(Leticia Elizabeth Henderson) was supposed to have custody, but took the baby over to the house, where she should not have taken him," Pesqueira said, referring to the home where Adam died.
Leticia Elizabeth Henderson reportedly failed to protect Adam from abuse and neglect, and failed to seek medical care for him, the state child safety records say.
It is unclear when Adam began to stay at the Three Points residence with Henry, but the indictment indicates he was at the home from March 9 until his death.
In January, Leticia Elizabeth Henderson was investigated by the DCS for neglecting one of her children. That report was unsubstantiated.
DCS spokesman Bryan Pahia said he could not provide any additional information on the case, including when the boy left Leticia Elizabeth Henderson's home. A search of Pima County Superior Court records yielded no results for the case.
Arizona child welfare workers made 88 visits in Adam's case and last had contact with the boy Feb. 3. Adam, his mother, father and the child's caregivers met with DCS workers an average of four or five times each month as the agency pushed to sever the rights of the child's parents.
All six defendants have a case management hearing in September with Judge Paul Tang.