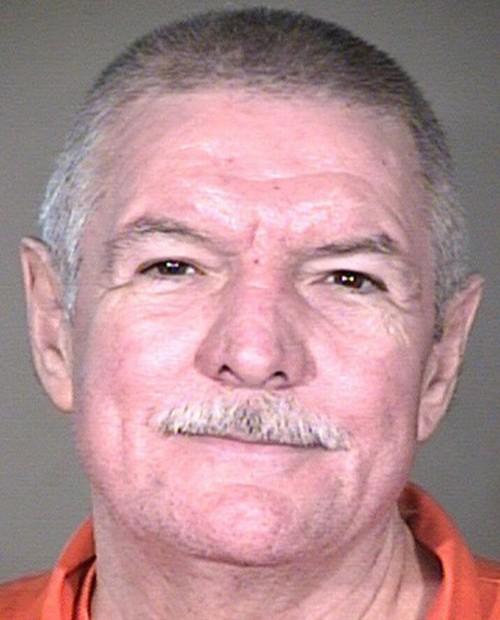 FLORENCE — Arizona inmate Richard Dale Stokley was executed this morning for killing two teen girls in 1991.
Asked if he had any final words, Stokley said "Nah."
It took officials about an hour to find a vein that could be used to administer the lethal injection. Witnesses were allowed to watch that procedure on video monitors.
Once officials were ready, the curtains were opened to the execution room and the procedure was started. Stokley was declared dead at 11:12 a.m.
Even though he had no final statement, Stokley told members of the execution team as they were preparing him, "I do wish I could die doing something meaningful, you know, this seems like such a waste."
On July 7, 1991, Mary Snyder and Mandy Meyers went to a community celebration near Elfrida. Witnesses said they saw 20-year-old Randy Brazeal talking to the girls at their campsite and later while next to Brazeal's father's car with Stokley beside him.
At around 1 a.m., the girls told friends they were going to the restroom and they were never seen alive again.
The next day, Brazeal turned himself in to Chandler police and Stokley was arrested in Benson.
The girls' nude bodies were found in an abandoned mine shaft. An autopsy revealed they'd been raped, strangled, stabbed and stomped.
Brazeal was sentenced to two concurrent terms of 20 years after being allowed to plead guilty to second-degree murder. He had invoked his right to a speedy trial and prosecutors said they offered him a plea agreement for fear they would not have the DNA evidence back from the lab before his trial date.
Although Stokley confessed to police, he went to trial in 1992 and was convicted.
On Tuesday, the U.S. Supreme Court rejected his final appeal.
Mandy's mother, Patty Hancock, vowed to be present at Stokley's execution the day he was sentenced.
"I told him 'The last face my Mandy saw was yours and the last face you'll see is mine," Hancock said in a recent interview.
At the time of this sentencing on July 14, 1992, Stokley said he did not deny culpability, but said there was no premeditation on his part. He also said he'd been made a scapegoat.
"What I am guilty of is being an irresponsible person for most of my life, running from responsibility, living in a fantasy world and it was my irresponsibility on the night that this incident occurred that involved me in the incident...There is no words that can express the grief and the sorrow and the torment I have experienced over this, but I am just going to leave everything in the hands of God because that's where it is anyway."
For his last meal Stokley ordered: A porterhouse steak, french fries, fried okra, a salad, a 2-ounce block of cheddar cheese, two biscuits, a banana, an apple, a peach, chocolate ice cream and creme soda.
Stokley was the sixth person to be executed in the State of Arizona this year.