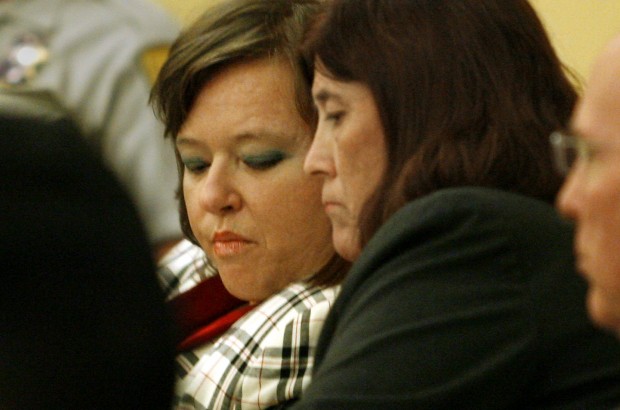 A Washington state resident who once bragged she was going to take her Minutemen group to the "next level" was sentenced to death Tuesday for plotting a deadly home invasion that took the life of a 9-year-old Arivaca girl and her father.
A Pima County jury deliberated four hours over two days before deciding Shawna Forde, 43, should join the other two women on Arizona's death row.
Forde, 43, was convicted Feb. 14 of first-degree murder in the May 30, 2009, deaths of Raul Junior Flores, 29, and Brisenia Flores, 9, and of attempted first-degree murder in the shooting of Gina Gonzalez, Flores' wife and Brisenia's mother.
Jurors were told Forde needed money for her border protection group, Minutemen American Defense, and decided to rob drug smugglers near the border.
Gonzalez testified her husband opened the door of their home to a man and a woman claiming to be law enforcement officers looking for fugitives.
The man opened fire on the couple when Junior Flores questioned their story and their daughter was shot at point-blank range while pleading for her life, Gonzalez told jurors.
A handful of inexpensive jewelry was later found in Forde's possession.
Defense attorney Jill Thorpe asked jurors to spare Ford's life, saying she was a "broken person" who suffered repeated acts of sexual and physical abuse and abandonment as a child.
The abuse and a subsequent stroke resulted in brain damage that left Forde vulnerable to manipulation, Thorpe said. She was unable to assess people or change course, she said.
Forde's childhood also caused her to develop a narcissistic personality that led her to make to outlandish claims and an inability to accept responsibility for her involvement in the Floreses' deaths, Thorpe said.
Forde recently told a reporter her group had 18,000 members when the group probably had, at most, 10 members, Thorpe said.
During the trial, prosecutors played a taped conversation between Forde and an FBI informant that took place days after the slaying. Forde tells the man she'd like his help on some "ops" saying she's got more "targets" in mind.
In that conversation, Forde brags about both cops and drug smugglers not liking her. She tells the informant, "I'm the one person they know is willing to take it to the next level and that scares a lot of people."
Thorpe urged the jury to compare Forde's moral culpability with that of the gunman, whom authorities have identified as Jason Bush, 36.
Deputy Pima County Attorney Rick Unklesbay said the Floreses would be alive if not for Forde.
Unklesbay, too, urged the jury to think about moral culpability, noting Forde did nothing to stop Bush from shooting any of the victims.
Forde stole Gonzalez' jewelry and then, upon learning Gonzalez was still alive, turned to Bush and yelled, "Hey! She's still alive! Get back in there and take care of her!" Unklesbay said.
Days after the slayings, she told an FBI informant they had more targets, Unklesbay said.
"That's the moral, reasoned response Shawna Forde had after Brisenia had two shots put in her head," Unklesbay said.
While Forde was probably abused to some degree, it's not enough to warrant leniency, Unklesbay said.
Most abuse victims don't let their past define them, they choose who they want to become and lead law-abiding lives, Unklesbay said.
Forde also faces prison time for attempted murder and various burglary, aggravated assault and robbery charges.
Bush is scheduled to go to trial March 15 and Gaxiola June 1.
They, too, face the death penalty.