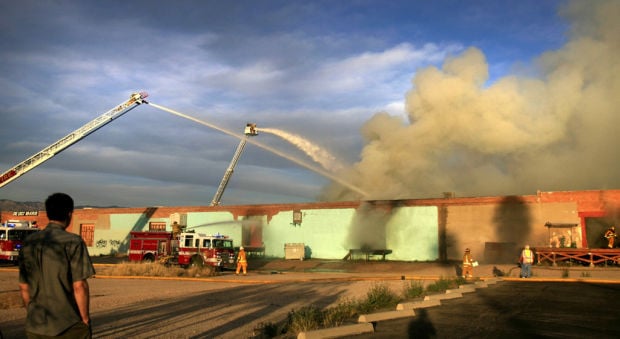 Arson charges against the owner of a fire-ravaged Lost Barrio warehouse store were dismissed last week after a judge ruled investigative practices used by the Tucson Fire Department and the federal Bureau of Alcohol, Tobacco, Firearms and Explosives didn't meet national standards.
The dismissal could have an impact on future arson cases.
Judge Paul E. Tang dismissed the case against Robert Douglas Gibson, owner of Explorations in Design, who faced a total of 14 charges after being accused of intentionally setting fire to his own business in the quirky stretch of former warehouses in the 200 block of South Park Avenue.
In what Gibson's attorneys believe is the first ruling of its kind in Pima County, Tang ruled that expert testimony by Tucson and ATF investigators was inadmissible because they didn't follow the current national standards.
The fire occurred in February 2009. Gibson was indicted in December 2010.
Deputy Pima County Attorney Malena Acosta, who prosecuted the case and many other arson cases for the County Attorney's Office, said the investigators complied with National Fire Protection Association 921 standards as they stood at the time the investigation took place.
"They used a 2008 version of NFPA 921," Acosta said.
By 2011, however, the standards were amended and "wholesale changes" occurred, she said.
In emailed responses to Star questions, Tucson Fire Department officials stood by their investigators.
"Our investigators follow industry standards when investigating the cause of fires.
"Tucson Fire stands behind their methods as well as their fire-cause determinations," the department responded to a question of whether it needs to change how its fire investigations are conducted.
TFD also said its investigators follow the guidelines established in NFPA 921.
The dismissal leaves an open question about the impact it could have on future arson cases.
Acosta said she is facing a similar challenge seeking to block testimony by fire investigators in another arson case she is prosecuting next month.
And Kirsten Engel, law professor and associate dean for academic affairs at the University of Arizona Law College, said, "I think it's very likely that we're going to see more challenges" because of a procedural change in Arizona Supreme Court trial rules made last year.
Under the old rule, judges often left it up to juries to decide the reliability of expert witnesses.
Under the revised rule, judges can determine whether an expert witness's investigation was conducted using a sound and objective scientific method. Federal courts and more than 30 states follow the revised rule.
When fire tore through the Lost Barrio in February 2009, an iconic row of import and furniture stores east of downtown, it left in the ashes more than $1 million in damage to property and inventory.
Public support of the Lost Barrio and its merchants poured forth in the aftermath of the three-alarm fire. It wasn't long, however, before the talk turned to the possibility of arson.
By April 2009, Tucson police said the fire looked suspicious, possibly arson, and linked it to three other structure fires from late 2008 and early 2009.
In December 2010, Gibson was indicted on 14 criminal charges alleging he intentionally started the fire that gutted his own store and damaged four others.
The County Attorney's Office argued Gibson set the fire to gain an insurance benefit because the business he owned in the Lost Barrio was strained.
Gibson's attorneys, Michael J. Bloom and Sean C. Chapman, said the Lost Barrio owner and his wife spent years of their lives and sums of money on the business and wouldn't have tried to burn it to the ground.
They argued from the start that a pile of linseed-oil-soaked rags a worker left behind at Gibson's store caused the fire. Linseed oil is commonly used in furniture restoration, but rags soaked in the oil are known to spontaneously combust.
"There is no evidence of arson," Bloom said.
Bloom and Chapman hired an expert fire investigator of their own to counter those the state planned to present at trial.
John Lentini has written articles, books and technical reports on fire investigation and testified in hundreds of civil and criminal cases as an expert on arson and fire investigation.
He is a known critic of what he sees as the antiquated and unscientific methods many investigators still employ.
"I believe every fire should be approached as an accident," he said, which is what he said his investigation of the fire determined it to be: accidental.
Bloom and Chapman contend Tucson fire and ATF investigators did not follow the standards established in NFPA 921, although Acosta says they followed the standards that were in place at the time, which have since changed.
In particular, Bloom and Chapman say that the investigators misinterpreted burn patterns to determine an accelerant was used, indicating arson, and that investigators used flawed logic.
"They relied on hunches and innuendo," Chapman said.
Tang agreed in excluding the testimony, noting that both investigators for the prosecution, perhaps unwittingly, engaged in something called "negative corpus" reasoning, which NFPA 921 prohibits.
In other words, when investigating the fire they eliminated all possible causes of the blaze except for arson. With arson as the only remaining possibility, it was determined as the cause while not necessarily proving how.
Tang's ruling was based on new rules allowing judges to question or throw out expert testimony rather than leaving it up to a jury.
While taking the choice about expert witnesses out of jurors' hands represents the dawn of a new era in Arizona, Engel, of the UA LawCollege, said she's not sure it's a positive step.
"I have a little more faith in common people to sort out good evidence from bad," Engel said.