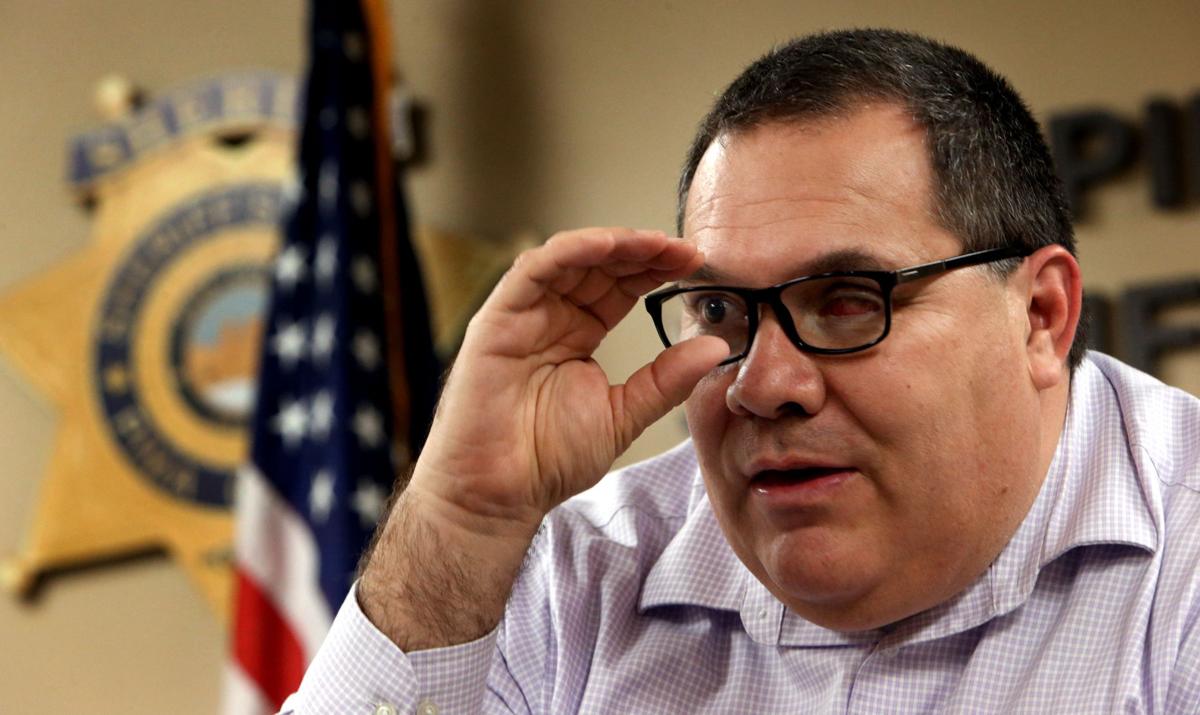 When Sgt. Mark Bustamante was kicked in his left eye with the heel of a boot, the piercing pain hit his "whole body and took the breath right out."
"I'm hurt," he remembers screaming and instinctively knowing that his eye was damaged beyond repair.
In an interview this past week, the 22-year veteran of the Pima County Sheriff's Department relived the horror of Dec. 10, 2016, that changed his life forever.
Bustamante, the department's traffic investigator supervisor, was working on a DUI task force that night. He responded to assist a deputy who made a DUI traffic stop at East Drexel Road and South Alvernon Way shortly before midnight.
Yesennia Gonzalez, 28, was in handcuffs and kicking in her high-heeled boots when Bustamante and another deputy tried to place her in a patrol car. She kicked and struck his eye.
In a flash, Bustamante felt panic and shock. He knew his eye was gone. He wondered about what turns his life would take, how he would support his wife and three teen-age children and pay his bills.
He also wondered how he was going to tell his wife and kids what happened.
"I tried calling her several times, but she had her phone on vibrate," he said. It would be the worst to send someone in uniform to break the news, he knew. He reached his son, who was on a ride-along with a deputy, and who then drove to the house and informed Bustamante's wife that he was injured.
Bustamante, 48, remembers Tucson Fire Department paramedics responding and rushing him to Banner-University Medical Center Tucson where he underwent surgery to repair his eyelid. He remembers being sedated before the surgery and trying to explain to his wife what happened.
Doctors determined his eye could not be saved and a second surgery was later done to remove his eye and repair damage to the eye socket. The socket now holds a temporary plastic shell.
At the end of the month, he will travel to Mesa to see an ocularist who will discuss options about a prosthetic eye.
"I have received so much support from the community and people from all over the country," said Bustamante, who returned in mid-January to light duty as the traffic investigator supervisor, an administrative position. He does not carry a gun, and remains under doctors' care. Bustamante said his future is uncertain.
The sergeant has been flooded with dozens of emails and letters and he treasures the messages of hope and encouragement expressed by friends and strangers in Tucson and across the nation. He said he was touched by a law enforcement officer from Louisiana, who also lost an eye, and who reached out to him about his experience.
Bustamante said among the most difficult changes he had to get accustomed to once he was released from the hospital was his limited vision. "I felt like I was looking through a mailbox slot," he said. He worked to accept his restricted vision. It had to sink into his head. "All I have is this one eye and the vision it will give me."
"Now, I can start progressing," Bustamante said. "I have to be positive about it, or stay at home and hide. I can't do that."
He forges ahead, leaning on his Catholic faith and his wife, and is remaining solid for his children. He demonstrates a character of determination, self-control and good judgment. "Life happens, but you must continue on," Bustamante said.
Gonzalez posted a $25,000 bond and was released from the Pima County jail, said Deputy County Attorney Ryan Schmidt, who is prosecuting the case.
Gonzalez is charged with one count each of aggravated assault that caused serious physical injury, aggravated assault with a deadly weapon/dangerous instrument, aggravated assault on a peace officer and resisting arrest. All are felonies, states a Dec. 19 indictment.
She also faces misdemeanor charges of driving under the influence of liquor, drugs, or vapors; DUI of 0.08 blood-alcohol content or more; and driving under the extreme influence of liquor with a blood-alcohol content between 0.15 and 0.20, states the indictment.
Gonzalez pleaded not guilty to the charges. If convicted, she faces a minimum of 10 and a half years in prison. No trial date has been set.
Contact reporter Carmen Duarte at cduarte@tucson.com or 573-4104. On Twitter: @cduartestar