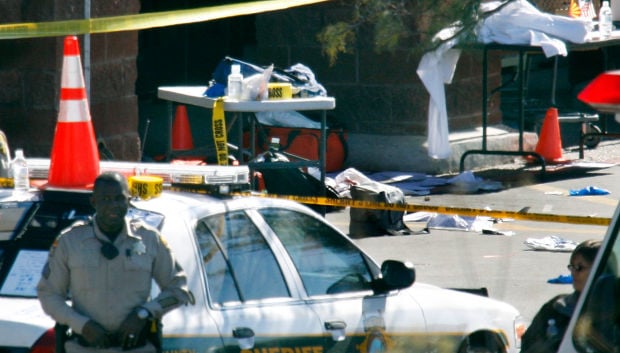 The parents of Tucson shooter Jared Lee Loughner told deputies on Jan. 8, 2011 that he didn't get a mental health evaluation even after Pima Community College officials recommended it when expelling him in October 2010.
Asked by deputies if Jared got such an evaluation, father Randy Loughner said "No. Couldn't talk to him."
His mother, Amy Loughner, suspected Jared's "odd" behavior was due to drugs, but when they tested him for drugs, Jared's test was negative.
The passages are from interviews with Pima County Sheriff's Department and FBI investigators a few hours after the mass shooting in a parking lot outside a Safeway just northwest of Tucson. They're among about 2,700 pages of reports on the case released today in response to a public-records request and court filing by the Arizona Daily Star.
Loughner's parents have never given an interview or testified in court, so the documents represent the first glimpse into Loughner's parents' thoughts and actions as his strange behavior escalated in the months before the shooting.
Loughner shot 19 people, killing six of them, at a Congress on Your Corner event held by then-U.S. Rep. Gabrielle Giffords, who was the primary target of the attack but survived.
The reports also reveal that Pima Community College officials suggested in October 2010 that the Loughners lock away any guns the family had. In response, Randy Loughner took away a shotgun Jared bought in 2008 and locked it in a car trunk, along with another family heirloom gun.
About six weeks later, on Nov. 30, 2010, Loughner went to the Sportsman's Warehouse near his home. When one employee waited on Loughner, he asked to speak to a younger staff member, a report says. A younger employee then helped Loughner and sold him the Glock 19, 9 mm semi-automatic handgun that he used in the rampage.
The gun plus a 15-round magazine and box of ammunition cost $559.66. Randy said in his interview that Jared had been fired from a job at Tucson Mall a year before but had saved money and that the parents gave him money occasionally.
"You know, we're parents," he said.
A few weeks after he bought the gun and before the shooting Loughner went to the home of his friend Anthony Kuck and showed him the Glock handgun he had purchased, one of the reports says. Kuck asked him to leave because of it.
Another friend, Derek Heintz, said Loughner showed him the weapon right before Christmas, the report says. Loughner gave Heintz a bullet. Heintz asked him what he was going to do with the weapon and such a large capacity magazine. Loughner said he would use it for home self-defense.
Loughner tried unsuccessfully to buy 9mm ammunition at a northwest side Wal-Mart the morning of Jan. 8, 2011, before his attack, another report says. In that incident, the clerk later told deputies that Loughner was acting so odd and erratic that he lied and said the store was out of stock.
Loughner's escalating strange behavior prompted Pima Community College to expel him and ban him from campus
In his interview, Randy Loughner described his son as an "outcast."
"Nothing worked, seemed to go right for him," Randy Loughner told the deputy. Being expelled from school for making a strange, paranoid video there "totally set him over. I think," Randy Loughner said. "He's just too smart for his own good," he added.
Amy Loughner also pointed to Jared's expulsion from Pima Community College as a turning point after which he became especially angry.
Randy Loughner said his son had never been diagnosed with a mental illness and described how Jared had become "distraught."
"I guess he felt like he'd been harassed at school by the campus police or whatever," Randy Loughner said.
"I've told him I didn't want anything to happen to him," Randy Loughner said. "But ... he wouldn't communicate with me no more."
Randy Loughner became so concerned about his son's behavior that he "began to disable Jared's (1969 Chevrolet) Nova … to prevent Jarred from being able to drive anywhere at night."
However, the night before the shooting, Randy Loughner did not disable the car and heard his son drive away at 6 a.m. Jared Loughner returned home about 7 a.m. and again at 8 a.m., Randy Loughner said.
When he heard his son pull up in the black Nova, "he looked outside of his front window and saw Jared take what appeared to be a black backpack out of the trunk of his Nova."
Randy and Amy Loughner tried to talk to him when he came back about 8, they told investigators.
"We were gonna confront him to see what he was doing with the backpack," she said.
But Jared ran away, and his father couldn't catch him, or find him by driving around the neighborhood. The shooting happened about 10:10 a.m.
Wednesday marks the first time the Sheriff's Department has complied with requests from the Star and other news organizations seeking the records.
U.S. District Judge Larry Burns had initially blocked the sheriff's department from releasing the records in response to a request from The Washington Post. Burns ruled in March 2011 that Loughner's right to a fair trial outweighed public disclosure of the reports.
Last month, Burns allowed the release of the records after the Star sought them. This time the judge said Loughner's fair-trial rights are no longer an issue because his criminal case is over. Today's release involves only written documents. The sheriff's department says photos and some other material related to their investigation will be released at a later date, which has yet to be specified.
Loughner avoided a possible death sentence when he pleaded guilty in November to 19 federal charges. He was sentenced in November to seven consecutive life sentences, plus 140 years. He is serving his sentence at a federal facility in Springfield, Mo., where he was diagnosed with schizophrenia and forcibly given psychotropic drug treatments.
Giffords was left partially blind, with a paralyzed right arm and brain injury. She resigned from Congress last year and has since started, along with her husband Mark Kelly, a gun control advocacy group.
Stay tuned to StarNet for updates