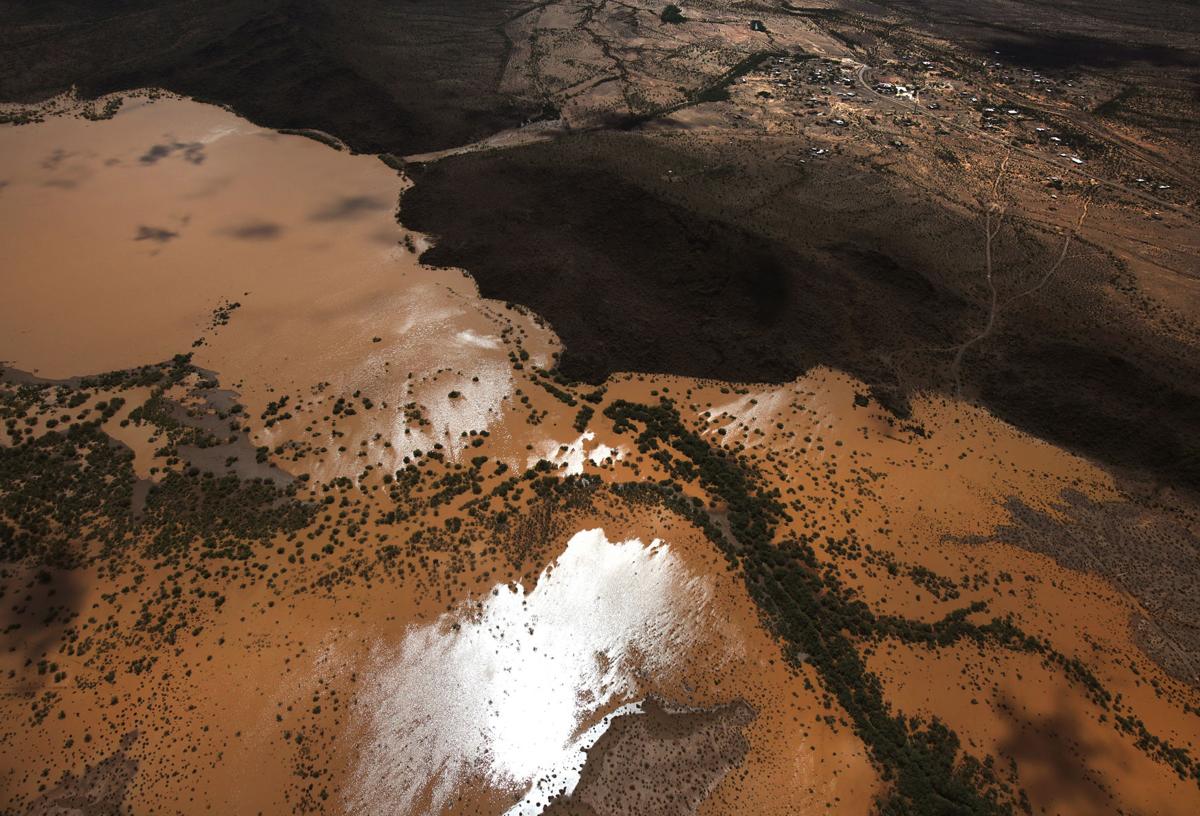 Less than a day after officials worried that a dam on the Tohono O'odham Nation would overflow into a community because of heavy rain and flooding from remnants of Tropical Storm Rosa, water levels dropped.
But concern remains high about the structural integrity of the nearly century-old earthen dam, especially because more rain is forecast later in the week, tribal representatives said. The Tohono O'odham Nation declared a state of emergency.
By Wednesday afternoon, water levels behind 22-foot Menagers Dam had gone down 4 feet from the previous night, National Weather Service officials said.
Officials previously called dam failure "imminent."
Area residents were evacuated or urged to get to higher ground because of what a tribal representative called "unprecedented levels of flooding on the southwest side of the Tohono O'odham Nation, particularly in the vicinity of the Menagers Dam community."
Even as the water level in Menager Lake stabilized Wednesday afternoon, it remained above previous record levels, the weather service said.
The tribe is assembling an engineering team to inspect the dam, its officials said in a news release Wednesday night, urging residents to stay away from the area because of continuing "potential for imminent danger."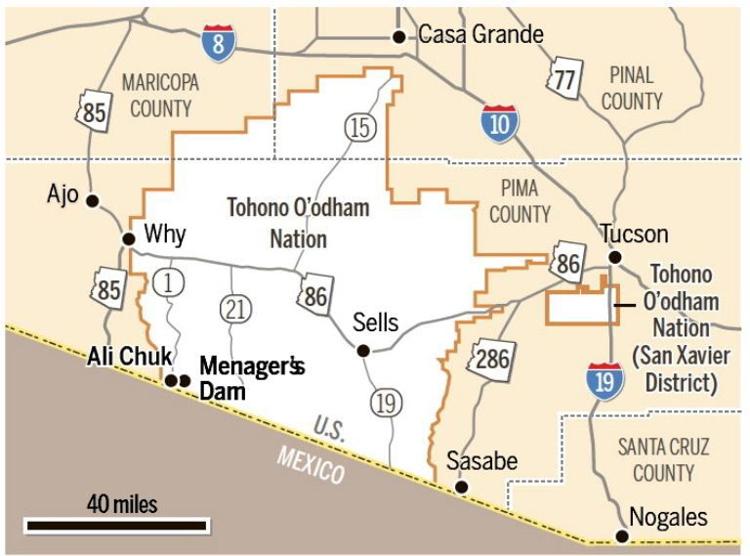 The Menagers Dam community, also known as Ali Chuk, has more than 100 people. Of those, 23 residents were given help to evacuate "and the rest left in their own vehicles, with a few refusing to leave," the news release said.
If Menagers Dam were to fail, the community would face flash flooding.
Flash-flood warnings in the area were scheduled to remain in effect until Friday afternoon.
The Tohono O'odham Nation's police and emergency services offices worked to evacuate at-risk areas overnight Tuesday, according to a tribal representative. They received help from a U.S. Customs and Border Protection team and a Pima County Sheriff's Department swift water rescue team.
A number of shelters were made available to evacuees.
Areas of the reservation received up to 7 inches of rain within 72 hours, and rainfall of 3 to 5 inches was widespread on the reservation, said Glenn Lader, a meteorologist with the weather service in Tucson.
Flooding made some remote roads impassable and caused erosion, the Tohono O'odham news release said.
Menagers Dam and Ali Chuk are in the Gu Vo District of the reservation, in Pima County and close to the U.S.-Mexico border. They are southwest of Sells, which is about 60 miles southwest of Tucson.
Tohono O'odham emergency workers also evacuated the more than 30 residents of the Kohatk village in Pinal County overnight Tuesday, as water in an adjacent wash ran high and overflowed berms.
About Menagers Dam
According to Arizona Place Names, produced in 1935 and revised in 1960, the dam and lake are named after Joe Menager. Joe Menager homesteaded at the lake during World War I, taking out rights to six square miles. He built a dam to create a water hole. The dam was completed shortly after 1920. In the 1930s he sold his township to the Papago Indian Reservation, now called the Tohono O'Odham Reservation. The main part of what is now the Tohono O'Odham Reservation was established in 1917. 
Contact reporter Carmen Duarte at cduarte@tucson.com or 573-4104. On Twitter: @cduartestar
Here is a look at the 72 hour estimated precipitation in the Menegers Lake area of the T.O. nation where dam overtopping and/or failure is imminent. Widespread 3-5" in the area with isolated 5 to 7" upstream to the NW. #azwx pic.twitter.com/4gnUGhz90W

— NWS Tucson (@NWSTucson) October 3, 2018