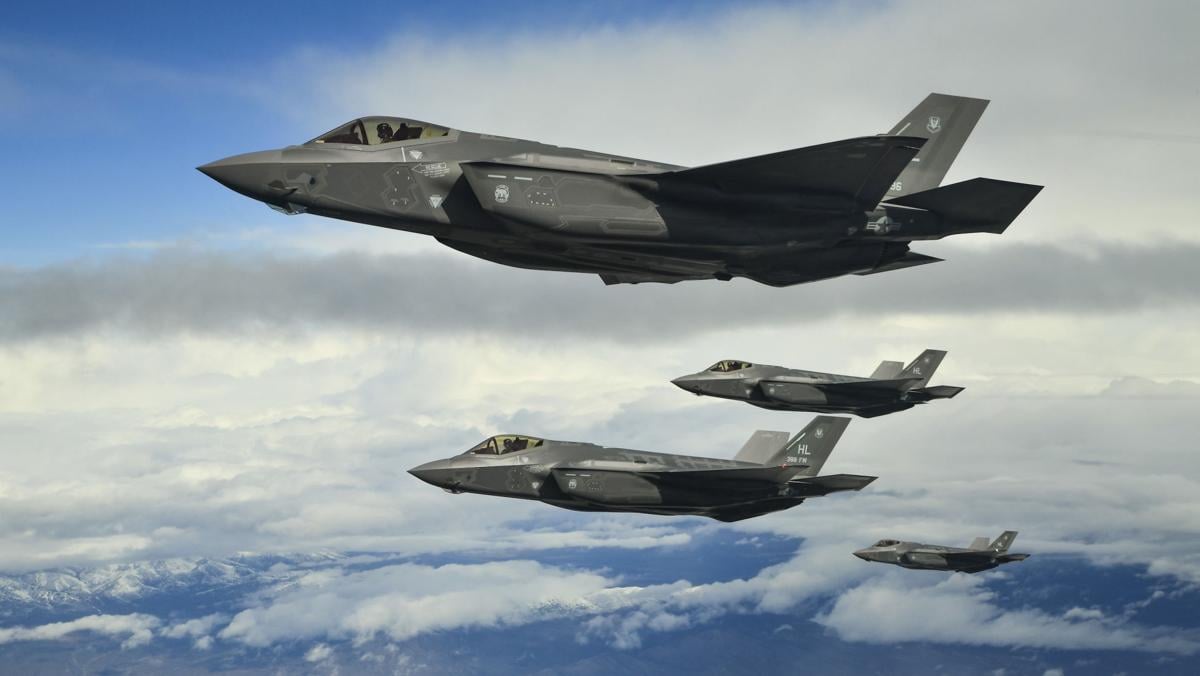 The Air Force will issue a study this spring on the environmental impact of basing F-35 Joint Strike Fighters at Davis-Monthan Air Force Base — though D-M so far has been passed over as a base for the next-generation stealth fighter.
In January, the Air Force announced Naval Air Station Joint Reserve Base Fort Worth, Texas, as its "preferred location" for the first Air Force Reserve base to host the F-35, ahead of D-M and other bases that were finalists.
But the Air Force is writing an environmental impact statement on basing F-35s at D-M anyway, because it remains a "reasonable alternative" site along with Homestead Air Reserve Base, Florida, and Whiteman Air Force Base in Missouri, said Capt. Josh Benedetti, chief of public affairs at D-M.
D-M plans to publish a notice of intent regarding the F-35 study in the Federal Register in late March or early April, Benedetti said.
Three separate public-comment meetings on the study are tentatively planned for late April or early May, he added.
The F-35 study is required under the National Environmental Policy Act because the new jet hasn't flown here as part of regularly scheduled training.
The idea of basing F-35s in Tucson has drawn vehement opposition from some local residents who say the next-generation fighter jet is inappropriate for D-M because of noise, health and safety concerns.
Bryan Foulk, chairman of the business-backed Davis-Monthan support group DM50, said local groups along with the state's congressional delegation continue to lobby the Air Force to assign D-M new missions, including an F-35 unit, citing D-M's access to vast training ranges and unmatched flying weather.
"Our message is, we're open for business, we're open to any mission set you want," Foulk said.
The Air Force wants to phase out D-M's biggest mission set — the A-10 Thunderbolt II close air-support jet — though that plan has been put off amid Congressional opposition and high demand for the aircraft.
Business and civic leaders worry that D-M could be diminished or even vulnerable to closure if it loses major missions, citing D-M's annual local economic impact of nearly $1 billion.
Rep. Martha McSally, a Tucson Republican and former A-10 pilot, said D-M may yet get an F-35 unit, as the Air Force decides where to base more than 1,700 F-35s it plans to acquire over the next three decades.
"It's a viable base option, and there are still additional basing decisions to be made," McSally said.
The Air Force's F-35A model is significantly louder than jets that fly regularly at D-M, including the A-10 and the F-16 Fighting Falcon, and critics say the new, single-engine F-35 poses a safety threat to urban neighborhoods.
A group of Tucson residents sued the Air Force in January 2015, alleging its decision to significantly expand visitor-unit training at D-M — including some louder jets but not the F-35 — was based on a flawed environmental assessment.
The lawsuit became moot in September when the Air Force said it was withdrawing its training expansion plan, after the National Guard decided to drop funding to staff its Operation Snowbird winter-training facility at D-M.
Tucson Forward, a nonprofit group of local residents formed in 2011, opposes the use of F-35s at D-M or at the Air National Guard 162nd Wing at Tucson International Airport, citing noise and safety issues and concerns about property values and negative effects on tourism.
Mary Terry Schiltz, president of Tucson Forward, said the group will continue to oppose basing of F-35s in Tucson, citing neighborhood associations in the region that have formally opposed the F-35 for years.
"To undertake another EIS for basing F-35s in Tucson is a colossal waste of resources, further exacerbating the extreme waste and documented failures of the boondoggle F-35, with exorbitant costs and risks to our environment, safety for pilots and the public," Schiltz said.