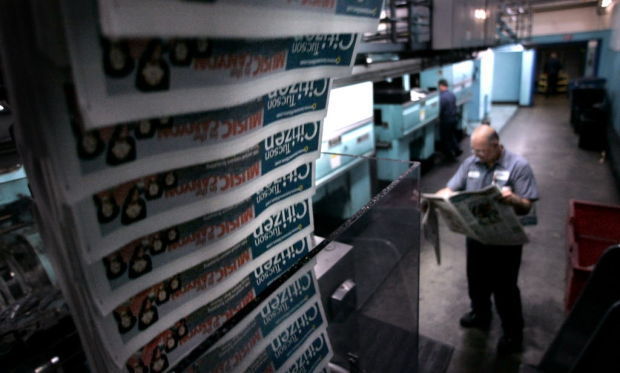 James Krakowiak never understood the words "can't do it."
That's what he was told when he sought a job in a newspaper's pressroom, a place where huge presses, when rolling, make thunderous noise.
Krakowiak couldn't work as a pressman because he is deaf, he was flatly told. He had to hear the presses and, if there were problems, hear the alarms.
But Krakowiak wouldn't have any of it. When he was a student at the Arizona State Schools for the Deaf and the Blind, on West Speedway, he took a printing class, albeit with smaller machines. He fell in love with printing — the smearing of the ink on the skin, the smell of freshly printed paper and the sight of machines spitting printed words. He wanted to work as a printer.
And he did. On Friday, Krakowiak, known as "Jimbo" to his co-workers, retires from the Arizona Daily Star pressroom after 42 years.
"I told my friends I wanted to work in a big printing facility," Jimbo said through his interpreter, Rusty Mitchell of Z Video Relay Service, which assists hearing-impaired people communicate via video.
He would not be denied. However, Jimbo did more than stay on a job that he was not supposed to have. He brought his co-workers into his deaf world.
"There are 10 people here who have learned basic sign language," said Jimbo, who turns 66 the day before his final day keeping the presses rolling.
John Lundgren, director of print operations at the Arizona Daily Star, said Jimbo has never had a problem communicating with his co-workers. The hardy pressroom workers, who have to wear ear protection to minimize the super-high decibels, respect Jimbo, said Lundgren, who began working in the pressroom several years after Jimbo joined in the summer of 1972.
Jimbo, who has been a shift supervisor for more than 25 years, uses his deafness to his advantage in the pressroom.
"He feels the vibrations of the driveshafts. He can actually feel the floor plate. He senses more than the others," Lundgren said.
And Jimbo never let his eyes wander away from the giant rollers and all the other fast-moving parts. In his 42 years, he has only had two accident reports and they were minor, he said.
He has been recognized for his work and dedication by the newspaper and by national trade publications.
Jimbo was born in Detroit and grew up in Tucson. He graduated from high school in 1969 and went on to study printing technology at the National Technical Institute for the Deaf in Rochester, New York. His break into the pressroom came in Pennsylvania where he worked for a newspaper chain in Fort Washington, north of Philadelphia.
His entry was eased by the head of the pressroom there. He was also deaf. In addition, the newspaper had two other deaf employees who worked on the production side.
The long-held belief that workers in the pressroom needed to hear the machines and alarms was shattered by Jimbo and his deaf co-workers.
After his apprenticeship, Jimbo returned to the warmer clime to start working at the then-Tucson Newspapers Inc., when it was located downtown. In his early years, Jimbo used written notes and cards with the hand alphabet to communicate in the pressroom.
Over time, Jimbo taught his co-workers how to sign. "It's been a joy to see people come with me and learn to grow. The crew has been very good to me," he said.
These days, technology, video relays and email facilitate communications.
At home, Jimbo and his wife, Sarah, who also is deaf, taught their four children American Sign Language, which employs hand signals and facial expressions. The four currently have careers working with the hearing impaired. Their six grandchildren will also learn ASL. He said the eldest, at 14, signs very well already.
"I am very grateful to our children," he said.
Soon after his retirement, Jimbo and Sarah will leave for Hawaii, on missionary work for their Mormon Church. They'll work with hearing- impaired people. Eventually, he and Sarah plan to move to Gilbert to be closer to their grandchildren and children.
But his legacy will be here at 4850 S. Park Ave.
Ernesto "Neto" Portillo Jr. is editor of La Estrella de Tucsón. Contact him at 573-4187 or at netopjr@tucson.com. On Twitter: @netopjr
Get local news delivered to your inbox!
Subscribe to our Daily Headlines newsletter.