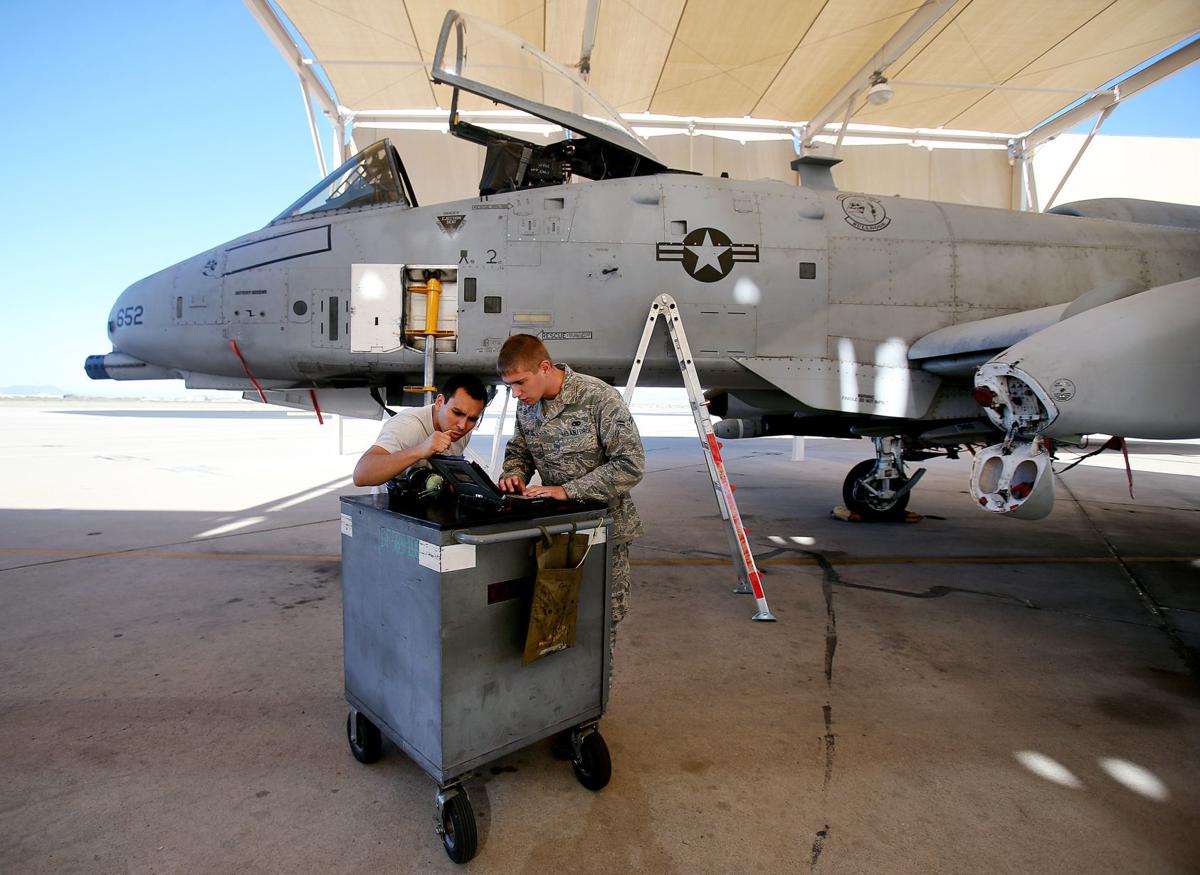 The defense authorization bill signed Monday by President Trump includes more money to preserve the A-10 Thunderbolt II ground-attack jet and other items supporting Southern Arizona's military installations and defense contractors.
An amendment to the National Defense Authorization Act supported by Republicans U.S. Rep. Martha McSally, who represent Southern Arizona, and Sen. John McCain, added $65 million to the Air Force's budget for replacing wings on aging A-10s, which form the biggest flying mission at Davis-Monthan Air Force Base.
After Congress rejected plans to retire the remaining fleet of about 280 A-10s by 2019, the Air Force said it would keep the A-10 through 2030.
McSally, a former A-10 combat pilot, and other A-10 supporters said more money was needed for the rewinging program to prevent the Air Force from grounding some of the roughly 100 planes expected to reach the end of their service life before they got new wings.
The new budget of $144 million will pay for new wings on about 14 to 20 planes, McSally said.
In other items of regional interest, the act:
Authorizes a land swap of about 58 acres on Air Force Plant 44, which comprises Raytheon's plant complex adjacent to Tucson International Airport, to the Tucson Airport Authority to make way for a planned runway-improvement project.
Fully funds the fleet of EC-130H Compass Call electronic-warfare aircraft, based solely at D-M, and provides money to start the process of transitioning the Compass Call mission equipment to a new aircraft. One EC-130H was recently retired.
Authorizes $98 million to extend the service life of thousands of Raytheon's Tomahawk cruise missiles by 15 years. The bill doesn't procure any Tomahawks, after an order for 198 in the House version of the bill was deleted in conference committee.
Orders procurement of $2.5 billion worth of weapon systems made by Raytheon Missile Systems, including 450 AIM-9X Sidewinder air-combat missiles and 360 Advanced Medium Range Air-to-Air Missiles — increasing buys for both — along with 45 copies of a new version of the Evolved SeaSparrow anti-ship missile.
Backs the Navy's request for 125 Standard Missiles, and authorizes multiyear contract authority for up to 625 SM-6 Standard Missiles, totaling $490 million.
Funds $80 million for the Missile Defense Agency's programs for development of "boost phase" laser technology, along with more than $150 million for other military laser research. Raytheon is a key missile-defense contractor and also is developing laser systems for the Army.
Authorizes $15 million for an aerospace ground-equipment facility at Davis-Monthan.
Provides $59 million to improve and modernize the test ranges at the Electronic Proving Ground at Fort Huachuca near Sierra Vista and the Yuma Proving Ground.