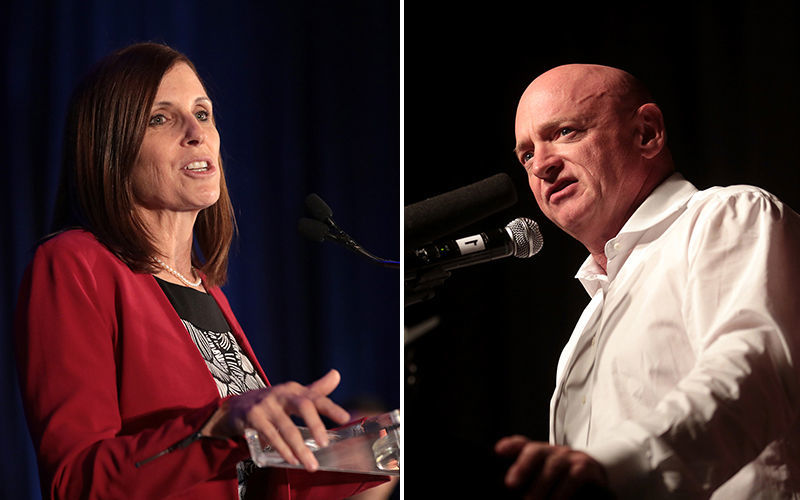 Democratic challenger Mark Kelly had twice as many individual Arizona-based donors in the final quarter of 2019 as Republican Sen. Martha McSally, among donors each candidate was required to report, an Arizona Daily Star analysis shows.
Kelly, who is likely to face McSally in the November 2020 general election, is also outraising her overall.
He had raised nearly $19.8 million and had $13.6 million on hand at the end of 2019, his campaign reported to the Federal Election Commission.
McSally had raised $11.8 million and ended the year with nearly $7.7 million on hand, her campaign filings show.
In terms of in-state donors, Kelly's campaign reported donations from more than 3,000 individuals in Arizona in the final three months of the year, while McSally's campaign reported around 1,500.
Both campaigns received contributions from people across the country. And in both cases, donations from people in Arizona made up about 30% of funds from individual donors who the campaigns reported.
Individual donors in Arizona gave around $256,000 more to Kelly than to McSally in the final quarter of 2019. Kelly raised about $936,900 from individuals in Arizona, while McSally raised around $680,800. Some donors gave more than once.
Kelly reported $20.2 million in total receipts since the start of the election cycle, while McSally reported nearly $13.7 million. Their total receipts account for funds from more sources than just campaign contributions, such as refunds, loans, and transfers from other political committees.
In Kelly's case, political committees such as 2020 Senate Impact, Alabama Arizona Victory 2020 and Mark Kelly Victory Fund have transferred $451,000 to his campaign. He has also reported over $5,000 in refunds from companies such as United Airlines and Marriott.  
Political committees such as Whitefish Victory and GOP Winning Women have transferred over $712,000 to McSally's campaign. She reported over $85,000 in refunds from companies like Campaign Solutions and Ax Media. And under "other receipts" she reported over $1 million from sources such as Capitol Hill Lists LLC and bank interest from Chain Bridge Bank.
Overall in the last three months of the year, Kelly reported $6.3 million in total receipts and McSally reported $4 million.
She received $444,200 from groups such as political action committees in the fourth quarter, while Kelly raised $60,033 from such groups, according to their campaigns.
Daniel McCarthy, a Republican who is challenging McSally in the GOP's August primary, is far behind. He raised $14,696 in the fourth quarter of 2019 and $17,657 in the overall campaign cycle.
The Senate race is well on its way to becoming the most expensive in Arizona history, as Kelly and McSally have already reported raising a total of $31.6 million in campaign contributions between them.
Arizona's 2018 Senate race was the most costly so far, with McSally and the Democrat who won that seat, Kyrsten Sinema, spending nearly $45 million between them.
That made it the nation's fifth-most-expensive Senate race that year in terms of candidate fundraising and spending, not including spending by outside groups, according to Opensecrets.org and the Center for Responsive Politics.
After her 2018 loss, McSally was appointed by Gov. Doug Ducey to Arizona's other Senate seat, the one left open by John McCain's death, to which she seeks to be elected this year.
The deadline to file year-end reports to the FEC on campaign fundraising in 2019 was Friday, Jan. 31.
Contact reporter Alex Devoid at adevoid@tucson.com or 520-573-4417. On Twitter: @DevoidAlex
Get local news delivered to your inbox!
Subscribe to our Daily Headlines newsletter.