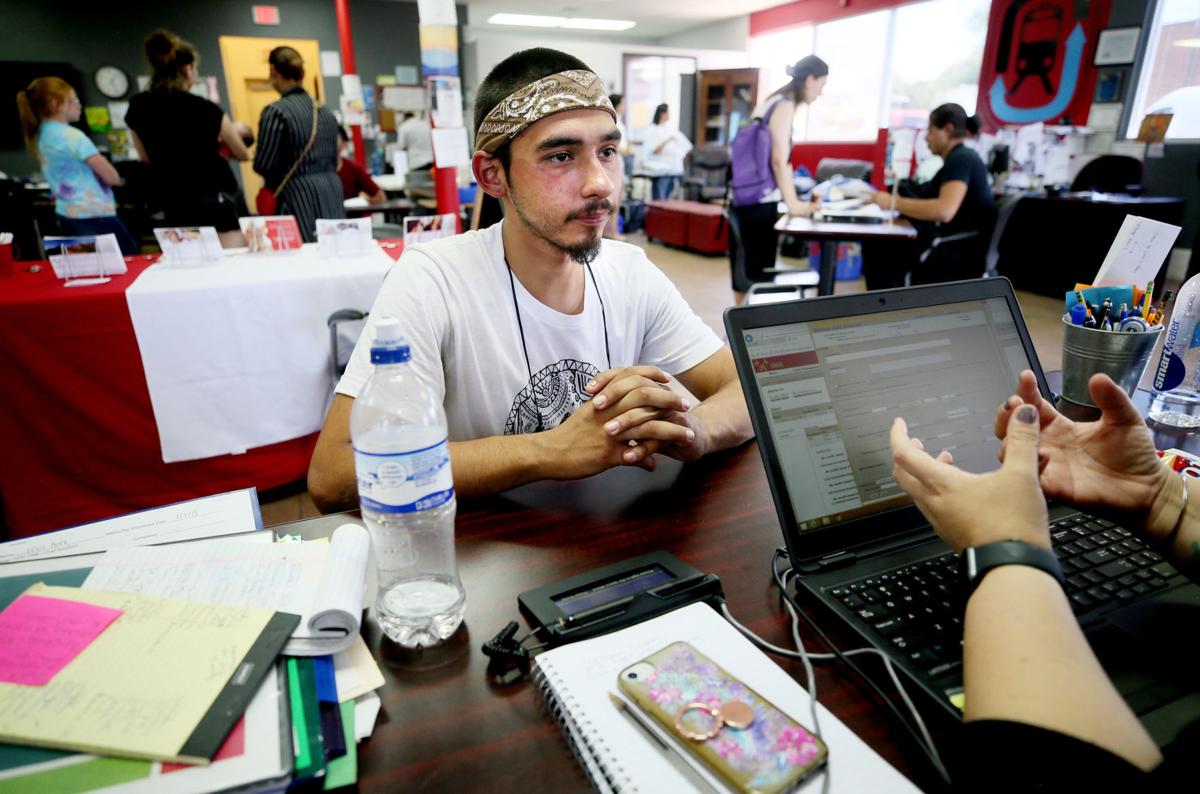 Locking up teens for juvenile offenses is not that common in Tucson today, with about 50 being held in detention at any given time compared to triple that number 15 or so years ago.
The shift in juvenile practices is apparent out in some neighborhoods, too, where police try to offer alternatives, commonly called diversion, to keep youths out of the Pima County Juvenile Court Center, 2225 E. Ajo Way.
What remains perplexing, in light of these changes, is why there's still a disproportionately high number of minority teens, particularly African Americans, ending up in the juvenile justice system with delinquency cases.
One example is found in the area around Tucson's Freedom Park, at 5000 E. 29th St. African American youths make up about 12% of the population there, based on recent school enrollment numbers.
But about 25% of the police referrals countywide of youths to juvenile court come from the zip codes that feed those schools.
What that means is this: African American youths from that area are being referred to the court at a higher rate than they should be, based on how many live there and compared to youths of other races and ethnicities.
This phenomenon, called disproportionality, is a challenge not just for Pima County but for many communities around the nation.
Poverty, a lack of resources and social isolation are often cited as contributing factors in national studies, as are inherent racial biases.
"We know that there are many, many reasons why we have disproportionality," said Chris Vogler, director of juvenile probation services here. "The frustration is that there's no easy solution."
Police working with families
Compared to other races and ethnicities, African American youths are a small percentage of the 8-to 17-year-olds living in Pima County.
In 2016, for example, African Americans were estimated to be 6%, or 7,869 of 122,889 total youths aged 8 to 17 in the county, the U.S. Department of Juvenile Justice and Delinquency Prevention reports.
In 2017, African American juveniles accounted for 7%, or 8,033 out of 122,741 youths those ages here.
Of the 4,360 youths referred to the juvenile court center in 2016, nearly 11% were African Americans, as were nearly 10% of the 4,032 youths referred in 2017. (Referral is the word used instead of arrest for juvenile cases.)
As far as those being held in detention, nearly 14%, or 64, were African American in 2016 while 10%, or 43, of those held in 2017 were African American.
In comparison, white youths were estimated at about 83% of this age group the same years, but accounted for only 29% of the total youths referred to the court in both 2016 and 2017.
A similar proportion is true for the white juveniles held in detention. (Hispanic ethnicity is included in this estimate).
Last month, to start addressing some of these issues, a group of Pima County's court employees partnered with community providers, police and volunteers to throw a neighborhood block party at Freedom Park.
This Palo Verde Neighborhood Collaborative brought residents together to play games, dance and grill food, while also offering resource booths and an opportunity to talk.
Sgt. Brian Corcoran is part of the collaborative and he also works as supervisor of Tucson Unified School District's school resource officers.
"A big part of what my officers do on a daily basis is identify those kids who, whether through past referrals or current behavior, might be at risk to go down a bad path," he said.
"We are trying to keep them out of the juvenile court system. We try to give them direction," Corcoran added.
He said police focus more now on asking the teens to think about what they want to do with their lives, now and in the future.
"If a student is, hypothetically, arrested for pot, it doesn't automatically have to be a paper referral in the juvenile court," Corcoran said. "We can defer the charges if they can come up with a plan."
Family support is critical for diversion to work, he said, and some families have been surprised to find the officers willing to work with them.
"They are not used to getting cut a break," he said, "so when they see that we are willing to work with them, it repairs some bad experiences or bad experience."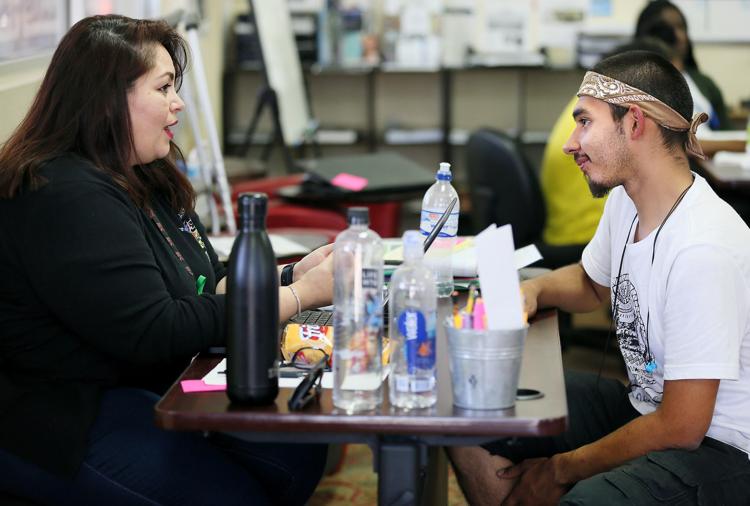 "If there's a kid I can help, I'm going to"
Rafael Batain is a 39-year-old African American man who was incarcerated for most of his teen and adult years but now works — as he says —to help others change their story. Especially teens.
Batain volunteers at the Pima County Juvenile Court Center where he often shares an epiphany he had about five years ago.
He was in prison in Ohio and began to think about how he's never been a person to do things halfheartedly, including when committing burglaries or trafficking drugs.
He knew that once he was released, he never wanted to return to prison again and so he began to think about what might happen if he focused his energy on something good.
He says he rebelled against his old way of thinking and that shift changed his life.
"If you had told me the route that I would take, I would have laughed," Batain said.
"If you'd told me I would be running a landscaping business out in the heat, I would have told you no. And if you had told me that I would be working with police officers, that would be a double no."
Since his release, Batain has earned his associate degree in criminal justice and now employs people who have been incarcerated, either in the adult or juvenile system.
The only conditions are that they show up and they don't complain.
He also helped bring Pima County "The If Project," which is carried out in collaboration with currently and formerly incarcerated people, the Tucson Police Department and social service providers.
The idea, Batain said, is to focus on what can be done differently and if someone can help change a teenager's trajectory.
It's urgent to reach kids before their lives unravel, he says. About 150 teens have gone through the program so far.
"If there's a kid I can help," Batain said, "I'm going to help."
"So many young people in need"
One of the most common takeaways in the communities with racial disparities and disproportionate court involvement is this: There's not enough for youths to do, and adults struggle with accessing services.
Those challenges, which parents and caregivers shared at the block party, were no surprise to Juvenile Court Judge Peter Hochuli, who has been working to help juvenile offenders since Pima County adopted the Juvenile Detention Alternatives Initiative in 2004.
The objective of the initiative is to cut down the number of children and teens being referred and detained, without compromising community safety.
Reducing racial and ethnic disparities continues to be one of the greatest challenges.
The initiative also encourages courts to reserve detention space for kids who really need it, such as those who keep running away or failing to show up for court hearings, while using community-based alternatives whenever possible.
Public outreach and bringing services to the community is one of the primary objectives right now.
"The more we can keep our kids active in appropriate programs," Hochuli said, "the less we will see them coming in to delinquency."
Finding things for youths to do not only gives them a constructive activity, but it often also connects them with a caring adult.
That's a critical thing for some of the youths who come through the courts, said Vogler, the probation director.
"There's a substantial amount of evidence that connections with supports in the community are what keep kids from coming back," he said.
As the program manager for Metro/REC Youth Programs with Goodwill of Southern Arizona, Lance Meeks knows how critical it is for young people to get the help they need.
His operation at 300 N. Fourth Ave., commonly called just Metro Goodwill, started out as a program to help youths who had been involved in the juvenile justice system.
But it's now open to any youth who is struggling with homelessness, hunger or unemployment.
The staff there help the teens find needed resources, food, or help with a résumé or GED.
Meeks, who is African American and was once referred into the juvenile justice system in Iowa, joined the Palo Verde Neighborhood Collaborative to help reach more youths and families who need help.
Meeks "has been instrumental in our efforts to identify and address racial and ethnic disparities," said Angie Lopez, the Juvenile Detention Alternatives Initiative coordinator at the court.
On the second Tuesday of each month, community partners come to the Metro Goodwill site to offer services.
On those days, about 30 youths come in, while on a typical day it's usually anywhere from 15 to 20, Meeks said.
Some kids need help figuring out transportation so they can get to work.
For others, housing is needed, especially for those aging out of the foster care system.
Some have experienced significant trauma in their childhoods that makes life challenging for them now, he said.
Oftentimes, in the summer, they just want a place to cool off and play a game with friends.
"It's not just about the court system and it's not just about the police," Meeks said. "There are so many young people in need in our community and not any one agency can do it all."
Get local news delivered to your inbox!
Subscribe to our Daily Headlines newsletter.