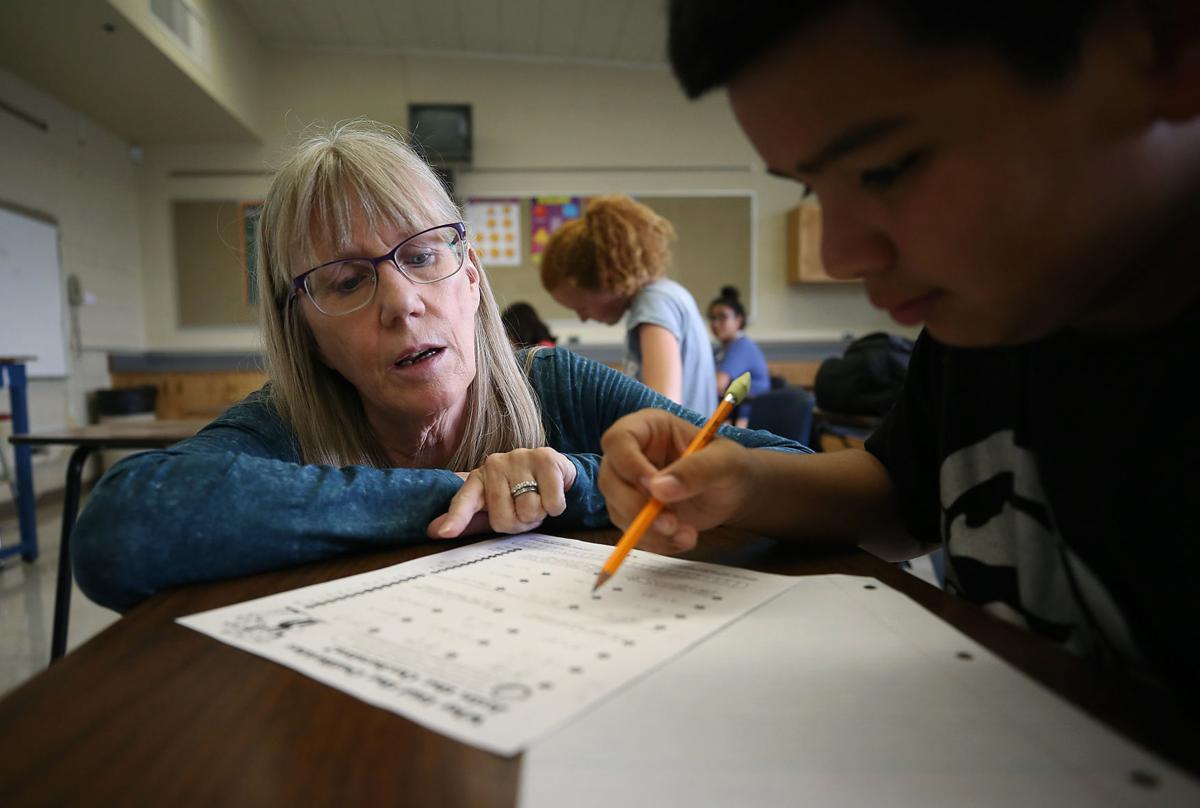 More than a week into the new school year, students at Booth-Fickett, a K-8 magnet school specializing in science, technology, engineering and math, still don't have enough qualified science, engineering and math teachers.
Instead, students in several classes are saddled with long-term substitutes who aren't required to have any training in STEM education.
In Booth-Fickett's Classroom 27, the eighth-grade students in a high school-level algebra class are fortunate. Their long-term substitute, Kathleen Broughton, is a retired teacher with a background in math and computer science.
"Missus, can you help me on this?" one of the students asked on a recent Friday morning. Not missing a beat, Broughton responded, "You know I can."
Other students across Arizona aren't so lucky.
Like many school districts in the state, Tucson Unified offers incentives for qualified STEM teachers and a bonus for working at magnet schools. A qualified math teacher, for example, could earn an extra $7,500 sign-on bonus for taking a job at Booth-Fickett on the city's east side.
But even with that incentive, TUSD — like nearly every district in the state — can't find enough qualified, certified teachers to fill its classrooms.
Demetra Baxter-Smith, the principal at Booth-Fickett, said TUSD is in the process of recruiting 25 teachers from India, two of whom are heading to Booth to take over math classes taught by subs like Broughton.
And while Baxter-Smith said she's confident students are well-served by the substitutes the school has in place, that interruption in their education is not good.
"At the beginning of the school year, you want to establish routines, procedures and protocols, " she said. "Just learning their teacher, and knowing exactly what those expectations are in the classroom, that's one of the biggest things we miss out on when we start the new school year with subs."
The United States has a shortage of teachers. But in Arizona, the shortage is acute.
State lawmakers have tried a variety of tactics to solve the problem.
For years lawmakers have been deregulating the teaching industry, making it easier to get a teaching certificate, and declaring anyone can be a teacher, so long as they have a bachelor's degree and some relevant work experience. Many local districts have taken advantage of the lower certificates, to varying degrees and often with some reluctance.
This year, lawmakers and Gov. Doug Ducey increased teacher salaries from near the bottom of the rung nationwide, and promised to continue increasing pay for the next two years until Arizona reaches roughly the median teacher pay nationwide.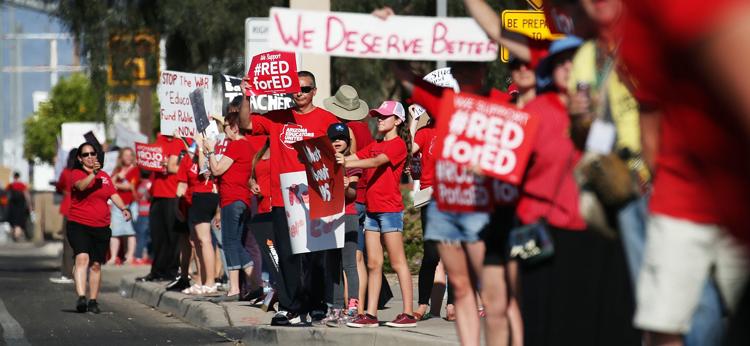 Several local school officials say it has been easier to fill vacancies this year than in previous years, which they attribute directly to the #RedForEd movement's success in getting the governor and Legislature to back teacher salary increases.
But Arizona's teacher shortage remains at crisis levels. And experts warn that the teacher crisis was a decade or more in the making and that the problem could take a generation to solve.
The magnitude of the problem is hard to track. No state agency or department tallies how many classrooms lack qualified teachers. The best numbers come from a voluntary annual survey by the Arizona School Personnel Administrators Association.
The association found that four months into last school year, there were nearly 2,000 vacancies and an additional 3,400 teaching positions being held by educators who didn't meet the standard requirements to be a teacher. In total, the survey found nearly 63 percent of new teaching positions were vacant or filled by teachers not meeting standard requirements.
Jason Hammond Garcia, former president of the association, said while the association hasn't yet sent out this year's survey, he sees no evidence that the policies instituted by state lawmakers are making any significant improvement yet.
"Yes, we're moving in the right direction. But it's still too little, too late. It's going to take a long time to turn this ship around. The situation we're in didn't happen overnight. It took decades to occur, and it's going to take at least as long for us to get out of it," Garcia said.
In the meantime, Arizona's physicists of tomorrow are learning from people who haven't studied physics since they were in high school, if ever. Future chemists are learning from teachers who don't know the periodic table. Students across Arizona are learning math from people with no math background. And students with physical, emotional and cognitive disabilities are left without qualified special education teachers to tend to their needs.
And that's bad for students, according to Manuel Valenzuela, superintendent of the Sahuarita Unified School District.
"Teaching is a complex endeavor, and it requires a significant investment of time and coaching and practice to master it. ... And of the many factors that affect a student's learning, we know the greatest factor that is within the control of the school is the teacher's ability," Valenzuela said.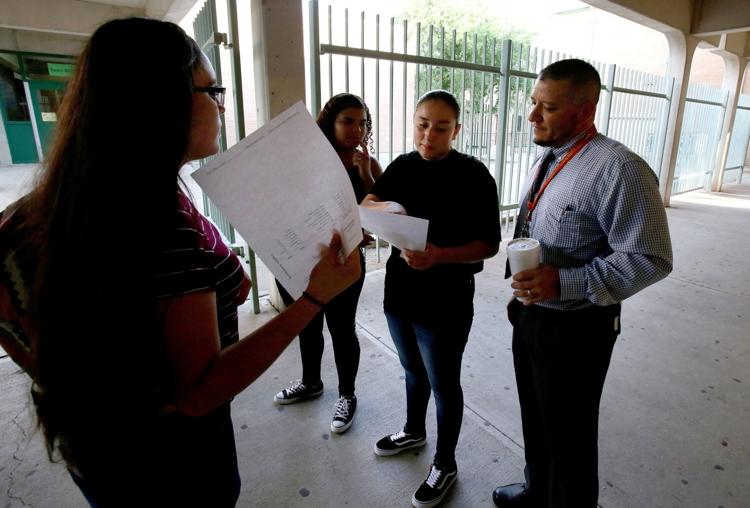 CREATIVE SOLUTIONS
Nearly every school district in the state has had to make compromises and come up with creative solutions to fill teaching positions.
Many rely on substitutes and long-term substitutes to take over as they scour the state for qualified recruits. Others have turned to lesser-qualified teachers, teaching interns and "subject matter experts" without any teaching experience or training on classroom management.
Increasingly, school districts are looking overseas for applicants.
At TUSD, long-term substitutes are filling the vast majority of otherwise vacant teaching positions. The district started the school year with 84 vacancies, down from 113 last year.
Sunnyside Unified School District started the year with six vacancies. An additional 29 positions are being filled by long-term substitutes. And 15 positions are being filled by people with emergency teaching certificates.
Thirteen teachers are waiting for certification,but have substitute or emergency certification. Ten more are teaching interns or subject-matter experts. Fourteen teachers are working extra to cover other classes, and one coach is covering a fifth-grade class.
Todd Jaeger, superintendent of Amphitheater Public Schools, said heading into this summer, he had about 70 vacancies to fill, down from an "unheard of" 140 vacancies the previous summer.
But by the first day of school, the district still had 18 open teaching positions left to fill, four more than last year.
About half are for STEM or special education teaching positions. The district is also still searching for two orchestra teachers, two Spanish teachers, two kindergarten teachers, a first-grade teacher, and an art teacher.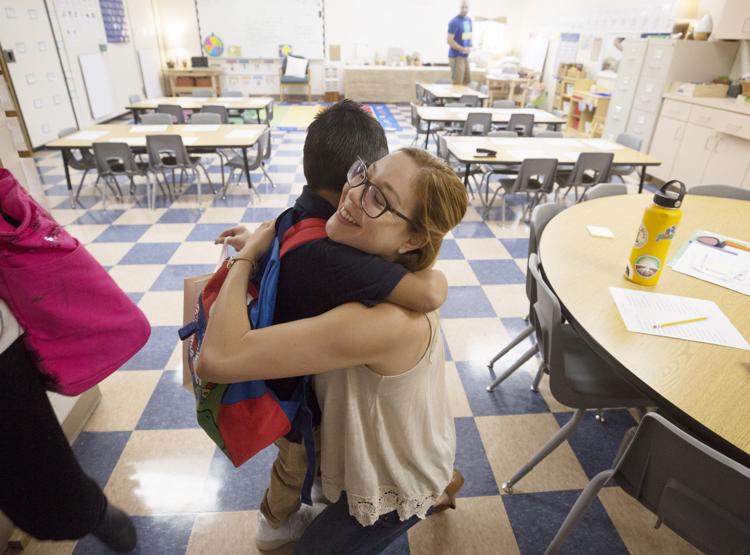 Calvin Baker, superintendent of the Vail School District, said following the 10 percent teacher raise approved by lawmakers this year, with the promise of 10 percent more over the next two years, he saw an improvement in the district's ability to fill teaching positions.
This year, he had 103 teaching positions to fill, down from 119 last year. And two weeks before school started, Vail had filled all its teaching jobs.
But filling vacancies is a never-ending battle. Since then, a few teachers have left Vail for various reasons, and the district is still recruiting for several positions.
When it comes to filling positions, there isn't much Vail hasn't tried, including hiring dozens of "alternative pathway" teachers, like teaching interns and subject-matter experts, who have four-year degrees but no other teaching training.
But many of them didn't stick around.
"There was a higher dropoff with alternative pathways teachers," Baker said. "There's a higher incidence of people saying, 'Well I tried this for a year and it's not what I thought it would be and I'm going to move on.'"
This year, Vail is relying less on those certificates and hired a total of 29 teachers with emergency teaching or alternative pathways certificates, down from 40 last year. But the district still has 85 teachers pulling overtime to help cover other classes.
Vail is also attempting to utilize a new law allowing school districts to run their own teacher certification program, Baker said, and will take a proposal before the state Board of Education later this month.
Catalina Foothills School District started the year with four vacancies: two high school math teachers, a preschool teacher and a psychologist. But that's down from seven vacant positions at the start of the previous school year.
While it continues to search for qualified applicants, the district plans to cover the positions with long-term substitutes and by reassigning other staff workers.
Catalina Foothills is one of the best-paying and highest-ranked school districts in Tucson, and it offers benefits like fully covering the cost of health care for its employees. But it still has to rely on a handful of teaching interns and others who are pending certification.
Of the 109 new teachers the Marana Unified School District had to hire for this school year, 38 were not fully certified. The district hired 16 teacher interns, seven teachers who are still pending certification, six emergency certificates, five long-term subs and four subject-matter experts.
The Flowing Wells Unified School District was able to fill its 30 open teaching positions this year by relying on two emergency teachers, two alternative pathway teachers and a long-term substitute in special education.
The Tanque Verde Unified School District, which had to hire 13 new teachers for this school year, only had to bring on one long-term sub to fill a vacancy.
In years past, local school districts turned to out-of-state recruiting, but that has become less of an option with most other states paying teachers better than Arizona.
Amphitheater Superintendent Jaeger said after attending a job fair in Pennsylvania, he's stopped looking out of state for potential teachers.
"One of the applicants came walking up to us, she looked at our name and saw we were from Arizona and she started laughing. And I said, 'Hi, what's so funny?' And she said, 'Why are you guys even here?'" Jaeger recalled.
"Then she proceeded to speak with solid knowledge about the fact that in Arizona we were getting about $3,500 per kid from the state, at that time anyway, and in Pennsylvania, they're getting about $14,000," he said.
The potential applicant noted that not only could Arizona schools not offer competitive wages, they cant afford to offer teachers the tools and support they need to be successful.
So Arizona school districts are increasingly searching overseas to find qualified teachers.
In recent years, Vail hired a handful of immigrant teachers on work visas. It worked out so well that last spring the district flew a recruiting team to southeast Asia to find more teachers.
This year, Vail will have 13 new teachers from Singapore and the Philippines brought to the U.S. under temporary work visas sponsored by the district.
Baker said those teachers are well-educated, motivated and speak English. And they add to the diversity of Vail's classrooms, which tend to have a lot of white teachers.
And Vail isn't alone. TUSD is employing 25 teachers from India this year. Sunnyside hired 18 teachers from overseas, mostly from India.
"Raytheon does the same thing for engineers. We look for talent, and ultimately we want the best teachers we can find in our classrooms," Baker said.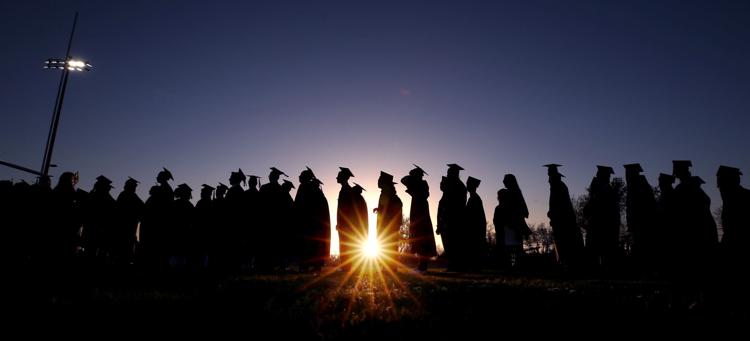 SUPPLY AND DEMAND
School administrators complain that the flow of new teachers from universities is too low and school districts often fight over the few graduates with teaching certificates, especially those with STEM or special-education backgrounds.
Bruce Johnson, dean of the University of Arizona College of Education, said the low pay for teachers and the skyrocketing cost of tuition put a damper, at least temporarily, on the number of students entering the profession during the recession.
But state universities are still turning out enough students to replenish the number of retiring teachers. The real problem is those who are leaving the profession mid-career, he said.
A study by the Morrison Institute for Public Policy, a think tank out of Arizona State University, found that 42 percent of new teachers leave the profession after just three years.
The study showed that conpensation was the largest factor in teachers' decisions to leave the profession, followed closely by the heavy workload.
The UA is ramping up programs to produce more teachers, but it's also focusing on retention programs to help teachers stay in the business.
"Obviously if people don't stay, it doesn't help to produce more teachers if there's leaking holes in the bucket," Johnson said.