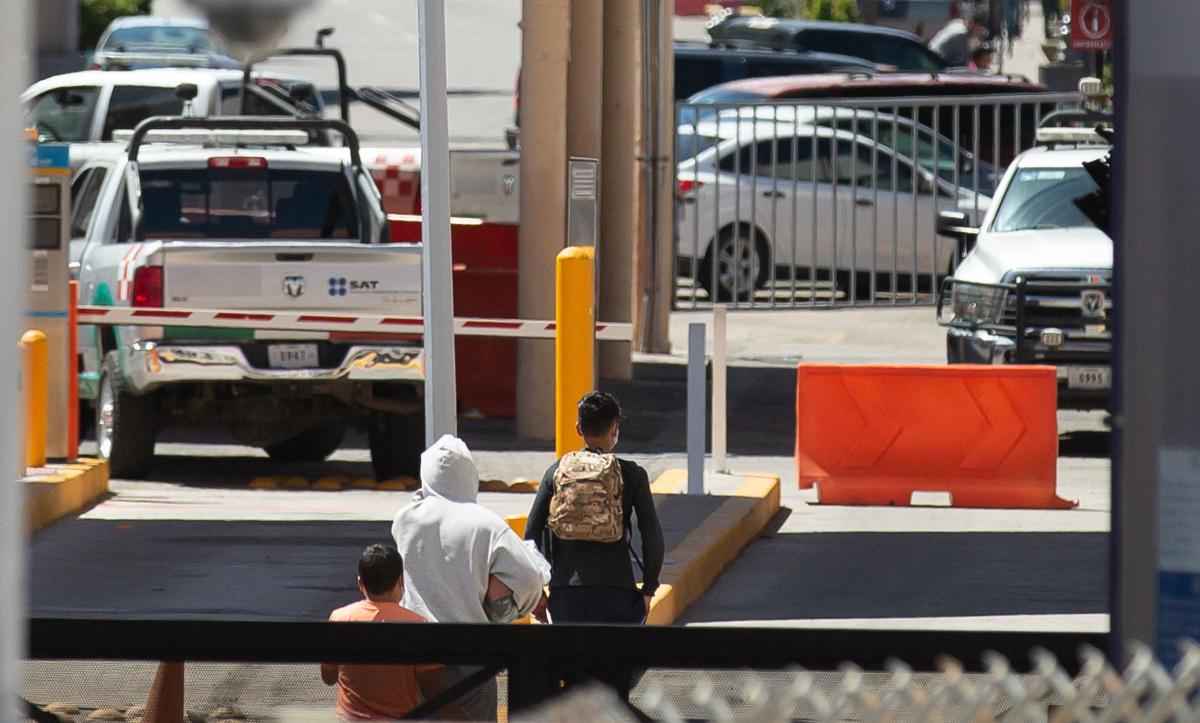 The Border Patrol has been quickly expelling migrants apprehended along the U.S.-Mexico border since last month in an effort they say is intended to help fight the spread of coronavirus in facilities here.
The new measures, a dramatic departure from how migrants and asylum-seekers have been dealt with in recent years, started March 21.
But as the new Border Patrol policy in southern Arizona is starting to become clear, major questions remain unanswered.
The agency has not yet said how many migrants have been expelled under the new measures or whether any agents or migrants have tested positive for COVID-19.
When agents encounter migrants, they take them to field processing stations set up recently near ports of entry. Agents take their fingerprints and check for a criminal history. They then drive them in vans to ports of entry and the migrants walk into Mexico.
In the past, thousands of migrants every year in Southern Arizona were sent to immigration detention centers or referred for criminal prosecution. To avoid the spread of the coronavirus at federal facilities and courthouses, the Border Patrol now only refers migrants with severe criminal histories for prosecution.
The speed of the process under the new measures varies in the Tucson Sector, but it can be a "matter of minutes" for each migrant at the processing station, Agent Daniel Hernandez told reporters during a news call Thursday.
For some migrants, the entire process from encounter to expulsion can be done in "well under an hour."
The new measures were put in place under a federal statute that allows U.S. officials to block the entry of people and goods when there is a threat of a communicable disease, which was established by a March 20 rule from the Centers for Disease Control and Prevention.
Similar measures are in place on the U.S.-Canada border, as well as at ports of entry between the U.S. and Mexico, according to a statement from Customs and Border Protection.
They apply to migrants from Mexico, Guatemala, Honduras and El Salvador, who make up the bulk of migrants and asylum-seekers taken into custody by the Border Patrol.
Migrants from other countries are taken to Border Patrol facilities and processed normally, Hernandez said.
While the Border Patrol has declined to share information on coronavirus infections, Immigration and Customs Enforcement, regularly updates their website with that information.
So far, eight detainees have tested positive for the coronavirus, including a 45-year-old Guatemalan in a detention center in Eloy, ICE announced on Wednesday. Six ICE employees at detention centers also have tested positive, but none in Arizona. A 26-year-old man tested positive in Guatemala after he was deported from Arizona on March 26.
Since the start of last year, more than 20,000 asylum-seekers went through shelters in Tucson after surrendering to Border Patrol agents or speaking with customs officers at ports of entry.
Since January, most asylum-seekers in Southern Arizona were sent back to Nogales, Sonora, to wait for hearings in U.S. immigration courts under the Migrant Protection Protocols, also known as "Remain in Mexico." Mexican asylum-seekers are not subject to that program, but hundreds have gathered in Nogales, Sonora, to wait for their chance to speak with U.S. officials.
Most of the asylum-seekers in Nogales, Sonora, came from Cuba, Venezuela, Mexico, Guatemala and Honduras.
A Border Patrol memo leaked to ProPublica, a nonprofit investigative news outlet, cast doubt on whether asylum-seekers will have a chance to make their claims before they are sent back to Mexico under the new measures, ProPublica reported Thursday.
In the few minutes they are in custody, asylum-seekers must "spontaneously" make clear to agents they intend to make a claim, ProPublica reported. Even then, they can only do so if they fear torture, not if they are fleeing political or religious persecution or widespread violence.
The Migrant Protection Protocols are still running, but all hearings scheduled before May 1 were postponed as a response to the coronavirus pandemic, CBP officials said.
About 1,300 asylum-seekers along the length of the U.S.-Mexico border were sent through the Migrant Protection Protocols since the new measures started March 21, according to CBP. Since January, about 6,200 asylum-seekers were sent through the protocols.
Hernandez told reporters on Thursday the expulsions would count as an illegal entry. He said he did not know how it would affect future immigration proceedings for migrants.
Migrants expelled under the new measures here will not have a deportation on their record that would hurt them in future immigration proceedings, according to a CBP spokesman who clarified the policy to the Star on Friday. Instead, the process is "almost like a voluntary return, like they did in the '90s."
CBP says it expects to release statistics on migrant expulsions made at the border next week.
Concerned about COVID-19?
Sign up now to get the most recent coronavirus headlines and other important local and national news sent to your email inbox daily.