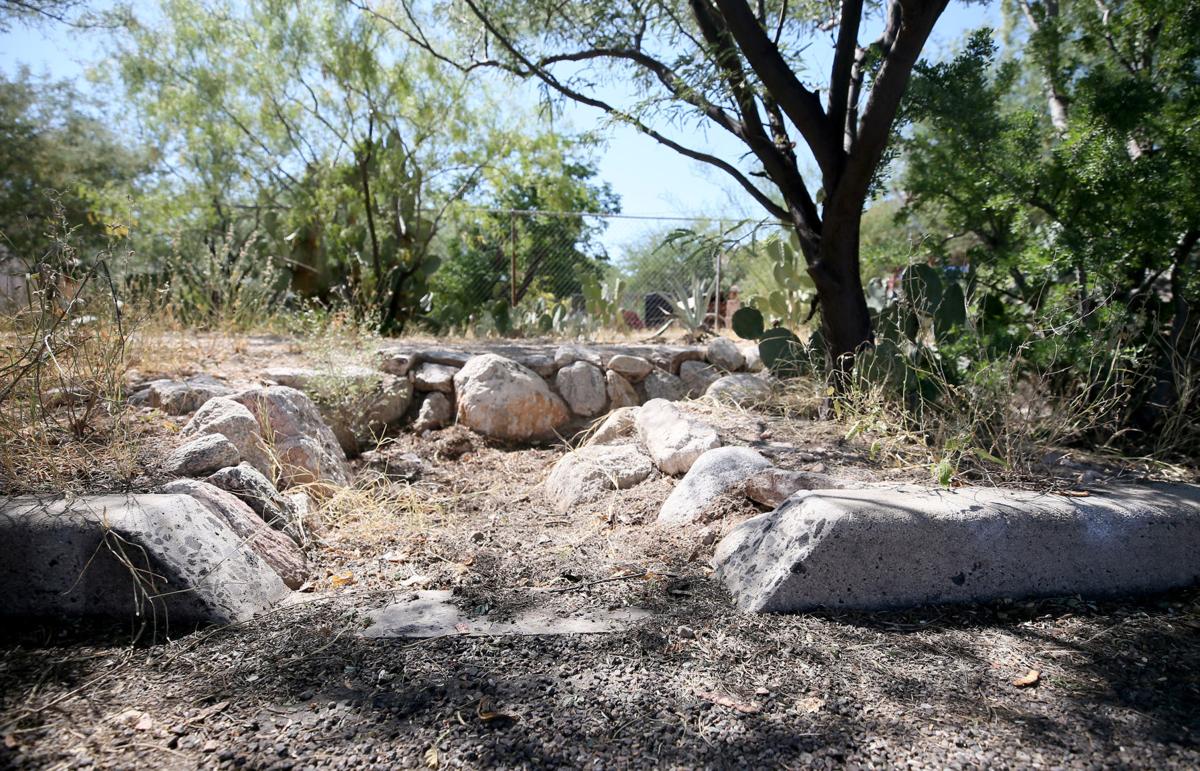 Developer Dante Archangeli's path to water sustainability has been paved with a few bumps.
He wants to install curb cuts in a new small, north side subdivision that he's planning, to capture stormwater runoff from the street. He would make the five-home, Campus Farm project "water neutral," taking in more rainwater than it uses in potable water, he said. He wants to irrigate landscaping on the project's common area with some captured runoff, and let the rest seep underground.
But for months, his effort ran into resistance from city of Tucson staffers who said city policies don't allow it, he said. Only after he asked a city councilman over the summer for help, and after Councilman Paul Cunningham rounded up several top city staffers for a recent meeting, did he get word from staff that the curb cut proposal won't violate city rules, Archangeli said.
A final decision will come after Archangeli submits formal written plans for his project at the corner of North Mountain Avenue and East Roger Road to city staff.
Archangeli said he's not looking for a fight — "I never wanted to be a controversial developer," said Archangeli, who has worked on more than 100 Tucson-area development projects including single-home projects since 1986. "I've wanted to do something based on consensus and collaboration."
Assistant City Manager Albert Elias said the city staff's not looking for a fight either, just for assurances this project won't flood another subdivision. He said he can't respond to Archangeli's statements about city resistance because, "I'm not sure who he talked to."
Tuesday, Sept. 19, these issues will be discussed in more detail in a City Council study session to be held at Cunningham's and Councilman Steve Kozachik's request. The session will discuss ways to expand the use of curb cuts and other means to capture stormwater from the street.
Curb cuts are already allowed to capture water for use on public rights of way and other public property. The city is preparing to award stormwater harvesting grants of up to $45,000 to homeowners' associations in each council ward. Pima County government also plans to encourage the use of curb cuts as it pursues its own future sustainability actions to help mitigate and adapt to climate change.
Now, "the goal is to create a 180-degree policy shift within the city bureaucracy," for curb cuts on public or private land, to stop have the city being roadblocks," Kozachik said.
Elias said Monday the city has no regulations prohibiting using curb cuts to take stormwater onto private land and that staff wants to encourage stormwater use.
"We can't allow new development in a subdivision that causes flooding to another subdivision. We just have to review them on a case-by-case basis." Elias said. "But as a policy, I think (stormwater capture through curb cuts) is a good thing."
This isn't the first time curb cuts for water harvesting has caused controversy at City Hall. It took Brad Lancaster, a longtime author, practitioner and guru for water harvesting, three years to persuade the city's Transportation Department to legalize his use of curb cuts to capture stormwater for use on public rights of way in his Dunbar Spring neighborhood.
Katie Bolger, Cunningham's chief of staff, said the office has been contacted by various parties over the years who wanted to do everything from large scale water harvesting to simple curb cuts, have encountered staff resistance but didn't want to go public with their complaints. They fear city staff will delay or deny their projects or that their relationship will be soured for future projects, Bolger said.
Archangeli said he was inspired to do the Campus Farm project after spending much of the past four years living and working in Hong Kong, and discovering how unsustainable that city's development practices are. Besides seeing "how bad pollution is in Asia," he encountered few if any examples of new, energy efficient developments, he said.
"I came back to Tucson and decided I want to make a difference," said Archangeli, who said he returned full-time in March 2017.
In July 2016, he asked the city's Planning and Development Services Department about his "water neutral" project. He said he was told by the department's staff that, "'As far as we know our rules don't allow that."
After going back to Hong Kong one last time and returning again this year, Archangeli went to Tucson Water with his project idea, and got a similar reaction in March, he said.
He and Kozachik reported getting similar explanations from staff about their position. For one, staffers were concerned that if the captured runoff caused flooding on his or a neighboring subdivision, the city could be found liable. A second was a question of whether city and state laws allow giving public water to a private party.
Archangeli said he'll design his project to reduce if not eliminate flood risks, by allowing excessive storm runoff to leave his property at the opposite end from where it enters. As for the gift issue, the city can "absolutely" calculate the value it receives from allowing the storm runoff to infiltrate into the ground and from reducing the risk of flooding on city streets, Kozachik said.
In addition, Kozachik said he'd been told by City Attorney Mike Rankin that the office is concerned water right holders such as farmers living downstream might sue if large amounts of storm runoff are captured in the city instead of being allowed to flow via storm drains into the Santa Cruz River.
Kozachik, however, said pavement from urbanization has generated so much additional runoff that "if we took 100 percent of stormwater running down the street," there's no way that the city would be capturing water running naturally that had been appropriated by downstream users.
"The notion that someone has right to water flowing down Alvernon is just ludicrous," Kozachik said.
Rankin didn't return a phone call from the Star on the water harvesting issue.
Get local news delivered to your inbox!
Subscribe to our Daily Headlines newsletter.