For the past two weeks, customs officers have been processing migrant families seeking refuge almost as quickly as they arrive at the downtown Nogales port of entry, compared to the days or weeks families were waiting before.
Delays in the processing of asylum-seekers were not deliberate, said Michael Humphries, who became the permanent Nogales Area Port director in June, but were the result of managing the various demands that customs officers face — including a spike in hard drug seizures.
"If we have three heroin loads today and a meth load, people are going to be tied up and we have to address that, so we have to move people around," Humphries said. "But sometimes we get lucky and we are able to do a little more.
"We were doing our job to the best of our ability at all times," he said.
Since mid-May, the line of people seeking asylum at the port of entry, mostly families from Central America and Mexico, had been growing as customs officers processed only a few each day.
At one point, there were 120 people sitting on the floor in a line that snaked all the way through the turnstiles on the Mexican side, right by the hundreds of pedestrians who make their way into the U.S. daily with visa or passport in hand.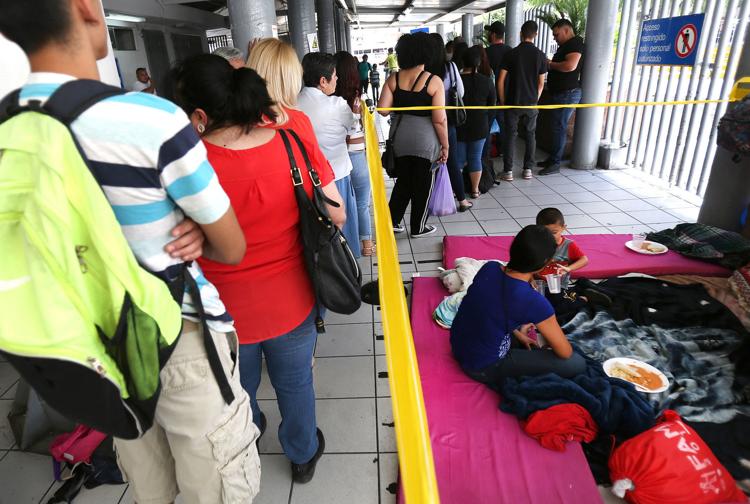 Initially, the binational advocacy group Kino Border Initiative and volunteers from both sides of the border scrambled to feed and provide water and diapers to the waiting children and parents, who were afraid of losing their turn if they moved, even to take a shower or to sleep somewhere else.
But as the line grew longer, the binational group had to coordinate with others to transfer families to area shelters. Some of the families were waiting for up to two weeks to be processed.
In June, 742 parents or guardians and their children were processed at Arizona's ports of entry, along with 143 minors who arrived alone. That's down from about 1,000 families and 169 unaccompanied minors in May, Customs and Border Protection figures show. The number of people processed, though, is not that different from December, when there were 1,036 families and 217 unaccompanied minors who came through. There weren't lines then.
Customs and Border Protection does not provide numbers for individual ports, but volunteer advocates have posted on social media the continuing arrival of families. On Thursday, some said there were three parents with a child each and two unaccompanied minors who had arrived that day and were told by officials they would be processed in a few hours. A few ended up staying overnight.
Even though the attention is on the families, the port of entry does so much more than that, including drug interdiction, Humphries noted during an interview last week with the Arizona Daily Star.
"Nobody calls us and says, 'We are bringing a load of heroin today.' We have different priorities and have to react at a moments' notice to what's happening today or right now," he said.
While family advocates understand that, said Joanna Williams, with Kino Border Initiative, "We disagree with this notion that asylum-seekers are a lower priority when it comes to a mom and a baby out in the heat in Arizona. We think we have a fundamental legal and moral obligation to hear their case."
Staffing shortages
Southern Arizona ports are among the most understaffed in the country.
Nogales is down about 120 positions, Humphries said, although that's an improvement from the 142 officer openings it had a couple of months ago.
CBP has been sending officers from other parts of the country to help in Arizona for several years, he said, including about 75 who are now split among the state's ports of entry.
As part of Operation Guardian Support, 40 National Guard members are assigned to the port of Nogales to help inspect cargo, assist with X-ray machine operations and complete secondary inspections.
CBP has also increased recruitment efforts. Earlier this year, recruiters from across the country spent a week in the Nogales area, where they were shown gulf courses, mountain trails and bike paths so they could go back and promote the state, Humphries said.
"The instructions from the assistant commissioner was that all recruiters, wherever you are, Boston, Miami, New York, have to push Arizona."
One of the more recent recruiting incentives includes a 33 percent of salary bonus for the first three years. For instance, a new officer earning about $48,000 would get a $16,000 lump-sum check each year for the first three years, he said.
Humphries said he swore in three officers last week.
Drug seizures
At the same time, the office of field operations here is seeing a spike in hard drug seizures, he said, partly because smugglers are using this route more, but also because tackling opioids is a priority for Congress and the president.
"Over the past two years, the focus has been on curtailing the flow of opioids. It's very important that we make sure we are doing everything we can to make sure opioids are not getting through," Humphries said.
This fiscal year, through the end of June, officers at Nogales area ports have seized:
10,325 pounds of marijuana.
1,226 pounds of cocaine.
4,734 pounds of meth.
754 pounds of heroin.
Handguns, rifles and thousands of rounds of ammunition and currency heading to Mexico.
That's in addition to nearly 40 pounds of fentanyl seized through April, Humphries said.
With the exception of marijuana, hard drug seizures are up between 20 percent and nearly 40 percent from the same period last year, he said.
One day there were seven drug loads intercepted in a 12-hour period, which meant officers had to take time to process the drivers for immigration and criminal violations, and deal with fraudulent documents and those who run through the ports to avoid being inspected.
"People weren't aware of all of this and people assumed a lot," he said, referring to critics of delays in processing asylum-seekers. "It was never a decision to hold people. We were always busy, people didn't know for what."
The Star had an interview request pending with port officials since May and had also sought numbers and information about border processes.
Humphries said the port has a point person who communicated regularly with nonprofit advocacy groups, exchanged information and tried to be accommodating when told there was someone with a medical condition or a young minor traveling alone.
Williams of Kino Border Initiative said that, "From my perspective, it didn't come down to a lack of information, but to disagreeing with what should be the priorities at the port."
There have been reports from across the border of customs officers telling people to come back because the ports don't have the space to process them. Some asylum-seekers have complained that officers were rude, saying there were too many of them already here.
The ACLU recently called on Congress to "hold a hearing to inquire about CBP's actions to refuse and delay asylum applications at ports of entry."
Ports of entry on the southwest border were not built to house large numbers for extended periods of time, Humphries said, "and sometimes it got to that point, with backups with other agencies and stuff."
He couldn't say how many people the port can hold. Instead, he said he looks at "how many people I can do at that certain time," coupled with everything else the port is dealing with: trains, buses, thousands of vehicles and travelers , agricultural loads and medical issues that arise and require more manpower.
While he said officers are being demonized by critics, he's seen officers drive to McDonald's to get a meal for a child.
"I've seen that side of the officers," he said, adding that he regularly sends out the message that he expects professionalism from those who work for him.
"We shouldn't be bringing our personal feelings or views into the workplace, especially a workplace like this," Humphries said. "We have a job to do and we must do it professionally at all times under all circumstances."
Regarding the flow of families and minors at the moment, he said, "I think we are in a good spot right now," but he continues to monitor the situation daily.