Donald R. Diamond, influential Tucson land developer and businessman as well as prominent philanthropist, died Monday. He was 91.
Over more than 50 years in real estate here, Diamond became a large, if not the largest, private land owner in Pima County and one of the most influential private-sector businesspeople and deal-makers in Arizona.
"My father balanced between business, civic responsibility and philanthropy," said his daughter, Helaine Levy.
Diamond was born in New York and first became enamored with Tucson when he attended the Brandes School, a boarding school on the north side of East Broadway, across from where Park Place mall now stands, said Levy.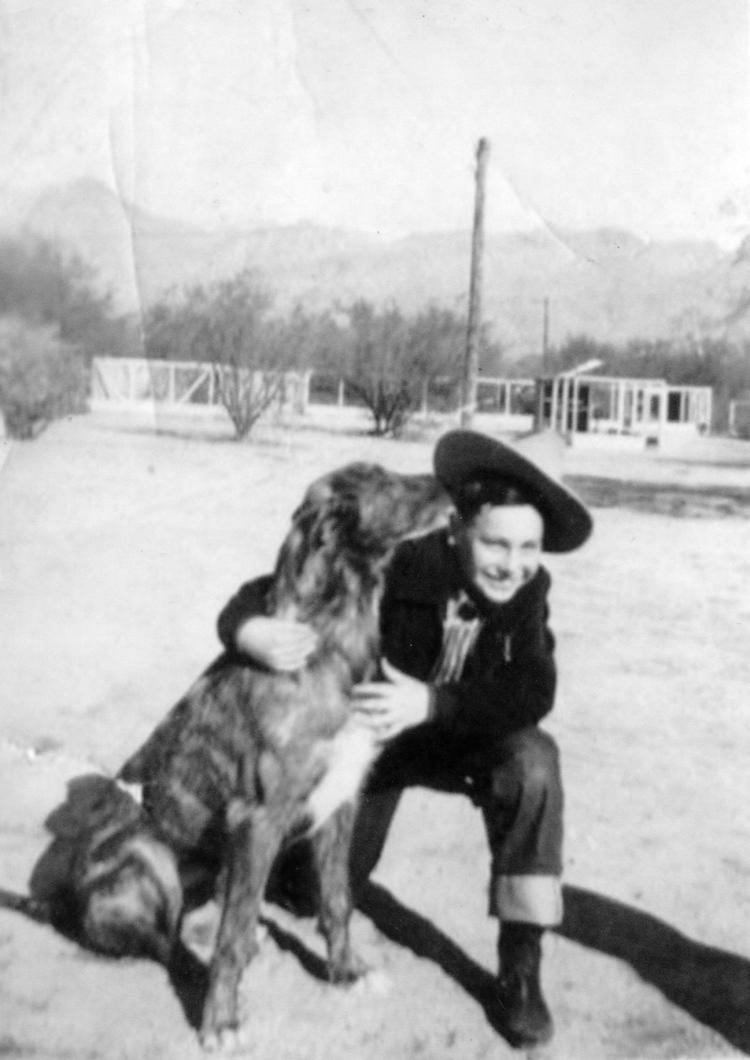 One of his favorite experiences during his time at the school was riding a burro to a convenience store near Speedway and Wilmot Road, she said.
Diamond loved the mountains and the desert, Levy said. Every time they drove toward the mountains surrounding Tucson, her dad would say "aren't those mountains beautiful."
He returned to the East Coast for high school in Washington, D.C., served in the U.S. Army infantry during World War II and attended the University of Arizona from 1947 to 1949.
At the UA, he met friends and business partners of 50-plus years, such as attorney Donald Pitt and developer Jack Gumbin, who died in 2015.
It was also at the UA that he met Joan Brown from Des Moines, Iowa — he was a business major and Joan was majoring in voice and piano. The two were married Nov. 29, 1952. Joan Diamond died Dec. 28, 2016.
"She was the love of his life," said those who knew the couple.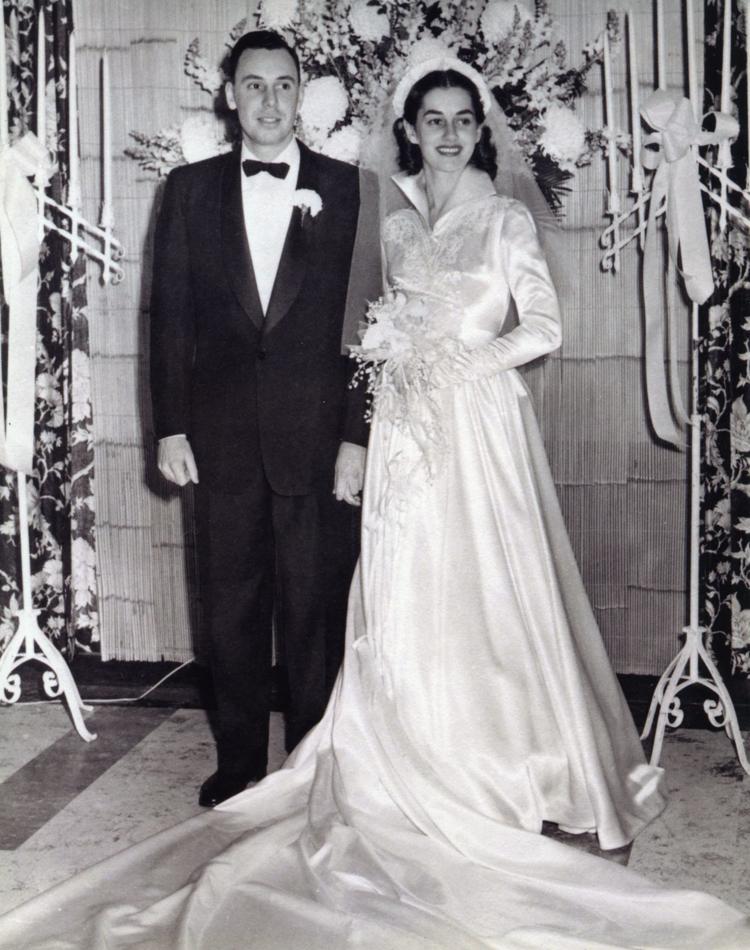 "They were so fun to watch dance together; their witty conversations were legendary," said Priscilla Storm, a vice president at Diamond Ventures who worked for Diamond for almost 20 years.
The young couple moved to New York, and Diamond went to work for the largest commodities business in the country, ACLI International, where his father, Nathan Diamond, was a partner. Under the tutelage of his father and other professional mentors, Diamond was a quick study and became a highly successful commodities dealer and vice president of the company.
He retired from Wall Street at age 37.
In August 1965, the Diamonds and their daughters Helaine, Jennifer and Deanne moved to Tucson. Diamond thought he could retire and did things like riding bicycles with his daughters to school — which lasted about three days, Levy said.
He needed to find something else to do; he wasn't content to sit back; he needed a challenge, said Levy.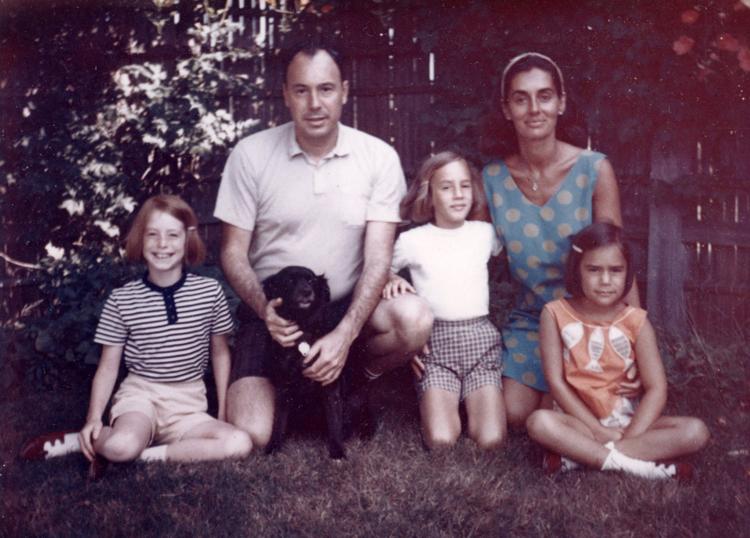 A friend suggested he give real estate a try.
Opportunity knocked
Diamond was "an opportunist in the best sense of the word," said Steve Lynn, a Tucson-based marketing and public relations executive.
"I saw the gorgeous lands that attracted me as a youngster, which I labeled as 'waterfront property.' I bought whatever I could buy," Diamond said in Commercial Executive Magazine in 2014.
There wasn't much competition in the mid-'60s for inexpensive land, and Diamond predicted rapid growth for the metro areas of Maricopa and Pima counties, said the Phoenix-based real estate magazine.
"A couple people in town came to see me and asked, 'What are you going to do with all this land?' and I said, 'I don't know, actually I haven't finished buying,'" Diamond said in the magazine.
Diamond bought, sold and developed large, raw tracts of land, like 12,700 acres of the Howard Hughes Estate properties.
He teamed with homebuilders to create exclusive enclaves, multiple-builder neighborhoods and masterplanned developments. He also acquired and developed office, retail, industrial and hospitality properties.
He established Diamond Ventures in 1988 to expand acquisition activities and to add management and development capabilities. The company has about 20 employees and very little turnover, said Levy.
Diamond's business ventures were Arizona-centric, but he did have projects in Colorado and in the Austin, Texas, area, said Levy, who is director of community relations for Diamond Ventures Inc.
The company has residential projects in Benson, Casa Grande, Oro Valley, Sedona, Payson, Sahuarita and the Phoenix metro area.
Not all of Diamond's projects were successful, said Levy, noting three marinas in Mexico that were financial flops.
"I think I was in awe of Mr. Diamond when I arrived in Tucson" at age 27, said Jim Click, a car dealer who handles 11 auto brands. He was the most successful business person in town.
Diamond, who hasn't always gotten favorable news coverage, was a person of the highest character and integrity, said Click.
Diamond was an "honorable businessman and a hard dealer," said John Wesley Miller, who has been building houses in Tucson since the 1950s.
Critics decried Diamond as the father of growth and sprawl, as many of the large swaths of land he bought were on the periphery of Tucson's metro area.
"Tucson over the last 20 to 30 years would have grown at the exact same rate without Donald Diamond," Luther Propst, who founded and led the environmental nonprofit Sonoran Institute for 22 years, told the Arizona Daily Star in 2012.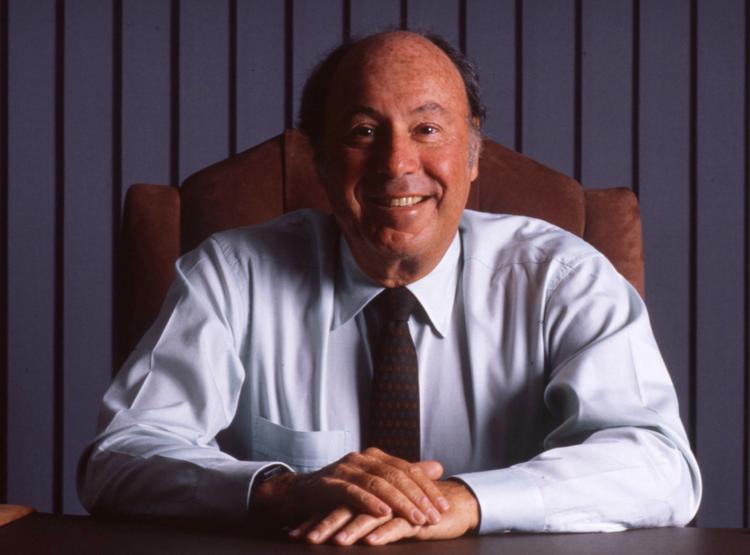 Diamond didn't bring the growth to Tucson — he simply responded to it, Chris Sheafe, developer and Diamond business associate, told the Star in 2007.
Diamond drew the ire of environmentalists with hotly debated issues and projects, like:
Pima Canyon Estates and Rocking K Ranch, a huge master-planned community at the base of the Rincon Mountain Range adjoining Saguaro National Park East;
Diamond's early opposition to the Sonoran Desert Conservation Plan, Pima County's plan for balancing the conservation and protection of cultural and natural resources with efforts to maintain the economy and fiscal responsible community, due to costs and "bells and whistles";
And the 7-inch cactus ferruginous pygmy owls that stood in the way of development in Marana.
Diamond "never discounted environmental issues," said Levy. "He was a great listener and did not hurry processes."
The conflicts were often resolved with compromise and cooperation. For example, Pima Canyon Estates is a luxury home project designed to be as non-destructive as possible, with strict CCRs (covenants, conditions and restrictions), said Levy. There is public access to the Pima Canyon trailhead, as well.
Also through collaboration, Diamond agreed to sell a portion of Rocking K Ranch to Saguaro National Park, to restore Rincon Creek and to fund establishment of the Rincon Institute to mitigate human impact on the park, Propst said in the Star in 2012.
Diamond sold property that was prime pygmy-owl habitat to the county for protection at a very reasonable price, said Carolyn Campbell, executive director of the Coalition for Sonoran Desert Protection.
Critics also scoffed at Diamond's tough, tenacious tactics when negotiating deals and skeptically viewed land swaps perceived as benefiting Diamond.
Diamond "had good taste in land" and was a "good businessman" who fought fairly, said Campbell, who heads the group she helped found in 1998 to advocate for the Sonoran Desert Conservation Plan.
Diamond and his staff often sought regulatory relief and fewer fees, but "everything was above-board," she said.
Diamond was always respectful and "didn't form opinions quickly," said Pima County Administrator Chuck Huckelberry, who often butted heads with Diamond over development specifics.
"He definitely knew what he wanted," said Huckelberry. When Huckelberry would review and comment on projects, Diamond often quickly came back with several substantive questions and the two would go back-and-forth.
In the final analysis, Diamond would often admit that the county's changes and requirements added value to the project, said Huckelberry.
Likewise, Campbell said Diamond told her that the protected lands increased property values, as desert views were preferred over golf courses.
Huckelberry said he grew to respect Diamond and that respect became friendship. "He was all about the community."
Others also built solid friendships with Diamond on the foundation of respect.
"What began as a rather impersonal relationship of mutual convenience gradually blossomed into real friendship," said Bruce Babbitt, who was Arizona's governor from 1978 to 1987 and secretary of the Interior for President Bill Clinton.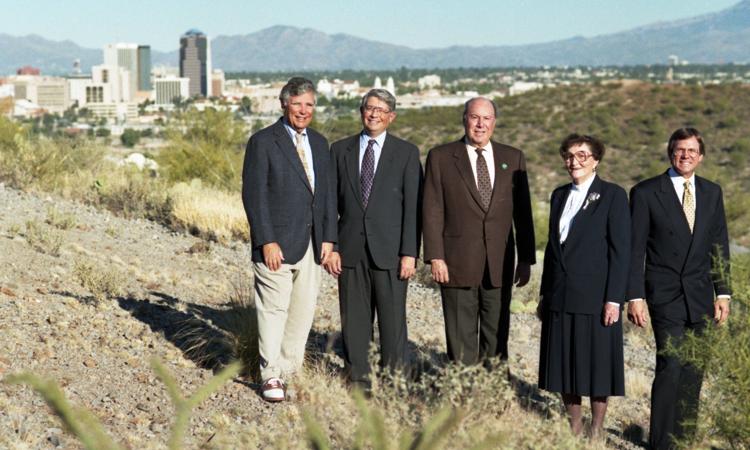 "What made it work was his deep commitment to Tucson and willingness to support so many good causes," Babbitt said.
Storm said she first met Diamond when she was working for the Pascua Yaqui Indian Tribe. The tribe wanted to buy a parcel of land that bisected the reservation community, but Diamond had donated it to the Jewish Community Foundation.
"We met when I represented the tribe as the buyer and he represented the seller," said Storm. "There were some colorful moments, and a deep friendship and respect developed."
Diamond "didn't take things personally," said Levy. When business deals didn't work out, the parties involved remained friends.
The Southern Arizona Home Builders Association gave Diamond's Diamond Ventures and homebuilder Pete Herder, who died Aug. 5, 2018, its first Legacy Awards in 2016. The award recognized a positive, lasting impact on the local homebuilding industry, according to a SAHBA news release.
Giving and good works
Diamond was at the top of Tucson's shortlist of go-to people for fundraising efforts and he frequently dug deep into his pockets.
"He fell in love with Tucson," said Stuart Mellan, president and CEO of the Jewish Federation of Southern Arizona. "As a result, he was committed to make a difference and wanted to give back."
He was always gracious and "he never said 'no,'" said Click, who said the two would go back-and-forth supporting each others' causes.
Click said he could count on Diamond to donate a fishing trip on one of his boats at Cabo San Lucas for Boys & Girls Clubs, one of Click's favorite causes.
The deeply personal Diamond Children's pediatric hospital of Banner-University Medical Center Tucson is the centerpiece of Diamond's widely spread philanthropic efforts.
Diamond and his wife donated $15 million for the children's hospital, part of a $184 million medical center expansion project. The ribbon was snipped in 2010 to open the center.
The couple wanted to do something for children and families, Levy said.
Their interest in children's health care, especially pediatric lung disease, was inspired by the loss of their daughter, Deanne, who died at age 14 in 1971 from complications of asthma.
The Diamonds also supported the University of Arizona Steele Children's Research Center and invested in lung research .
People approached the couple and Levy, thanking them and sharing personal, anecdotal stories of how Diamond Children's hospital helped their families.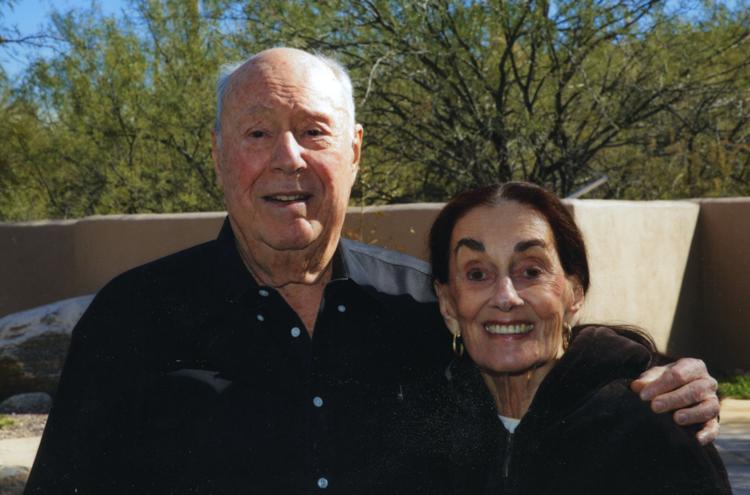 "If it's saved one life, it's made an impact," said Levy, who is executive director of Diamond Family Philanthropies and oversees the philanthropy for her family, the Diamond Foundation and Diamond Ventures.
The Diamonds' giving is evident elsewhere on the UA campus. They gave $1 million in 2014 to support the Eller College's campaign and had given $1 million in the late 1980s to the UA School of Business Public Administration. They also contributed to the Center for Judaic Studies.
A hoops fan and a Wildcat Club member since its inception, Diamond had season tickets for UA men's basketball for more than 50 years. Beyond cheering for the Wildcats, the Diamond family plunked down a pledge of $1 million in 2013 to help fund renovations to the McKale Memorial Center.
Donald and Joan Diamond received the UA Alumni Achievement Award in 2010.
Diamond also supported and was deeply involved with the Jewish community. He was active in Temple E-manuel and worked with the Tucson Jewish Community Center to find its present River Road site, said Mellan.
In 2011, the Jewish Federation of Southern Arizona named an annual campaign effort the Joan and Donald Diamond Lead Gifts Event. The Diamonds hosted the first major fundraising dinner for the federation, said Mellan.
The Diamonds never shied away from being out in front and encouraging others to join, Mellan said.
Diamond was committed to mentoring in the next generation, Levy and Mellan said. Diamond and businessman Paul Baker established the Men's Next Gen group to reinforce ties among Jewish leaders and to mentor up-and-comers.
Gary Kippur said in the Arizona Jewish Post in 2017 that Diamond told him, "If and when there is a Jewish issue, locally, nationally or internationally, the Jewish Tucson leadership has to have relationships with the guys so we can count on each other to get involved and take the initiative to solve the problem at hand."
Mellan said he would go to Diamond whenever there was a critical issue because "he had tremendous insight."
"He cared about world and international affairs, and always reminded me how connected and impacted the U.S. is by what is happening around the globe," said Storm.
Diamond wrote a 2001 guest opinion in the Star debunking speculation that U.S. support of Israel motivated the 9/11 attacks.
Diamond was involved with a long, inclusive laundry list of local leadership, economic development and social-service organizations during his lengthy career. In September, the Diamond family gave United Way a $750,000 contribution.
"He was a powerful force for good in our community," said Mellan.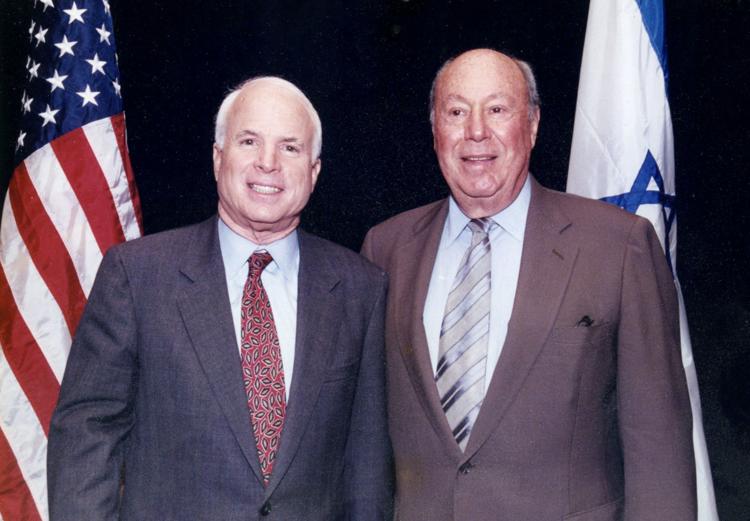 Power and politics
Diamond's power and political clout was often behind the scenes.
He was quietly influential, and people paid attention locally and nationally, said Lynn.
"He didn't like the limelight," Lynn said. He did things quietly and never sought or needed publicity.
Diamond was a registered Republican (his wife was a Democrat). However, he chose the candidate, not the party, said Levy.
"Donald was a businessman, developer and Republican ready to help candidates — even Democrats from Phoenix — provided they cared about Tucson and the University of Arizona," said Babbitt, a Democrat.
"I would never have won statewide office without strong support in Tucson and Pima County, and Don was willing to cross party lines to help that happen," Babbitt said.
"His politics were centrist and pragmatic, directed to solving problems and promoting Tucson and Arizona," said Babbitt.
"His life radiated a spirit of generosity and inclusiveness that should continue to inspire us in these divisive times."
Diamond told the Tucson Citizen in 1989 that backing political candidates was a privilege of democracy: "It's one of the best expressions we all have."
Click said he and Diamond "saw eye-to-eye politically" and frequently raised money for the same candidates, including former U.S. Rep. Jim Kolbe, former Sen. Jon Kyl and Diamond's good friend, U.S. Sen. John McCain, who died Aug. 25.
Diamond was national co-chairman of the finance committee for McCain's 2008 presidential run.
He met McCain in 1982 when the former POW was running for Congress and the two quickly became steadfast friends. Diamond was one of the close friends who visited McCain at his Cornville ranch in spring 2018, during the senator's last few months.
Their close relationship raised eyebrows over McCain's running interference in land swaps during Diamond's mid-1990s effort to get property in Monterey County, California, where the Army was closing Fort Ord, and when the pygmy owl was removed from the endangered species list.
Propst said in the Star that a call from Diamond to Kyl was instrumental in getting a bill to create Las Cienegas National Conservation Area passed in Congress back in 2000.
Diamond was "one of those people committed to things greater than himself," said Ron Shoopman, who was president of Southern Arizona Leadership Council for 13-plus years and is chairman of the Arizona Board of Regents.
As development of the Pima County-area Regional Transportation Authority plan and funding mechanism struggled and stumbled in the Legislature, Diamond insisted on bringing everyone to the table and convinced business leaders that transportation must be an inclusive process, Shoopman said.
Diamond insisted if we "didn't do things together, it would fail," said Shoopman.
Diamond was a coalition builder, who believed in collaboration, said Rick Myers, a Tucson businessman who just completed nine years as a regent.
In 2011, the Legislature passed a measure to restructure the Board of Regents, which ran what was then University Medical Center, and to strip oversight of the hospital from the regents and university. Opponents said the measure would have had a negative impact on education, research and patient care and would have politicized the hospital administration, said Myers.
The bill was sent to then-Gov. Jan Brewer; however, after a phone call from Diamond, she vetoed the bill and the university and the hospital were able to create a new board and build longterm credibility, said Myers.
Family and fishing
"He was fun to be with," said Mellan. "He could be irreverent. He was sharp-witted and 'real' — authentic."
And he knew how to relax.
He had a passion for deep-sea fishing, loved spending time on the water and had a small fleet of boats and yachts that he would buy and rename as the Ace, King, Jack and Queen of Diamonds, Levy said. The boats were docked in ports from Long Island to Mexico. The luxurious Queen of Diamonds was often docked in the Bahamas.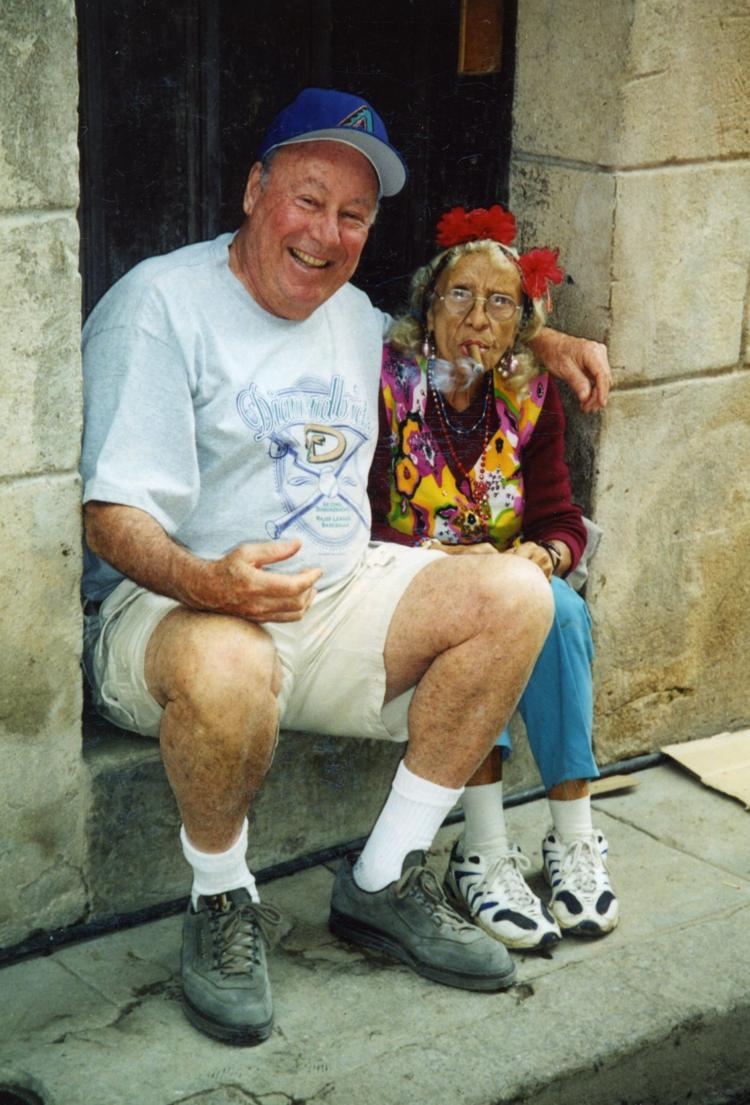 Diamond loved to fish, loved his community and loved his family, said Click.
"Since I have known him, he always had time for his daughters and grandchildren, no matter what else was going on," Storm said.
In addition to Levy, Diamond is survived by his eldest daughter, Jennifer Diamond, ordained as a reform rabbi, who lives in Sun Valley, Idaho; and grandchildren: Nathan, who is with Diamond Ventures in Denver; Carly, who is working on her MBA in sports business management at the University of Alabama; and Gabby, a senior at Tulane University in New Orleans. His sister, Joyce Eskwitt of New York, also survives him.
His parents were Nathan and Sylvia Brooks Diamond.
Diamond was "genuinely, intellectually curious, a life-long learner, had a great sense of humor, was the most active listener I know," said Storm. "I've always been impressed by his ability to learn, adapt, admit mistakes and keep going with a joy of living that spreads to everyone that works with him."