Karolina Lopez walks through Casa Mariposa, going room to room, excited about the changes she envisions.
A bunk bed against each wall, she says in one bedroom, a couple chests of drawers and a vase with flowers so it doesn't feel like a detention center. She wants the people who come to Casa Mariposa — migrants who are LGBTQ and were recently released from a detention center for entering or being in the country without documents — to feel safe and to have the resources they need to get on their feet.
Mariposas Sin Fronteras, the nonprofit that runs Casa Mariposa, recently received an anonymous $14,000 donation, which they are using to start on the numerous repairs the house needs.
"It's a huge help that the person who made the donation gave us," Lopez said in Spanish. "$14,000 — it's truly a lot, but we need a lot more than that."
The property, owned by Mariposas Sin Fronteras since 2017, needs numerous repairs to the two houses that will serve as both a living space for 16 to 20 people at a time, as well as an office and community gathering space. There are termites to deal with, a water-damaged roof that needs replacing, broken windows to fix, ceilings with water damage, floors that need repair, and other details like a bathroom missing a sink and a room missing a door.
The house also needs beds, bunk beds, chests of drawers, office equipment, clothes for the migrants who arrive and more.
The Mariposas Sin Fronteras director walks through the house motioning to where the termites have eaten away at the wood or the water damage that has leaked through to the ceiling. She envisions a desk here, a bed there. In the yard between the front and back house, she points to where she'd like to see a little garden with vegetables that the guests will be able to grow and eat.
Lopez wants the house ready as quickly as possible to start welcoming guests.
"There are lots of LGBT community on the border waiting for someone to give them an opportunity to come here and stay in a place that's safe," Lopez said. "In every place, in every country, the LGBT community is the one that suffers the most."
Lopez is a trans woman and a migrant who was in the U.S. undocumented for many years. In 2010, she was incarcerated in the Eloy Detention Center for being undocumented and spent 3½ years there, she says. She later gained political asylum, got her residency and on Jan. 12 became a U.S. citizen.
Lopez has mixed feelings about her citizenship.
"It does help me a lot, but also the danger in my life for being a trans woman continues," she says. "Being a citizen doesn't take away the danger of being killed or violated or judged or suffering from transphobia or homophobia. Being a citizen doesn't take away any of that."
As she walks around the property, a man appears, coming down the dirt easement between the neighbor's house and Casa Mariposa. When he sees Lopez, he waves and calls her by name, wishing her a lovely day. He's a neighbor, Lopez says, and wants to help with the renovations.
She hopes the community will band together to help her reopen the house by May.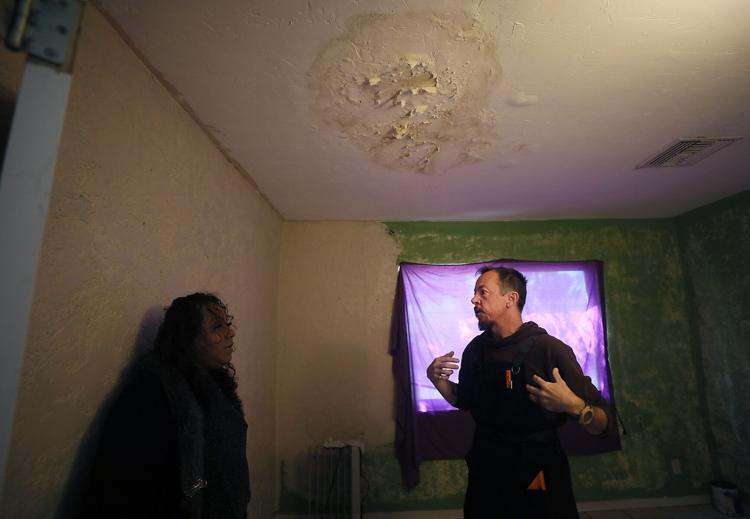 When the nonprofit wanted to buy the house in 2017, it asked the community for help and Tucson rose to the occasion, Lopez says. Many local groups united to raise the money.
"All of Tucson mobilized, almost," she says.
Tucson poet laureate TC Tolbert is one volunteer house renovator, who is working on getting the house back to a livable condition. Tolbert also connected the anonymous donor to Casa Mariposa.
Tolbert had been doing some volunteering with Mariposas Sin Fronteras for the last five years and had a friend who was in a position to make a donation and asked for a recommendation on an organization that needs help.
"I had just started with Mariposas, working on this house, and I was like, 'Well, if you want to see your donation actually make change in this very moment, do I have a project for you,'" Tolbert said.
Tolbert says a lot of the necessary repairs are the kinds of things you don't always notice — it's easy to overlook a water-damaged roof for a new couch or a fresh coat of paint. So Tolbert is helping prioritize where to spend the $14,000 donation as well as doing some of the actual work.
"What's the not sexy but absolutely required things you have to do to make this a safe place?" Tolbert said. "They still use the front house for meetings and workshops and things like that. So it's not completely unusable. It's more just, all of the money and focus has gone towards getting folks out of detention and things like that."
Two years ago, they stopped many of the services they offered in the house because of the pandemic and because a lot of repairs were needed. But once the place is all fixed up, it will house 16 to 20 people at a time.
Since the pandemic began, they've had one or two people stay with them at a time, but they've put most of their resources toward helping people financially, paying bills, paying for food, as well as sending commissary money, legal papers or phone cards to people in detention, Lopez says. Over the pandemic, they've donated more than $40,000 to LGBTQ migrants in need.
Some of the migrants who come to the house crossed the border and were detained for a short time. But the majority of guests come from either Eloy or Florence immigration detention centers, where sometimes migrants are detained for months or even years.
People typically stay at the house for three to six months, depending on their immigration process, but sometimes people stay a year or more, Lopez says. And the migrants who come to the house are from many different countries, including Cuba, El Salvador, Honduras, Nicaragua, Brazil and Africa.
LGBTQ people, especially trans women, often suffer both psychological and physical abuse while in detention, Lopez says. Transgender women in immigration detention centers have often been held in men's detention facilities, where they suffered sexual assault and routine harassment by male detainees and guards, according to Human Rights Watch.
Mariposas Sin Fronteras doesn't just help their guests with food and shelter; it also connects them to mental health services and clinics where they can get a physical. As well, it holds workshops in Spanish on HIV awareness where up to 20 people are paid $100 each to attend.
"We want this house to have all the services that people need and to be a safe place for the community and for Tucson to know that this place is a safe space for the LGBT community, and not just Tucson, but the whole country," Lopez said.