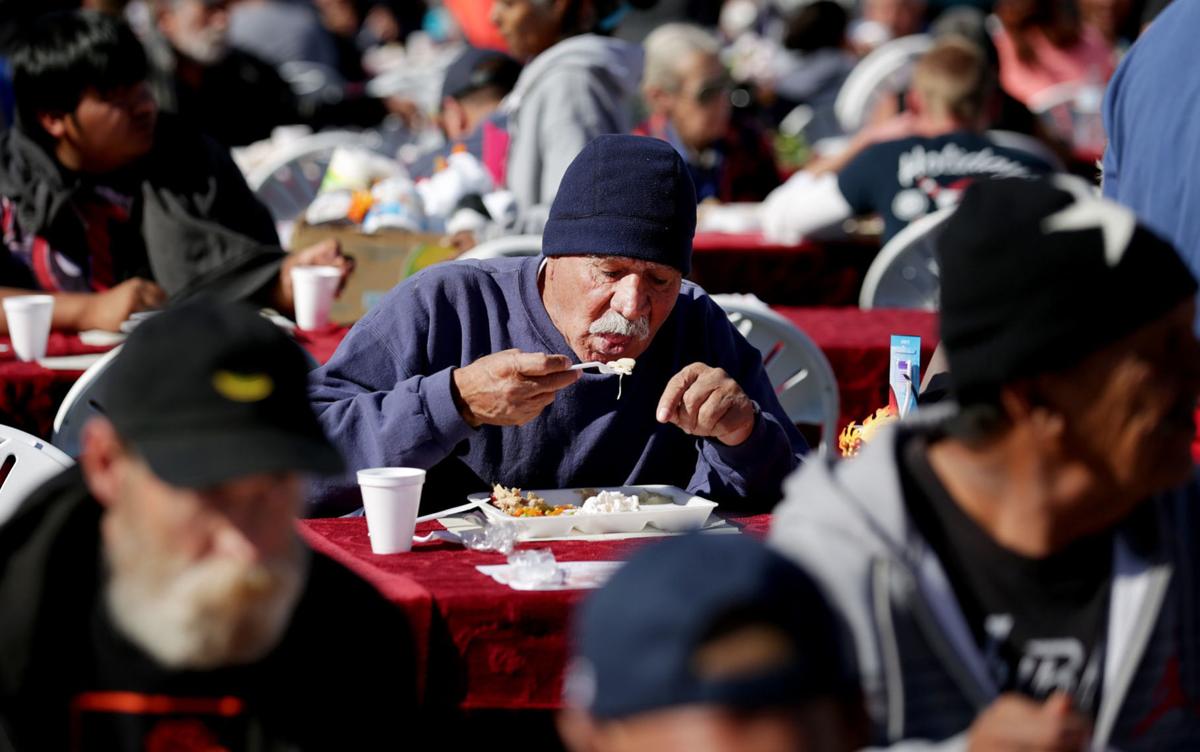 As we make plans to gather around Thanksgiving tables for the biggest feast of the year, local nonprofits are encouraging Tucsonans to share their bounty with those who are less fortunate.
Donations of time and trimmings — 100 fruit and pumpkin pies, whipped topping and canned goods — are needed for the free community Thanksgiving meal coordinated by Portable Practical Educational Preparation and the Promotoras de Esperanza from 11 a.m. to 3 p.m. Monday, Nov. 25, at Armory Park Center, 221 S. 6th Ave.
Now in its fifth year, the feast and resource fair expects to welcome at least 2,500 homeless and near-homeless guests along with seniors on fixed incomes and students.
"We have people of all ages and all walks of life. A good portion of our attendees will be from the homeless population and we definitely expect families and homeless youth as well," said Ray Serrano, community engagement specialist with PPEP Integrated Care Behavioral Health Department.
The event, which was founded by the Promotoras 16 years ago, has become an important tradition in the community, according to Serrano.
"Promotoras means 'Promoters of the community.' They help navigate in the community for individuals who need resources. Promotoras share their knowledge and help guide people to specific programs and services; they advocate for those who maybe don't really have a voice," he said.
Serrano said attendees can enjoy not only a delicious meal — turkeys are courtesy of Honey Baked Ham — and camaraderie, but also a resource fair featuring 30 vendors and a range of services that has expanded to include health screenings and flu shots courtesy of Arizona Complete Health along with haircuts by Hollywood Barbers, raffle prizes, free clothing, entertainment and more.
"This is an event where people can have all their basic needs met and people are grateful for that opportunity. It also inspires the community to remain humble and understanding about barriers that others face or situations they are going through. It is a beautiful event," Serrano said.
New location for annual meal
Donors can also exercise an attitude of gratitude by donating frozen turkeys and all the trimmings for the Gospel Rescue Mission's 31st Annual Thanksgiving Street Banquet, which has moved from its traditional location at 338 W. 28th St. to a new venue at H. S. Lopez Family Foundation Center of Opportunity, 4550 S. Palo Verde Road.
"We will be indoors for the first time ever, so we don't have to be concerned about rain. The weather won't be a factor, but we are trying to get the word out about our change of venue and make sure that everyone knows we have moved," said Victor Hightower, a spokesman for the Gospel Rescue Mission.
Hightower said they are thrilled about the inaugural banquet at the center, which offers a variety of services for those experiencing homelessness, including 300 shelter beds, 1,000 hot meals daily, work-force development, medical and dental services, a men's rehabilitation center and more.
"We have had a huge jump in the number of people we are able to serve thanks to the H.S. Lopez Family Foundation and 30 other social service organizations partnering with us here," said Hightower.
The Thanksgiving Banquet embodies that spirit of generosity; last year, donations facilitated 2,458 meals. Hightower is hoping that gifts of at least 300 turkeys, along with canned goods will cover the feast for Thanksgiving and additional donations will help plate nearly 1,800 meals expected at Christmas.
"We accept donations after Thanksgiving and use those for the Christmas banquet. We like to stress that it's never too late to donate," said Hightower.
Salvation Army's annual tradition
Turkeys are also a top priority for the Salvation Army, which will return to St. Demetrios Greek Orthodox Church, 1145 E. Fort Lowell Road, to stage its 35th Annual Salvation Army Community Thanksgiving Dinner.
As the only free community dinner on Thanksgiving Day, the feast is a vital tradition, according to Bill Davis, social services coordinator for the Salvation Army Tucson.
"I think people look at it as an important celebration in support of the community. Many people look forward to it. It is important to have good meals all the time, but this is a great day to celebrate, rejoice and acknowledge our blessings," said Davis.
Davis said that at least 150 turkeys and 200 pre-cooked, store-bought pumpkin and fruit pies are needed for the Thanksgiving banquet; the Salvation Army is requesting 1,700 turkeys to cover needs for the entire holiday season, including holiday food boxes for families in need. Other needs include instant potatoes; stuffing; ready-to-serve dinner rolls; loaves of bread; yams; cranberry sauce; canned vegetables; eggs; whipped cream or topping; gallons of milk and other holiday food items.