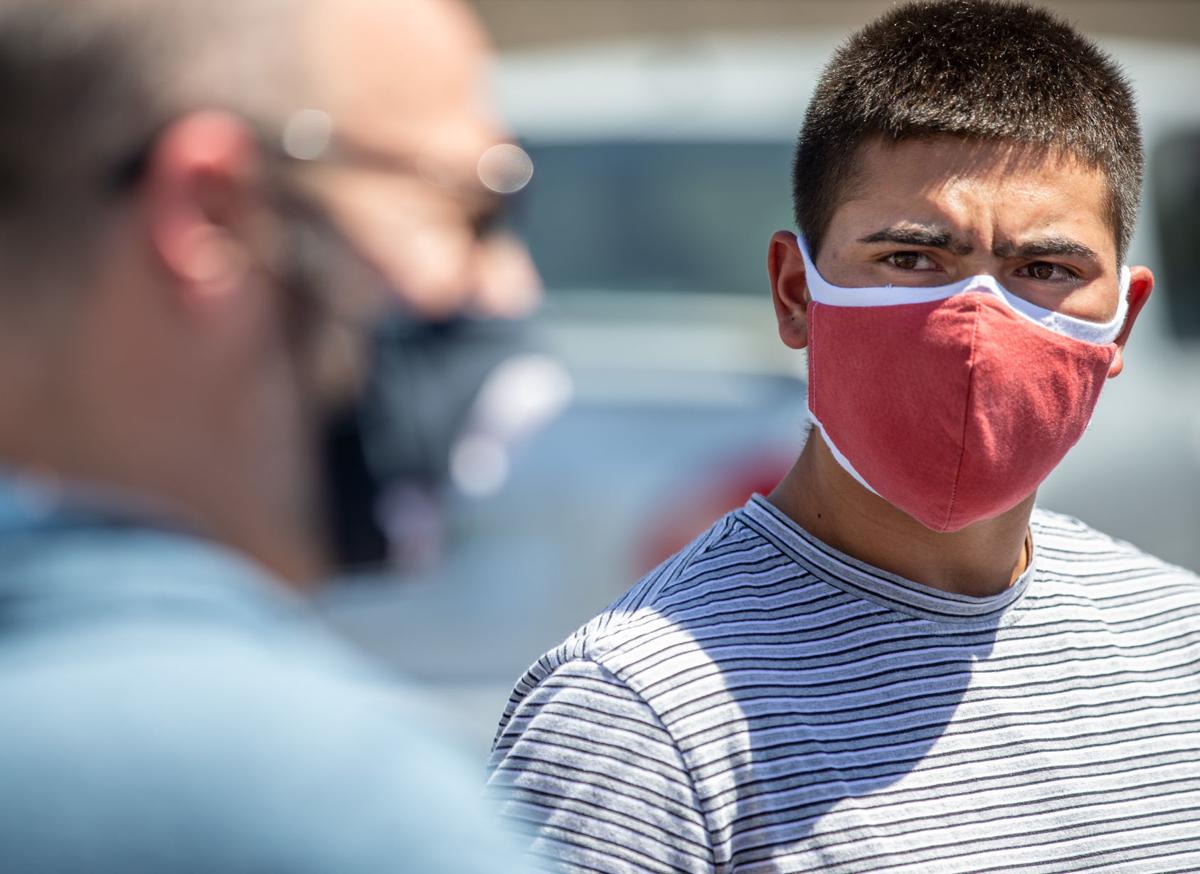 A 19-year-old Tucson man with an autoimmune disorder was informed on Tuesday that he will not be taken to a detention center, where he feared his life would be in danger due to the coronavirus.
Brayann Lucero has lived in Tucson since his parents brought him from Mexico when he was 2 years old. He is trying to renew his status in the Deferred Action for Childhood Arrivals program, also known as DACA.
On Tuesday, Lucero emerged from an ICE office in Tucson with Mo Goldman, an immigration lawyer helping Lucero. Goldman said Lucero was released on his own recognizance and will wear an electronic ankle bracelet as his immigration case unfolds.
"This has been very stressful because I wasn't sure what was going to happen," Lucero told advocates and reporters gathered in the parking lot.
"I'm just grateful for the people that I have around me," he said.
Immigration and Customs Enforcement officials told Lucero they planned to take him into custody on Monday unless he paid a $12,000 bond, which advocates with the Keep Brayan Free Coalition equated to a "ransom."
Advocates held a news conference outside the ICE office on Monday to draw attention to Lucero's predicament.
Lucero was diagnosed with lupus two years ago, which makes him vulnerable to infections. Advocates worried his life would be at risk if he were put in the confined spaces of a detention center as the coronavirus spreads.
ICE reported 246 cases of the coronavirus among detainees in Arizona on Tuesday, up from 233 on Monday. No deaths were reported among detainees in Arizona, but the death on Sunday of a correctional officer who worked at the Eloy Detention Center was attributed to COVID-19.
Goldman said Lucero will have to check in periodically with ICE.
"Fortunately, he's able to go home and fight his case outside of detention," Goldman said. "Obviously, nobody wants to ever be in detention, but especially now."
"This feels like a huge win," said Cyrina King, a representative of the Keep Brayann Free Coalition. "We're so happy to see you free."
"The community pressure helped," Goldman said. "I think it's always helpful to have people outside waiting, so they know they have that presence. Otherwise, nobody's going to know or care."
Lucero stepped away to call his family and tell them he would not be taken into custody.
In May 2019, the Border Patrol pulled over Lucero while he was driving with friends who were undocumented, said Rachel Wilson, another immigration lawyer helping Lucero. Agents accused him of human smuggling but did not charge him with a crime and let him go.
Immigration officials did not bring up the incident until last week, Wilson said.
The ICE public affairs office cited the May 2019 incident in a statement issued after press time Monday.
"Following a review of Lucero's immigration history," ICE instructed Lucero to report on June 8 for a review of his case, according to the statement from ICE.
The U.S. Supreme Court is reviewing a Trump administration plan to end the DACA program and a decision is expected to be published this week.