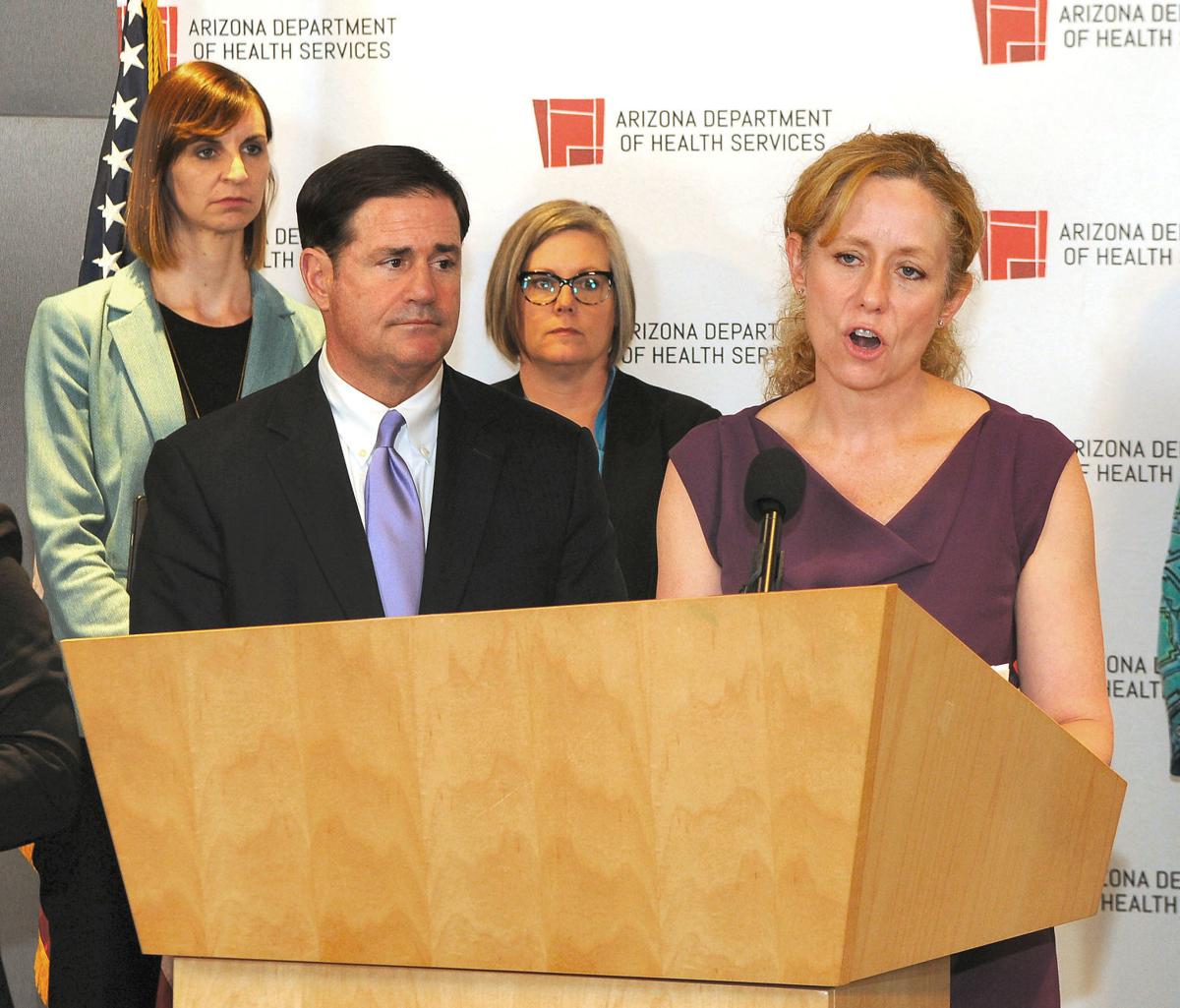 PHOENIX — Planning to go out to a crowded bar to party for St. Patrick's Day? Gov. Doug Ducey has a word of advice: Don't.
Both he and state Health Director Cara Christ warn against being in any public place indoors where there are likely to be at least 50 people.
But Ducey stopped short Monday of issuing any closure edict, saying Arizona isn't at that stage. "This is where we are today," he said. "And it will change," as he's relying on the latest "data, the facts and the science" to make calls.
In a news conference Monday, state officials:
Defended the decision to go ahead with Tuesday's Democratic presidential preference election. "Our intent at polling places ... is to get people in and out," said Secretary of State Katie Hobbs, noting that there's only one question on the ballot.
Discussed the possibility schools might not reopen in two weeks.
Talked about who is — and is not — eligible for testing.
Said they are concerned about people hoarding basic supplies; Ducey said he has been assured by executives of grocery chains that supplies will be replenished.
Much focus was on how people can protect themselves and, if infected, avoid spreading COVID-19.
"Social distancing or personal distancing is one of the greatest measures you can take to stay safe. And that's hard to do at a bar," Ducey said.
As for everywhere else, "We are encouraging right now that gatherings over 50 be limited," Christ said. "That would include, potentially, malls, festivals, parades, concerts, those types of things."
But she sees no reason for a legal prohibition. Specifics differ by type of business, and it may be possible to create social distance in gyms and restaurants, for example, Christ said.
On Sunday, Kathy Hoffman, the state superintendent of public instruction, and Ducey shuttered public schools for two weeks, encouraging districts to provide online instruction.
They said arrangements are being made for where parents who cannot stay home can leave children and get them meals.
Hoffman said Monday there is no guarantee schools will reopen on March 30. "The situation is constantly evolving, minute to minute, hour to hour," she said. Officials are looking at scenarios and various issues, she said.
There were questions at the news conference about who can get tested and what is the cost.
Christ said tests are being offered only to those who show some symptoms. But she has signed a standing order allowing private health labs to conduct tests on those who sign statements saying they do have symptoms.
But unlike in some other states, tests will not be automatically available for those without symptoms.
Christ said insurance companies have agreed to waive copays and deductibles for those who fit the category of "should be" tested. But for those without insurance, she could say only that the state is looking at the issue.
Concerned about COVID-19?
Sign up now to get the most recent coronavirus headlines and other important local and national news sent to your email inbox daily.