PHOENIX — Saying he won't be offering teachers anything more, Gov. Doug Ducey said Wednesday their strike will end when they realize he's made a good offer and they all go back to work.
The governor told Capitol Media Services his plan to boost teacher salaries by 19 percent by the 2020-2021 school year fulfills his promise of a significant pay increase. It also would restore the first $100 million of $371 million that lawmakers have siphoned from additional aid to schools.
Ducey said his offer meets the key demand of the educator groups whose members voted last week to walk out beginning Thursday, April 26.
"So they know it's been delivered on," he said. "And it's time to move forward."
As of today, though, Ducey can't promise that. Republican legislators have yet to approve his proposal, balking at his contention that the package can be funded largely through growth in the economy.
House Speaker J.D. Mesnard said late Wednesday that while lawmakers are working on "a massive teacher pay raise," there is no guarantee that legislators, worried about the cost, will adopt Ducey's plan for a 9 percent raise this coming school year and additional 5 percent increases in each of the following two years.
"We're still working through that," Mesnard said. "But whatever it ends up being is going to be something at least close to that, if not that. I think we're all trying to figure out if we can make that specifically work."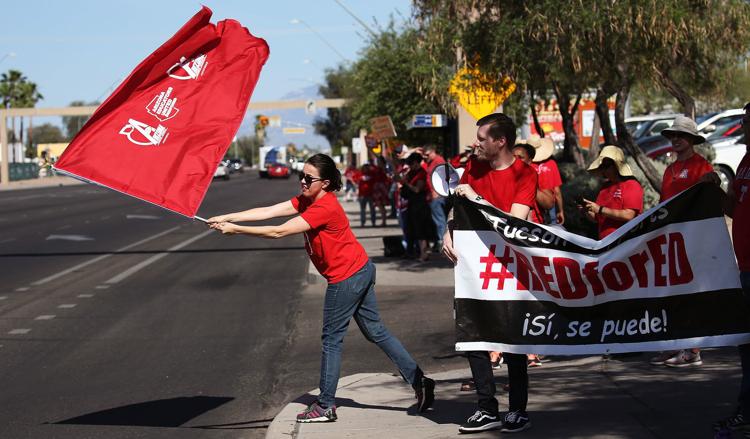 Leaders of Arizona Educators United and the Arizona Education Association made a last-minute pitch late Wednesday for Ducey and lawmakers to come up with something more.
They want some assurance the funds will be there. The two groups share the concern of some Republican lawmakers that Ducey's estimates of higher tax revenues and lower social-service expenses are speculative at best.
AEA President Joe Thomas noted they also have other demands, including getting teacher salaries up to the national median — they would not get there, even with Ducey's offer — and foregoing further corporate tax cuts until per-student funding reaches the national average.
The most recent figures compiled by Governing Magazine put per-student funding in Arizona at $7,205 from all sources, compared with a national average of $11,392.
Arizona lawmakers voted earlier this decade to cut corporate income tax rates by 30 percent on assurances that would spur economic growth. But corporate tax collections, which were $663 million in 2015, are predicted to be $252 million this budget year.
Ducey said in an interview Wednesday he won't forswear future tax cuts.
"The reason our state is growing so much, the reason people are coming here, the reason people are fleeing California, that our economy is growing, is because we have a great place to live, work, play and do business," the Republican governor said. A lot of that is because of the state's attractive tax climate, he said.
"We can do that and address teacher pay," Ducey said. "And that's what we're doing."
While acknowledging that teachers will walk out Thursday and Friday — and that many schools will close those days — Ducey specifically said he expects them to return next week.
"If we move a 20 percent raise to the teachers and there is an ongoing strike, that doesn't make sense," he said. (He calls it a 20 percent raise because he includes the 1 percent teachers already received this school year.)
"We're supposed to be here for the kids, inside the classrooms," Ducey continued. "We've got these parents that are working and are going to be in a real jam in terms of what are they going to do with their kids."
Noah Karvelis, an organizer of Arizona Educators United, said the governor does not understand that the decision of 78 percent of the 57,000 teachers and support staffers who voted to walk out is not about themselves or even their salaries.
"If we do not stand up for our kids right now, who will?" he asked.
It isn't clear how long educators are prepared to stay out.
Thomas noted that the walkout includes a march Thursday on the Capitol.
"We will lift our voices in a way they cannot ignore," he said.
"How it ends is up to the governor and up to those legislative leaders," Thomas said, when asked what he believes the walkout will accomplish.
"If they're courageous, if they have the political capital to come down and speak with us, we all get a win, the students get a win, the educators get to go back to their classrooms and we get to move on and finish out the year strongly," he said. "But the ball's in the governor's court and it has been over a month."
Thomas noted that he and Karvelis sent a letter to Ducey asking for a meeting to discuss the list of demands. Ducey has declined to meet with either, saying he's talking to individual teachers who also are members of both organizations.
As for public support, "We want the parents to understand that this fight is for your child," Thomas said.
He said he believes parents will stick with educators, even into next week, "as long as we can show them that this fight remains about students."