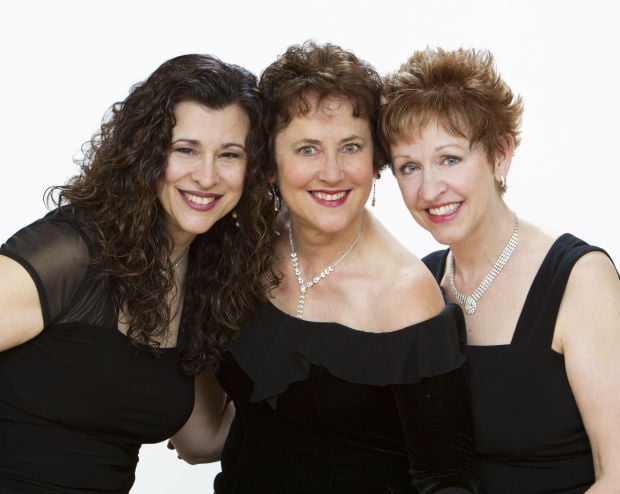 Nota Bene members are (from left) pianist Marie Sierra, soprano Elena Todd and flutist Sandy Schwoebel.
Tuesday
Nota Bene blends soprano, piano, flute
Arizona Senior Academy audiences have known Elena Todd for some years as a solo soprano, often appearing with her pianist collaborator Marie Sierra. But on Tuesday, Todd, Sierra and flutist Sandy Schwoebel will perform at 11:30 a.m. as Nota Bene, a group they formed in 2009.
The trio will perform various combinations together including rare French romantic pieces for soprano, flute and piano by René Rabey, Léo Sachs and Edmond Sténosse; a set of German romantic songs for the trio by Jan Brandts-Buys; a cycle of songs by Seymour Barab titled "Bagatelles"; and a Delfino Tango arranged for Nota Bene by Exequiel Mantega.
Each will also perform solos. The performers will offer brief chats about the music as well as the composers, their lives and times.
All three women are Tucson residents. Todd studied at Cornell and the Peabody Conservatory. She spent 18 years as soprano soloist at St. Philip's in the Hills Episcopal Church and teaches voice privately.
Schwoebel holds a DMA degree in flute performance and was assistant professor of flute and music history at Central Washington University. In addition to performing, Schwoebel teaches in her private studio and writes a regular column for the online New Zealand Magazine Flute Focus.
Sierra is a busy collaborative pianist with over 40 performances per year. She is pianist for the Tucson Arizona Boys Chorus with whom she recently toured in Japan, South Korea, Hawaii, China, Kazakhstan and the Czech Republic. Her master's degree is from the University of Miami.
In 2008, William Bradley Roberts wrote the song cycle "Wit and Wisdom" for Nota Bene, based on the writings of Dorothy Parker. It is included on the CD "Nota Bene." Their second CD "Delizioso" was released last year.
Aug. 21
Scientist to discuss Parkinson's research
Nearly a million Americans are living with Parkinson's disease, a chronic and progressive movement disorder that typically affects seniors. No cure has been discovered for the disease, but researchers around the world are working toward that goal.
One of them is Torsten Falk, an assistant professor of neurology in the University of Arizona College of Medicine, who will discuss his work in a talk Aug. 21. Open to the public free of charge, the lecture begins at 3:30 p.m. in the Great Room of the Arizona Senior Academy. It is titled "UA Preclinical Research on Neurodegenerative Diseases."
Falk has a background in genetics and has been a faculty member at the UA College of Medicine since 2001. A native of Germany, he received his master's degree from the University of Kaiserslautern and his Ph.D. from the University of Hamburg's Institute for Cellular Biochemistry and Clinical Neurobiology.
He did postdoctoral research in the UA College of Medicine's Department of Physiology before joining the faculty.
At the UA, his research focuses on both gene and cell therapy approaches for treating Parkinson's disease.
Falk is the author of 20 peer-reviewed journal publications and 46 peer-reviewed abstracts and conference presentations. He is a reviewer for the Parkinson's Disease Foundation and the Parkinson's UK Foundation.
He is a member of the Society for Neuroscience, the American Physiological Society and the Physiological Sciences Interdisciplinary Graduate Program.
Donald J. Behnke
H. Deon Holt