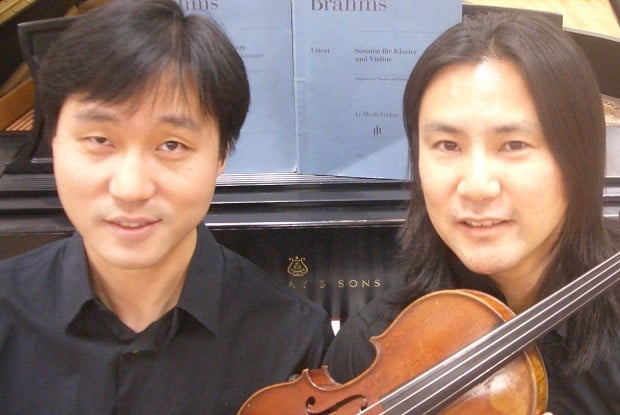 Violinist Toru Tagawa and pianist Kyungsun Choi return to Academy Village at 11:30 a.m. Tuesday for a concert of sonatas.
Both are popular performers at this venue, both as a duo and with other chamber musicians.
The concert, sponsored by the Arizona Senior Academy, will be presented in the great room at the academy, 13715 E. Langtry Lane. It is free and open to the public.
The duo will perform Brahms' "Violin Sonata No. 2," arguably Brahms' most lyrical sonata for violin and piano, composed during a prolific summer in Switzerland in 1886. Tagawa and Choi will also play David Amram's "Violin Sonata."
Amram is a living American composer who gained prominence in the 1960s. He has written more than 100 chamber and jazz pieces and is equally at home in the folk, ethnic and blues genres. Tagawa met Amram last summer at a conducting workshop.
"It is clear that his curiosity in music and discovery of many genres has led him to compose music," Tagawa said.
Tagawa, originally from Hiroshima, Japan, has received violin performance degrees from the University of Tulsa and Florida State University and a music education degree from the University of Arizona. He has performed in orchestras and chamber recitals in Canada, Japan, Austria and throughout the U.S.
He is also an active conductor - he founded and conducts the Tucson Repertory Orchestra.
Choi hails from Seoul, South Korea, where he received his bachelor's degree in piano performance from Yonsei University. He earned a master's of music degree from University of Northern Iowa and is in the doctoral program for piano performance at the UA.
Choi has had a varied career as a soloist, chamber musician, accompanist, opera pianist/coach and teacher.
Concertgoers can stay for lunch in the Academy Cafe after the concert. The cafe is open from 11 a.m. to 2 p.m. and menu items range from $4.25 to $9.50.
Academy Village is an active-adult community off Old Spanish Trail, six miles southeast of Saguaro National Park East.
• What: Violinist Toru Tagawa and pianist Kyungsun Choi
• When: 11:30 a.m. Tuesday
• Where: Arizona Senior Academy Building at Academy Village, 13715 E. Langtry Lane
• Admission: Free; donations accepted