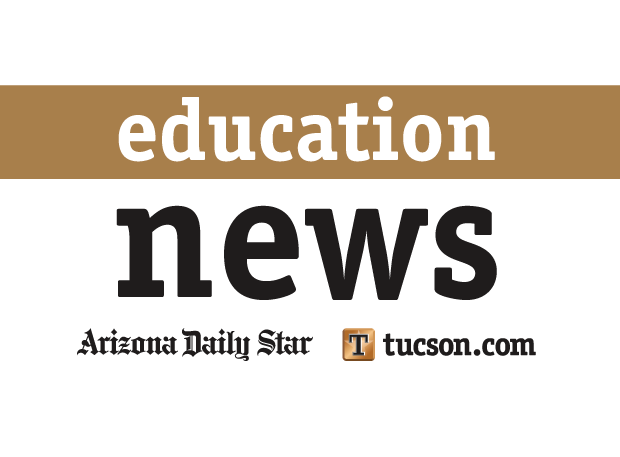 Anne Marie Velosa has been appointed to the Tanque Verde School District Governing Board.
The appointment, made by Pima County School Superintendent Dustin Williams, fills the seat vacated by Carlos Ruiz, who resigned mid-term.
The seat will go up for election in November.
Vail district to host job fair
The Vail School District is holding a job fair on Feb. 1.
The district is looking for teachers in all subjects as well as speech therapists, occupational therapists and physical therapists.
The job fair is from 10 a.m. to 1 p.m. at Desert Sky Middle School, 9850 E. Rankin Loop.
Nonprofit hosts breakfast to combat literacy gap
K-12 literacy challenges and closing the literacy gap will be the focus of the 15th annual Business Leaders for Early Education Breakfast.
Last year's breakfast helped raise more than $100,000 for early childhood literacy, providing nearly 237,000 books to underserved children throughout the county, a news release said. The Parents as Teachers Home Visitation program and My Summer Library program, which provides free books to kindergarten and first-grade students, are funded through this event.
The Feb. 20 event, which is open to the public, will feature keynote speaker Art Rolnick, senior fellow at the Humphrey School of Public Affairs at the University of Minnesota.
He serves on nonprofit boards related to early childhood development and as an ad hoc adviser to a number of communities nationwide in the field of early childhood education, the news release said.
The breakfast is from 7 a.m. to 9 a.m. at the Tucson Convention Center, 260 S. Church Ave. Individual tickets cost $35 and can be purchased at UnitedWayTucson.org/businessbreakfast. Table purchases and other sponsorship opportunities are also available.
The event will also honor the recipients of United Way's Literacy Champion Awards, given annually to teachers chosen for their advocacy around literacy.
Gregory School hosts open house, college admission help
The Gregory School is hosting two events geared toward families with K-12 children.
The private school, located at 3231 N. Craycroft Road, is hosting "Discover the Difference," an open house for families with prospective students entering grades fifth through 11th on Sunday, Jan. 26, at 1 p.m.
Families will get a tour of the campus, meet faculty and administrators, visit the MIT Fab Lab and learn about the school.
The school will also host "Demystifying the College Admission Process," where families can get information about admission into highly selective colleges. The presentation is at the school on Jan. 27, at 6:30 p.m. and is free and open to the public.
Kino School holds 2 open houses for families to visit
Kino School is holding two open houses for families of K-12 students.
The first event is on Sunday, Jan. 26, from 2 to 4 p.m. and the second is on Jan. 29 from 6 to 8 p.m. at the private school, 6625 N. First Ave.
Financial aid and scholarships are available. For more information go to kinoschool.org or call 297-7278.
Desert Sky Community School opens its doors at open house
Desert Sky Community School, a charter school using the Waldorf educational approach, is hosting an open house for families with K-5 students.
The event is Saturday, Jan. 25, at 1350 N. Arcadia Ave. from 10 a.m. to noon.
Contact reporter Danyelle Khmara at dkhmara@tucson.com or 573-4223. On Twitter:
@DanyelleKhmara