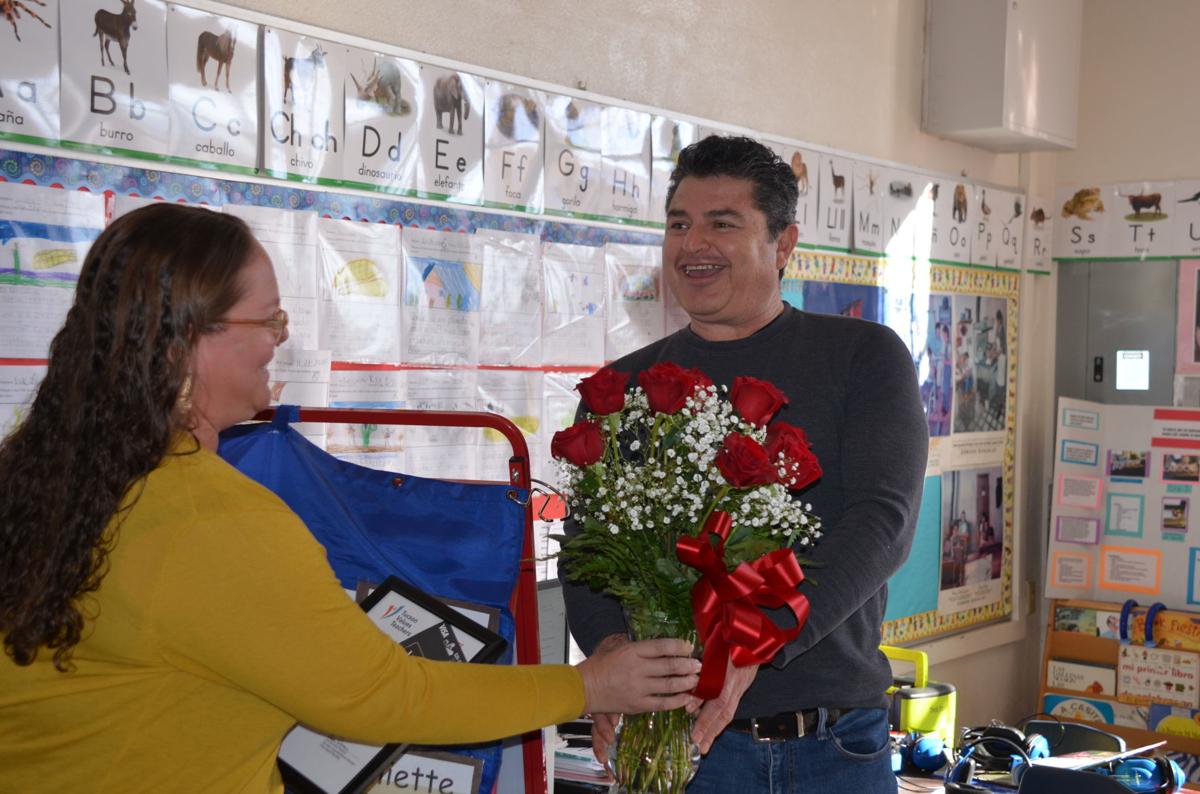 Tucson Values Teachers has honored Julian Barceló, a first-grade teacher at Davis Bilingual Elementary Magnet, with its February Teacher Excellence award.
Barceló moved from Huásabas, Sonora, to Tucson in 1990. He has taught in Tucson for 20 years and for nearly 10 at Davis.
Barceló has helped sustain the community garden across the street from Davis, where he frequently takes his students for hands-on instruction about sustainability. One of his student's parents, a teacher at Pueblo High, nominated him for the award.
Tucson Values Teachers has given Barceló a $100 gift card to Office Max/Office Depot, $250 in cash from the Helios Education Foundation and school supplies. To nominate a deserving teacher, visit TucsonValuesTeachers.org.
Tucson High teacher scores $5K STEM research grant
Jeremy Jonas, a science teacher at Tucson High Magnet School, has been awarded a $5,000 STEM research grant from the Society for Science & the Public.
Jonas plans on using the grant to purchase science equipment and to expand his class' plant and environmental science research in Tucson High's greenhouse.
He also plans to recruit more students from underserved and underrepresented backgrounds to participate in a two-week summer science program he runs at the Southwest Research Station in Portal, Arizona.
"I am so profoundly thankful," Jonas said in a press release.
C-SPAN bus visits TUSD high schools on road tour
Students at Sahuaro and Palo Verde high schools will learn about how C-SPAN covers US politics from the source.
The C-SPAN bus is visiting Sahuaro and Palo Verde on its eight-week "Southern Swing" tour of Tennessee, Alabama, Mississippi, Louisiana, Texas, New Mexico and Arizona.
Students will be able to check out the bus and participate in C-SPAN's "Voices from the Road" project.
Local teachers named 'literacy champions'
United Way of Tucson and Southern Arizona is honoring the literacy education efforts of teachers Jennifer LaMoria and Ben Collinsworth.
LaMoria and Collinsworth earned Literacy Champion Awards for their dedication to teaching kids about literature, reading and writing.
LaMoria, a second grade teacher at Roadrunner Elementary, "believes that building relationships with her students is paramount for teaching them the skills they need to be successful readers," according to a press release.
Collinsworth, an early childhood teacher at Emily Meschter Early Learning Center, "teaches that reading is about making connections to stories, and he demonstrates unique ways to connect the experiences of his students to literature," the press release said.
Get local news delivered to your inbox!
Subscribe to our Daily Headlines newsletter.