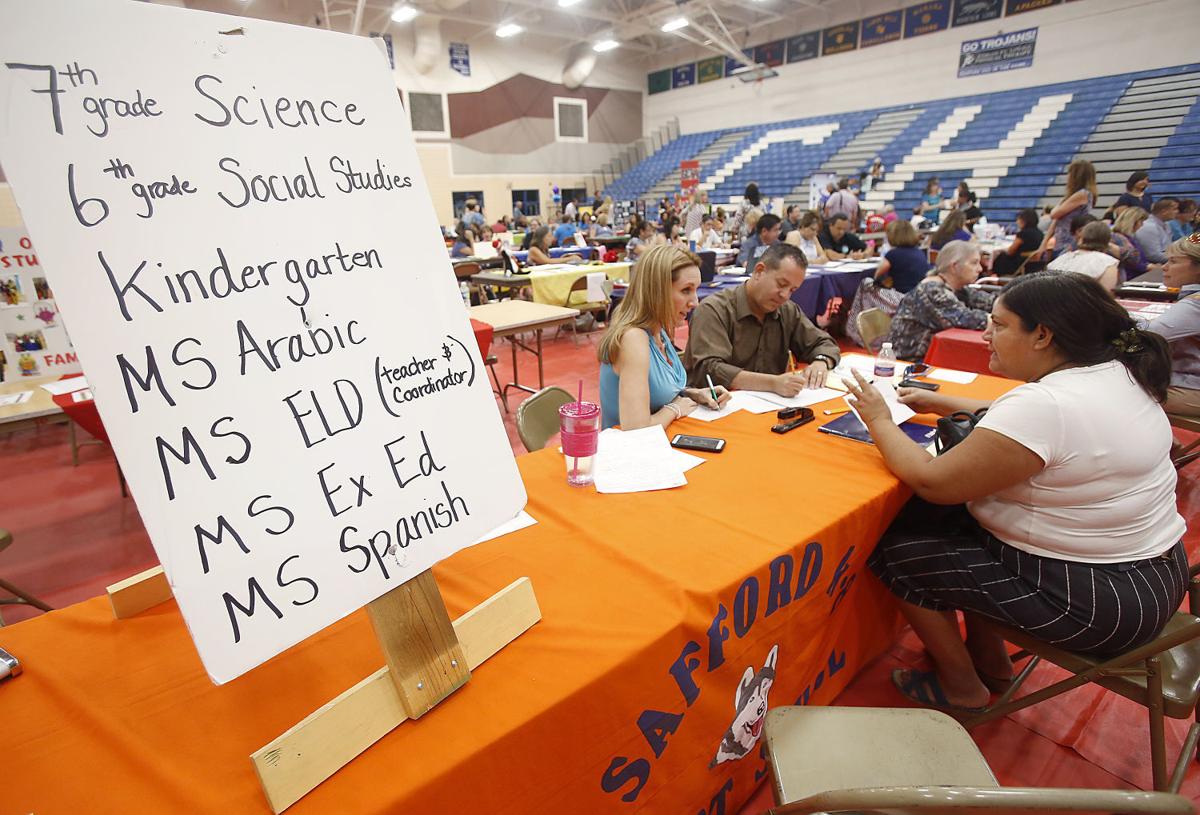 Becoming a math teacher in Arizona just got a little easier.
In an effort to address the shortage of qualified math teachers, the State Board of Education has opted to test an educator's ability to teach foundational-level math courses only. Teachers will no longer need to demonstrate proficiency in trigonometry and calculus.
Last week, the board agreed to use California math exams while Arizona develops an assessment of its own for algebra, geometry and consumer math for grades six through 12. Those interested in teaching higher-level math courses would still be required to pass the state's existing assessment.
School administrators suggested the change as they struggled to find qualified applicants to teach middle school and lower-level high school math courses.
While the Arizona Department of Education would prefer to hire educators who can teach at any level, concessions are being considered to ensure the state has enough qualified teachers, said ADE Associate Superintendent Cecilia Johnson.
The Tucson Unified School District, which has more than 100 vacant teaching positions, believes the change is much-needed.
"I think it's a very wise move," said TUSD Leader H.T. Sanchez. "If you look at where most schools have vacancies in mathematics, it's not in trigonometry and calculus, usually it's in your algebra 1 level, algebra 2 level, also middle school mathematics levels — those tend to be the areas where you find people have a general knowledge of math and would do fine in those areas but maybe don't have an interest in teaching the upper-level trig and calculus."
In Texas, where Sanchez worked before coming to Tucson, proficiency tests in both math and science were divided by subject matter. During his tenure in Tucson, Sanchez has met several out-of-state teachers who are certified to teach foundational-level math but are discouraged by the way Arizona's assessment is structured.
"When they take a look at our assessment here and they haven't engaged in upper-level calc or trig in so long, they just don't take the test or they sidestep the state and choose to do something else somewhere else."
A similar struggle has been seen among science teachers, who are expected to be proficient in both life sciences and physical sciences. That means a biology teacher would have to be proficient in physics even if he or she never intends to teach that subject.
Whether the two science focuses can be split is something that will likely be reviewed next, Associate Superintendent Johnson said.
"It would not be our desire to do that, but we understand we have a teacher shortage, so to be able to get effective, qualified educators we are looking at that option," she said.
Other compromises the state has had to make due to the teacher shortage include extending the length of time a substitute is allowed to serve in a school. Previously that could not exceed 120 days, but the state is now approving requests from school districts to retain subs for the entire school year.