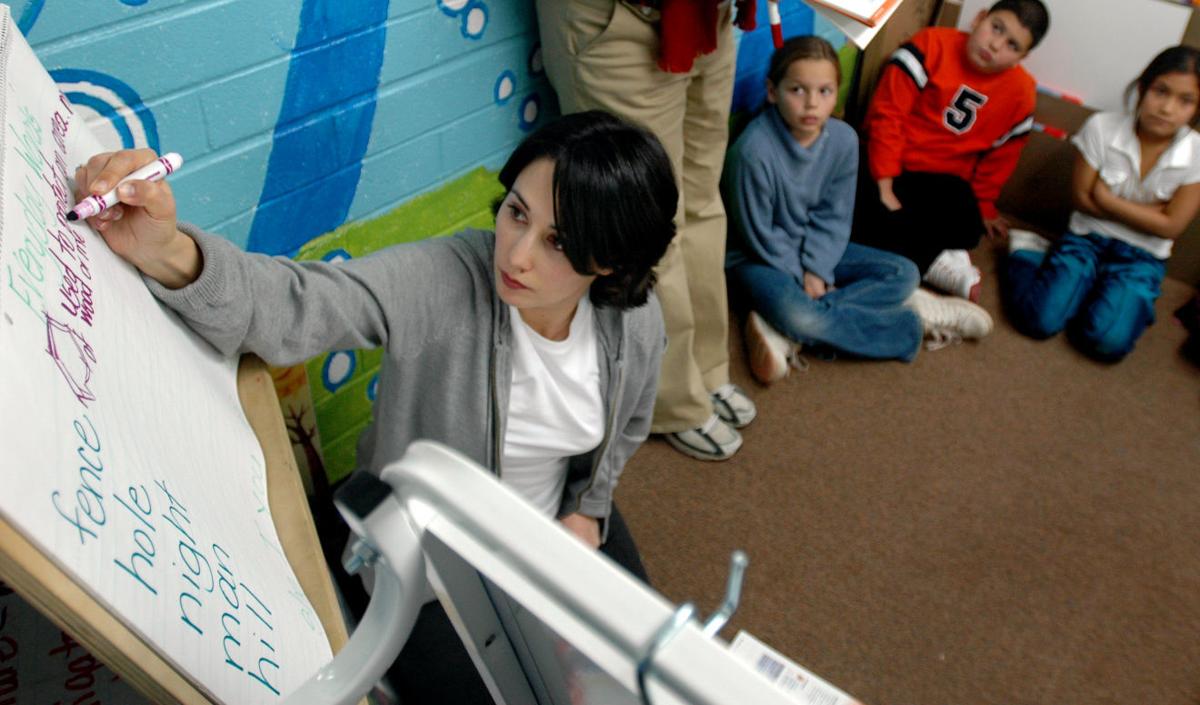 Arizona schoolchildren learning English were at the bottom of recently released statewide test scores that showed two-thirds of all students failed.
For English-language learners: 2 percent passed language arts and 6 percent passed math in the AzMERIT test. Despite the abysmal results, there's little indication state officials are going to do much to make it better.
"To know that they're English-language learners obviously means they're not proficient in English, so to give them a test in English and be concerned or confused as to why they may not perform like their native speaking peers would be a bit silly, quite frankly," said Kelly Koenig, Deputy Associate Superintendent of ADE's Office of English Language Acquisition Services.
"Their biggest barrier is being given a test in a language that is not comprehensible to them."
But years of data from the National Assessment of Educational Progress show those types of gains are slight, but possible.
Nationally, the trend in fourth-grade math achievement for English-language learners went from 9 percent passing in 2003 to 14 percent in 2015.
The Arizona scores do not follow suit with only 6 percent of English-language learners passing in 2003, which in years that followed dipped to as low as 2 percent before rising to 7 percent and then falling to 5 percent in 2015.
Fourth-grade reading scores nationally showed 8 percent of English-language learners passing, up one percentage point from 2003. Though not statistically significant, the performance is better than Arizona's, which had 1 percent of students passing, down from 4 percent in 2003.
Injection of politics
While English-language learners face many hardships on the road to proficiency, University of Arizona associate professor Mary Carol Combs says the students' biggest barrier is getting lawmakers to act.
Combs, who works in the College of Education's Department of Teaching, Learning and Sociocultural Studies, has spent years researching efforts to educate English-language learners.
"There is a perception by quite a few of our policy makers that is wrong that most English-language learners are undocumented and that's simply not the case," she said, adding that about 80 percent of English-language learners are U.S. citizens. "Many of their parents may be, but if the children are born here they're U.S. citizens. That's one of the reasons why legislators balk at increasing funding for school districts serving English-language learners."
It's also why the model used to educate Arizona students remains despite the fact that it goes against best practice, Combs said.
By law, English-language learners are placed into a four-hour block of instruction focusing on one hour of reading, an hour of writing, an hour of oral conversation and vocabulary, and an hour of grammar.
Students are segregated from their English-speaking peers for that time frame and teachers can incorporate content from other subjects like science and social studies. How much that occurs varies by schools and classrooms. Topics like math are not easily weaved into the English language development instruction.
"It's an atheoretical bankrupt program," said Combs. "It's not informed by how children learn or the best pedagogy teachers can use."
The Arizona Department of Education's Koenig, however, says the model is working and that about 30 percent of ELL students are reclassified as proficient each school year — up from 17 percent a decade ago.
"What I think is more powerful and significant is truly what happens once they do score proficient," she said. "The majority of our students are exiting our program within two to three years and once they do exit we are finding in grades 3 through 7 that if they have been a former ELL they actually are outperforming their native speaking peers in reading."
After the seventh grade and into high school, however, ADE data shows the performance of former English-language learners once again falling below that of their peers. That downward trend in math starts even earlier, in sixth grade.
Farley: Stakes are high
For Sen. Steve Farley, D-Tucson, the success of Arizona's English-language learners is critical to not only the individual children but to the state's economy.
Farley says he believes local school districts should have the ability to implement programming that they know to be effective.
"We have essentially had a discriminatory situation in this state against folks born in poverty including people here legally and without documentation," Farley said. "We don't always get legislation made from the perspective of what's best, we get legislation made of what fits the ideology of the person making it and in the case of education, that should never happen."
Underfunding blamed
For the last few years, Sen. Andrea Dalessandro has introduced a bill for a pilot program that would give high school English-language learners leeway in district-designed programs but it has not been heard. The results would be analyzed after a year to see if any districts achieved improved outcomes that could be replicated.
Questions over the state's funding of English-language learner programs are what compelled Dalessandro to run for office in the first place, she said, but little has changed since then.
"The ELL programs were inadequately funded and I do not think they have improved and this is why Arizona continues to not perform as well as the national averages because there are more resources in other states," she said.
In Arizona, school districts receive about $600 extra for each English-language learner served, not including the cost of the English proficiency test, which is paid for by the state. A cost study conducted over a decade ago found approximately $1,400 in additional funds were needed per pupil in Arizona.
One person the Legislature will not be getting a push from to change the English-language development model is Arizona schools chief Diane Douglas.
"The superintendent supports the model, but has heard concerns from the field about its implementation," said Charles Tack, an ADE spokesman.
As a result, she will work with educators to find solutions that meet the four-hour block requirement, training teachers on how they can incorporate science, math and social studies content into English development lessons.
Though Douglas is not looking to move away from the model, the State Board of Education last year approved changes allowing students at certain levels to spend less time in the blocks.
The plight of English-language learners is not entirely lost on Douglas. She acknowledged that Latino students account for 85 percent of English learners in Arizona and make up the largest ethnic group in Arizona schools.
"It is more important than ever to ensure Latino students are receiving the resources and support they need to succeed given their unique needs," she said.
Douglas has also pledged to better support poor children — a category most English-language learners fall into — by partnering with community and charitable organizations that can help with access to clothing, transportation and school supplies.
Complaints voiced
With more than 66,000 English-language learners in Arizona public schools last year — the latest data available — the need to change how English-language learners are addressed and to adequately fund the programming is needed sooner rather than later.
"I have students in the program year after year after year and they're kept from grade-level content, mainstream content," Kristel Foster, an instructional coach in language acquisition in the Sunnyside Unified School District, told Douglas during a recent visit to Tucson.
Despite Douglas' argument that the program is successful, U.S. Department of Education data shows that Arizona's 18 percent graduation rate of English-language learners was not only far lower than the 75 percent rate statewide, but the lowest in the country for the 2013-14 school year.