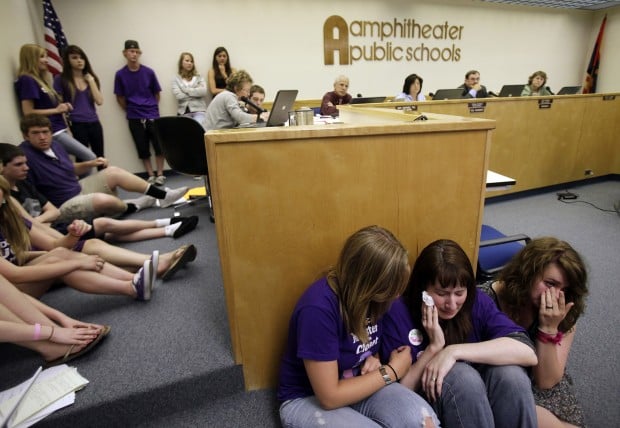 In boardrooms across Pima County last night, school boards made massive cuts to jobs and programs that will change how Tucson children learn next school year.
"This is a painful pill to swallow," said Kent Barrabee, a member of the Amphitheater Governing Board. The district's bleak financial outlook left some people in tears.
In Sunnyside, students will have no new textbooks next year. Some TUSD schools might close.
A bright spot: In Marana, an additional 20 teachers set to be laid off last night kept their jobs. Full-day kindergarten stays, too.
Many school leaders held out hope that Proposition 100 will pass in May. The extra money raised by the temporary tax increase is no panacea for the state's fiscal woes, but proponents say it will keep districts from making more severe cuts.
• 213.2 full-time-equivalent positions cut; 117.7 would be saved if Prop. 100 passes.
• No full-day kindergarten at non-Title I schools; Parents pay $1,300 per school year to keep it.
• An across-the-board 2 percent salary reduction.
Total projected savings from approved cuts
Projected cuts needed if Prop. 100 passes
Tucson Unified School District
• 64 administrators may be laid off.
• 195 certified staff members - mostly teachers - have been placed in a transfer pool to compete for 111 vacancies.
• 4 school closures as part of an optional merger incentive.
Projected deficit even if Prop. 100 passes
Projected deficit if Prop. 100 fails
Sunnyside School District
• Nearly 400 employees will be laid off, including 320 teachers.
• Employees will take five furlough days.
• No new textbooks next year.
Sunnyside's revised deficit projection
Projected savings from teacher layoffs