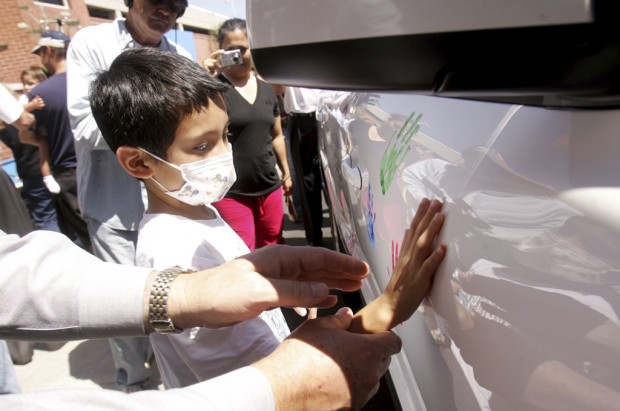 Hyundai Hope on Wheels donated $50,000 to a University of Arizona researcher who is studying the links between good nutrition and effective cancer therapy.
Pediatric oncologist Puja Gupta of the Steele Children's Research Center received the grant on Tuesday. During the ceremony, young cancer patients painted a Hyundai Santa Fe with their handprints.
Hope on Wheels is a nonprofit supported by Hyundai Motor America and Hyundai dealers, including the Jim Click Automotive Group in Tucson.
Gupta is beginning a study to find out whether nutrition is related to a patient's response to chemotherapy. She will measure the nutrition levels of children when they are diagnosed with cancer and then document any complications, delays in treatment or changes in their nutrition levels.
Doctors have observed that child cancer patients who are malnourished or obese have more complications during chemotherapy than kids who have normal nutrition levels, Gupta said, but there hasn't been any study on the correlation.
In the future, the study results could lead doctors to intervene in patients' nutritional habits to improve their treatments, she said.
Gupta said she is thankful to Hyundai for supporting local research. She said she plans to use the grant to buy equipment needed for her project, including calipers and scales, and also to hire a student to help with the project.