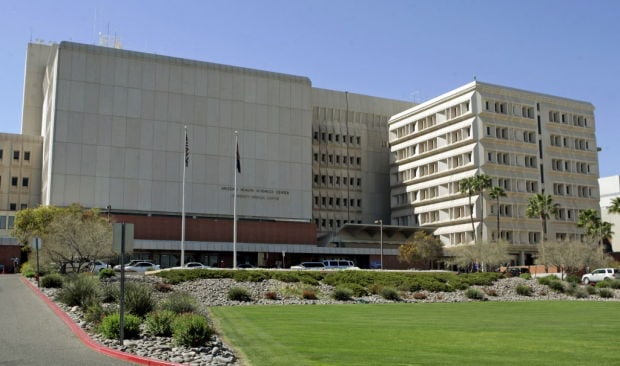 Under terms of a draft agreement, Phoenix-based Banner Health would acquire the University of Arizona Health Network, which includes two Tucson hospitals.
A joint meeting between the governing board of the state's public universities and the UA Health Network is scheduled for Thursday morning at the UA Cancer Center. At that meeting, both organizations will consider authorizing exclusive negotiations with Banner Health, in coordination with the UA. Officials with the Arizona Board of Regents would not comment Tuesday.
According to documents posted on the Board of Regents' website, the transaction would include a 30-year agreement for Banner to provide "substantial financial support" to the UA College of Medicine, which educates future physicians on campuses in both Tucson and Phoenix.
Banner Health and the UA would also enter into a 30-year academic affiliation agreement that would transition Banner Good Samaritan Medical Center in Phoenix into a faculty-based academic medical center to support the UA College of Medicine in Phoenix.
The "principles of agreement" document says Banner and the UA would co-brand their names and logos on the operations and activities of University Physicians Healthcare, both Tucson teaching hospitals and Banner Good Samaritan Medical Center in Phoenix. Banner would also make a $500 million commitment to capital projects to support clinical enterprises in Tucson.
The UA Health Network works in close partnership with the university but is an independent nonprofit $1.2 billion entity. It's the largest health organization in Southern Arizona and was created in 2010 through a merger between University Medical Center Corp. and University Physicians Healthcare.
Banner Health, a nonprofit company, is Arizona's largest health system and operates 16 Arizona hospitals. The company does not currently operate any hospitals south of Casa Grande.
The UA Health Network includes two teaching hospitals, the UA Medical Center-University campus at 1501 N. Campbell Ave., and the UA Medical Center-South at 2800 E. Ajo Way. The network also includes clinics, health plans and a physician practice plan that staffs the teaching hospitals with doctors from the UA.
The university campus hospital, which houses Southern Arizona's only top-level trauma center, was formerly known as University Medical Center. In 2011 it became the focus of international media attention after a mass shooting and assassination attempt on then-U.S. Rep. Gabrielle Giffords. Giffords and other shooting victims were treated at the hospital.
A recent financial report shows that the UA Health Network is experiencing unprecedented operating losses — $28.5 million for the first eight months of the current fiscal year.
Under key points of the proposed agreement, Banner Health would:
Acquire the UA Medical Center, including a purchase of its North Campbell Avenue land for $21 million. It would also acquire the University Physicians Healthcare faculty practice plan, three health plans owned by the UA Health Network and all of the network's other subsidiaries.
Assume a lease agreement of the UA Medical Center's South Campus and the operation and funding agreement with Pima County.
Pay approximately $146 million toward the debt of the UA Health Network and its subsidiaries.
Pay the UA Health Network $300 million to create an "Academic Enhancement Fund" that would provide $20 million in annual support for "academic enhancements, faculty recruitment and program development" for the medical school's Phoenix and Tucson campuses.
Employ UA Health Network employees and employees of its subsidiaries for at least six months after the acquisition closes at their current base salaries and with retention of their seniority for employee benefits purposes.
Keep in place the UA's current agreement with Dignity Health for a new cancer center in Phoenix.
In an emailed statement Tuesday, UA Health Network officials acknowledged the principles of agreement document posted on the Board of Regents' website, saying the agreement is "intended to lead to final definitive agreements that will guide the transition of UAHN to Banner Health and a significant academic affiliation between Banner and the University of Arizona."
UA Health Network officials also said they believe the agreement will "benefit health care and medical education in Arizona."
Banner Health officials issued an emailed statement from Banner President and Chief Executive Officer Peter S. Fine that says the company hopes the agreement will be supported by both the UA Health Network and the Board of Regents.
"However, until both boards vote we will have no further information to provide. Following the votes, we will provide ample information throughout Banner and the communities we serve."