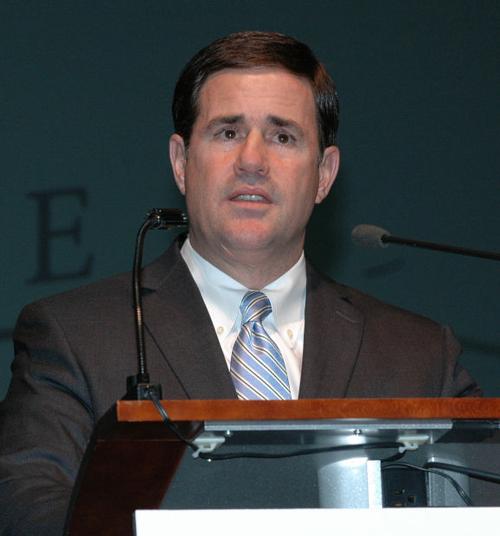 PHOENIX — Gov. Doug Ducey will propose a hiring freeze Monday as the first step toward bringing the state's books into balance.
"The state's going to find a way to live within its means," he said in an interview ahead of delivering his first State of the State speech.
But Ducey said even with that, students should not suffer.
"We're going to have a values-based budget and prioritize what's most important," Ducey continued. "So you're going to see a 'classrooms first' initiative that protects classroom spending," the governor said. "It's actually going to propose more spending for classrooms next year than this year."
And it's going to be done, he said, without new taxes.
Less clear is whether it will be done with fewer tax dollars.
During the gubernatorial campaign, Ducey promised that if elected he would "submit legislation to reduce taxes every year, with the goal of pushing income tax rates as close to zero as possible."
What he will ask from legislators, at least this year, falls short of actually reducing tax rates. "You're going to see me propose something to improve our tax code," Ducey said, declining to provide specifics.
That still leaves the question of exactly how he proposes to balance the books.
Ducey inherits a state budget that already is running about $190 million in the red. And that doesn't count another $317 million a court has said the state now owes to schools for failing to comply with a 2000 voter-approved law to make annual adjustments to compensate for inflation.
That could probably be handled by draining the $450 million in the state's "rainy day" fund and the other short-term measures like the hiring freeze.
Next year, however, is a different situation.
The rainy day fund will be gone. Revenues already are projected to be close to $670 million below expenses.
And that shortfall doesn't include another $336 million in state education aid for that year, to say nothing of the possibility a court could order lawmakers to cough up another more than $1 billion in funds withheld for the past four years.
Ducey hinted, though, some of the education debt could be resolved through some kind of deal with the school districts, giving them some of what they contend they are owed if they drop the rest of their claim.
The governor may also fund his promise of more classroom dollars by squeezing education elsewhere. He said there will be "belt-tightening … with the bureaucracy and administration."
Ducey said he believes Arizona can do better than having less than 55 cents of every education dollar wind up in the classroom; the national average is six cents more. He said schools need to explore having the more than 200 school districts in the state each handling chores like food service and janitorial needs.
But he stopped short of saying he wants to force consolidation of districts.
"We want to explore what's possible," he said.
Ducey also said he will unveil a plan to provide more choice for parents who may not be satisfied with the education their children are getting at the neighborhood school.
"They're trapped in a school that's not performing," the governor said.
Students already are allowed to attend any public school in the state. That includes both charter schools which are public schools as well as traditional schools in other districts.
The problem, Ducey said, is the right to attend another school is contingent on there being space available. The governor said he will detail a way of dealing with that problem.
"We want that open enrollment and parental choice to be more than a hypothetical," he said.
Ducey's speech will include at least one other education component: He wants high schoolers to have to pass a basic civics test before being able to graduate.
The plan is to use the same test that now is administered to immigrants before they can become U.S. citizens. Questions range from why the flag has 50 stars to naming states that border Mexico and being able to identify the president as the commander in chief.
He cited statistics from a sample group of high schoolers in Arizona and Oklahoma which found 96 percent failed to get a passing grade. "John Adams said that children should be instructed in the principles of liberty," Ducey said.
"Sandra Day O'Connor says this is a quiet crisis in American education," he continued. "I think it's important that our kids have some idea who John Adams and Sandra Day O'Connor are," he said of the nation's second president and the first woman to serve on the U.S. Supreme Court.
The proposal, however, comes at least a few days late. On Friday, Rep. Steve Montenegro, R-Litchfield Park, filed HB 2064 to use the 100-question federal naturalization test as a requirement for graduation. Beginning with the current crop of sophomores, students must correctly answer at least 60 of the questions to get a diploma. The legislation should come as no surprise to the governor: Montenegro announced his plan last September.
Follow Howard Fischer on Twitter at @azcapmedia